<![if !vml]>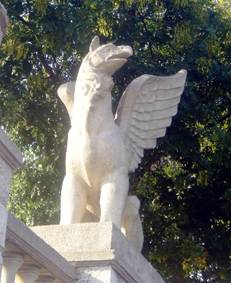 <![endif]>
Welcome!
We want to take you on a tour of our community.
On the left is a griffin: the Kerch city symbol.
On the right, we are in front of the post office in Lenin Square. See the golden griffin perched behind us?†
<![if !vml]>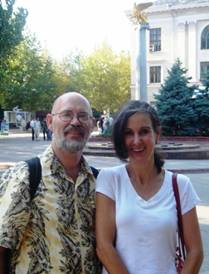 <![endif]>
CRIMEA
We live in the Autonomous Republic of Crimea.† During Soviet times, Crimea was given as a gift to Ukraine, so though we are on a peninsula connected by only a narrow isthmus, we are under the guidance and protection of Ukraine.
Catherine the Great considered Crimea to be the jewel in the royal crown.† The tropical beaches & mountains in the south & western regions are what used to be called the Soviet Riviera.
<![if !vml]>

<![endif]><![if !vml]>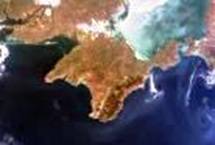 <![endif]>
The city of Kerch is isolated on the easternmost tip of the Crimean Peninsula.
Kerch is pronounced
Kee-yairch.† The city was formerly a Soviet military community & was closed to outsiders until into the 1990ís.†
It is among the oldest cities in the region & has many archeological treasures.†
KERCH
Our home is in a port community with the Black Sea to the east & south & the Sea of Asov to the north.†
Across a narrow strait, just a few kilometers away, we can see Russia.