Baby gets new shoes!
I finally made it to the shoe store.  Janeen's friends are kind enough to indulge my need to shop and I manage to find three pairs of girlie shoes to give my feet some ease and brighten my day. 
After a day of shopping and talking we attend a local performance of the musical "South Pacific".  The cast was excellent and obviously enjoyed themselves during he performance. 
I will stay the night here in the 'burbs and hopefully head back to the hotel for some serious rest.
Another Day, another Doctor…or Back in the Saddle Again
Today I sleep in.  I have no commitments except an OB/GYN appointment.  Might as well get all my medical needs met while I have the chance.
I read e-mail, shower, and relish time alone.  It is a short break because tomorrow I will visit Janeen and her friends in the suburbs.
More breast groping…
Janeen and I dined at an Ethiopian café today.  This Georgetown landmark is charming and the food is wonderful.  We dined in true African fashion – using our hands and from a communal plate.
Following lunch I made my initial visit to the surgeon who will remove the lump in my breast.  Once again I bare my breasts to strangers.
Surgery will take place in a week.
In the evening we take the metro to the last stop on the line and meet one of Janeen's circus band friends.  He is a man with a sense of humor and makes delightful conversation as we eat Chinese food. 
Following our meal we have a private concert (we attend band rehearsal).  I doze shamelessly though the music is wonderful and very lively.  I am just so very tired from constant activity, late nights and so much stimulation, and of course the underlying anxiety I seem to suppress…I need some quiet and time alone, but I love the people I am spending my time with.  There are always tradeoffs!
My sister arrives for a couple days of playtime …
My big sister Janeen arrives today. 
This is her first experience traveling on a military HOP.  She goes first class: somehow she manages to board a leer jet with a General and a couple other officers.   
Janeen knows how to live.  She plays trombone in the circus band.  This after a military career and law studies.  Her example reminds me that we need to sing and dance.  It is part of gratitude and it simply makes life better!  8-)
Her trombone is red.
We visit Arlington Cemetery and arrive early before the day heats up.   Our destination is the Women's' Memorial.  We are both veterans and so we spend considerable time exploring this site. 
We walk up to the Kennedy resting place and are inspired by the quotes chosen to mark this site.  The view is also inspirational.
JFK influenced our Mother in many ways and perhaps because she was so awed by him, I feel he has effected who I am.  As a Peace Corps trainee, he represents a significant influence to me. 
We take photos and continue to walk.   We leave Arlington and walk across the bridge to the Lincoln Memorial.  We walk and talk and laugh as we visit various memorials on the mall.  So many people in our lives are veterans so these monuments speak to us and stories flow. 
A group of young Marines jogs past us.  They are in formation and make running look beautiful.  They chant a jodee that echoes among the monuments and reminds us what it means to serve. 
There are many ways to serve. 
My feet are aching and I am still sleep-deprived and dazed, but we continue to walk and talk and stay in the moment.  Tonight I hope to sleep until I wake – no activities tomorrow. 
We visit a few more sites and enjoy seeing a duck nesting under a tree on the edge of the White House lawn.  There is a small fence around Mama Duck and signs say "Do Not Disturb the Duck". 
The duck is a local celebrity.  During recent landscaping activities the duck decided to make her nest and lay her eggs in the mulch under a tree in the midst of the project.  Rather than disturb her, the decision was to let her remain there until the ducklings hatch and can be safely relocated.
A nice story in a city where laws are made and individuals are sometimes lost in the shuffle.
Still sleep deprived & initial appointment with PC nurse..
After my initial appointment with the PC nurse I continued to enjoy my mother-in-law and sister-in-laws company until around mid-day when they headed off on the Metro to the airport.  I accompanied them as far as the Crystal City shopping complex where I decided to take a detour to look for comfortable shoes.
Back home, my room mate (also from Eastern Europe) and I relaxed and had an early night for a change – sleep, blessed sleep and no alarm clock for tomorrow!
The death march walk begins…sightseeing in DC
Of course I use the term lightly, but we really trekked around the city today.  My feet were bleeding and raw at days end.  I could use more comfortable walking shoes.
We enjoyed a wonderful visit to the National Art Gallery where sister-in-law Kris shared her love of photography with us.  The exhibit shared beautiful B&W photographs from the early part of the 20th Century.  The photographer was from Eastern Europe. 
Later we wandered into Chinatown and then continued tramping till we had thoroughly explored the shops at Union station. 
Lots of good conversation and fun. 
4 AM trip to the airport…
For the third night in a row, I am awake at .  There is no bird song this morning. 
Actually this night I did not sleep at all.  I was afraid I would fail to awaken in time for my ride to the airport.
We drive through the dark streets of Kiev under a full moon.  The Ukrainian PC driver and I engage in a pleasant conversation.  I hear stories about his grandmother and fishing tales from his youth.  I learn how the Ukrainian Orthodox Easter date is established (based on the date of the first full moon following Passover).  He carries my rucksack into the airport for me and then shakes my hand.  He is very kind.
The first leg of the journey takes me to Amsterdam – I look out the window and observe greenhouses and modern windmills (not as romantic as the old fashioned ones depicted in the movies and Walt Disney episodes).  My layover here is brief; no time to explore the wonderful shopping center that comprises the center of this well-organized and inviting airport. 
This time, I am among the last people to board the plane.  The overhead compartments are full and I must negotiate with people to squeeze my only bag into a compartment far from my seat. 
My seatmate is a young woman.  We begin a conversation and I do not volunteer much information about my situation or who I am.  Soon I learn she is a medical student returning from an internship in South Africa.  Her story unfolds and I learn she was once a Peace Corps volunteer. We discuss Peace Corps, my brother and his PC adventures in Malawi, my travels there and eventually I disclose my story and my destination.
With so many things in common, we talk away many hours.  I do not have time to become frightened or angry at this turn of events that takes me back to the States and makes me miss training and my spouse. 
Still no sleep.
The plane lands in DC and since I have only a carry on bag, I have no delays getting through customs.  To my surprise I see a familiar face smiling at me when I come through the door ahead of the rest of the crowd.  There was Jim S. waiting to drive me the hotel. 
What a good friend.
He drove for about ten hours to be here for me. 
At the hotel I find my mother-in-law and sister-in-law waiting for me in the lobby. 
My arrival feels more like a celebration than the start of a potentially difficult medical journey.  
I have so much to be grateful for.
A reprise of the blackbird singing in the dead of night…
Again I awake at and hear sound of birdsong piercing the night. 
I stay in bed and just listen.  I do not sleep.  I take pleasure in being next to my husband.  I watch the sky grow lighter and when Mark wakens, we whisper to one another about life and birdsong and things that matter.   
Mark says his goodbye to me and goes to his technical training.  The PC driver will come for me so I remain with T. and N.  I feel drained from so little sleep and from the alcohol I ingested the past two nights.  I do not indulge in drink like my host family does, but I participated for a number of reasons.  Now I have regrets as my head pounds and nausea is an issue. 
The PC driver picks me up and drives me into Kiev where I check in and deposit my bags.  Almost immediately I run into two of my fellow trainees all dressed up for an evening at the opera.  I answer their questions about my situation and they commiserate with me and then head off for their delightful evening.
Shortly after my fellow trainees depart, I receive a cal from one of them: would I like to attend the opera?  Despite my queasy stomach and my need for sleep, I accept and hastily change into something more suitable for a nigh at the opera.
We saw Madam Butterfly.  When I joined the Peace Corps, I never thought I would be in a beautiful city like Kiev sitting in an opera house.  (Another blackbird singing in the dead of night…?)
Blackbird singing in the dead of night…
At I awaken to the lonely sound of a single bird singing in the dead of night.
Before I am truly awake I find myself gazing out the window into the backyard of my host families' home.  There is a thick blanket of fresh snow covering everything where just the day before the countryside was verdant green and spring flowers blossomed. 
The lonely bird continues to sing. 
It is an almost magical scene and I wonder if I really am dreaming.
I stand gazing out and wonder why this bird sings.  I feel like the only one alive on an empty planet.  I wonder who else may hear this bird's song.  Will it give them courage? 
The bird sings.  It does not know or care that anyone is listening.  It sings because that is what birds do. 
Why does it sing tonight?  Why did I wake to its song?  Why does it give me hope?
I think of the lyrics to the Beatles song:  
Blackbird singing in the dead of night,
Take these broken wings and learn to fly
All your life
You were only waiting for this moment to arise
Blackbird singing in the dead of night
Take these sunken eyes and learn to see
All your life
You were only waiting for this moment to be free.
I think about the lump in my breast and what it can mean. 
I feel lonely as I listen to the bird and continue to gaze out at the snow covered hillside.   In a matter of moments my loneliness turns to joy.  I feel a sense of gratitude for this birdsong on this dark night when I am dealing with fears, disappointments and things unknown. 
The unexpected snowfall is a thing of beauty and I consider it a gift too.  The beautiful view of the snow-covered trees on the hillside and the lake below take my breath away. I am glad to be alive and glad to have had this nighttime epiphany.
When I crawl back into my warm bed and my husband's strong arms embrace me I feel a profound bitter-sweet joy. 
Though things do not always unfold in the way we plan, life is so good. 
 In the morning I have language class.  I say my goodbyes.  We all lunch together at our "favorite" (ONLY) place in town: a local dive bar where rough and tough locals arrive early to drink and talk.   A heavy spring rain washes away the snow and floods the streets. 
 I pack my bag.  Though I have little to pack, it takes me a long time.
Mark has little to say.
In the evening there is once again a special dinner.  This time T prepares all my favorite foods.  She takes care of me.  She sings to me and calls me sister.  Again there are mandatory vodka toasts.  We stay up late.
Mark returns from site visit: hello & then goodbye…
Mark arrived home from his big adventure in Crimea.  The train trip back (23 hours) was uneventful, but tiring.  He took over 300 photos to share with me.  I am eager to learn more about our future home, but my news seems to dominate conversation.
I will be medevaced to DC this weekend.  I don't want to say this goodbye.   The plan is for the PC van to pick me up Saturday afternoon and return me to Kiev.  I will leave for the states at .  
It takes all day to get paperwork done and to finish work related to site visit and a video project Mark is working on.  We finally metro/bus and walk home arriving at our host families' home as the sun sets, the temperature feels bitter and snow flakes begin to drift down from the sky. 
We delay telling T and N about the trip I will be taking.  They are excited to see us and wan to celebrate our arrival.  They have a beautiful table set and are eager to hear more about our wonderful assignment to Crimea.  
We stay cheerful and manage to share lots of information despite our limited Russian skills.  T. is excited about a surprise she has for me: they are getting me a puppy!  He will arrive on 1 May when the family comes to help celebrate Orthodox Easter and May Day. All my talk about cats and dogs motivated this sweet gift.  So many delightful plans and I will miss them. 
It feels good to be "home" and I regret that I will have to give them frightening news. 
I delay telling them until our instructor calls to check on us.  I ask her to please relay my news to them. 
The rest of the evening is a blur.  There is much conversation and there are condolences, reassurances and advice.  And there are shots of vodka…  T and N are worried and we stay up late commiserating.
Being medivaced - not how I imagined my Peace Corps career would go…
I will be medevaced –
It is certain now; I will fly to DC and spend a few days (maybe weeks) there.  I will leave this weekend.
I get the all expense paid trip to DC for "spring break".  Mark will stay here and continue training while I get my medical situation resolved.  
Diversions as I wait: off to the bazaar...
I am waiting – Mark returns Thursday and maybe by then I will have an idea of what my immediate plans are.  I may be in DC soon.  It is too challenging to send biopsy tests to DC so I may go there for that.  
Meanwhile I have met a couple other PCV who are ere for a couple days so we are off to the bazaar.  Taking the subway here is a good experience for me – a challenge for my language skills trying to read the fleeting signs as the train speeds by and the crowds press hard on me to keep moving. 
We wander the bazaar for a couple hours and then come back to the PC office.  Waiting is hard work.  
I flash my breasts all over Kiev…
My room mate was up, dressed and on her way to the airport by 4 AM.  I slept in a bit longer but eventually got up and made some tea and toast to start my day.  By now my room mate is somewhere over Europe on her way back to the USA.
I have medical appointments today. 
What an "adventure" this turns into!
Doctor V. accompanies me on my rounds to he oncology hospital and then to another facility where I have an ultrasound and then to a third location where I have a mammogram.  (Ohhhhh how I looove getting a mammogram!) 
I am glad to have a chance to get acquainted with Dr V.  He has a delightfully dry sense of humor and also a wonderful knowledge of life in Ukraine.  He encourages me to get out and see the city – go to the opera even! 
It is good to have someone with me since protocols here are a bit different than what we come to expect in the USA where we are spoiled rotten.  Medical practice here is good, but the facilities are also less plush or comfortable than what we expect stateside.  The amenities such as an examining table and a gown are not provided here.  (If you are undergoing a hospital stay you are provided a list of everything needed for your visit – including sutures, antibiotics, etc.  You do the shopping and make decisions on all the items used.)    In any case, I have now flashed my breasts at more men than I have in my life all n one morning!  It was rather like being in an old B&W movie of pre-war Soviet Union…dim lights, not much equipment, older facilities and everything spoken in Russian. I could imagine this whole scene with sub-titles.  8-)
The information they collect will be sent to PC in Washington DC for evaluation and then my fate will be determined I guess.
Meanwhile my husband is getting the big tour of Kerch, Crimea which will be our home for the next couple years.  More on it later.
Artist's mart, churches, dogs, prices…
My room mate and I set out to find the street market so she can purchase a few souvenirs before her return to the USA.  With vague directions scrawled on a paper napkin we head off on our adventure.  This is a good opportunity to practice our Russian skills as we stop pedestrians periodically to redirect us on our path. 
<![if !vml]>

<![endif]>Enroute we stop for a breakfast of tea and pastry.  Kiev is a huge beautiful city and when I receive the bill for our simple breakfast, I realize it is also a very expensive city!  My cup of tea rings up at a whopping 12.5 Hryvnia (about $2.35).  In my training village I could purchase 12 cups of tea for that price and still have 50 Kopeks left over.   (Hryvnia is also spelled as Hryvna or Grivna and is abbreviated as UHR)
The artisans market wends its way down a steep cobblestone street from a hill down behind a beautiful old church.

 

Andrew's Descent - a thousand-year old street connecting in the days of Kyiv Rus-Ukraine the Upper part of Kyiv with the Lower . Today it is the

Greenwich Village

or the Montmartre of Kyiv filled with art shops and exhibits, cafes, beauty and charm.

 

Tourism is not really developed here in

Ukraine

so there is a sense of having discovered something off the beaten path.

 

The morning drifts by quickly as we wander along and examine beautiful arts and crafts pieces.

 
On the corner at the base of the hill the dog-woman guards 25 well-mannered canines who pose attentively on a blanket spread over the cobblestones.  A tin plate with several coins in it is positioned so passersby can toss in a donation. 
The dogs are well behaved.  They are quiet and sit very still as if posing for a painting.  There is a sign written in Ukrainian scrip detailing information about them.    
We continue our trek, exploring many side streets around the area.  We put scarves over our heads and enter a Ukrainian Orthodox Church and watch as others light candles for people and say prayers.
We walk down the elegant main street of Kiev - Kreschatik is a beautiful boulevard.  Weekends it is a pedestrian mall and there are people strolling up and down the streets; music plays and there are places to sip tea, coffee or wine and beer.  We walk slowly and people watch. 
Cold rains, a tour of Kiev and a farewell…
The dawn breaks, but it is not obvious because rain is falling.  We pack our things and feel the temperature dropping outside.  Yesterday the sky was blue and it was warm and inviting outside.  Today it is cold and wet and gray. 
Mark will leave for the site visit to Kerch and I will remain behind at Headquarters waiting for my medical tests.  I am disappointed and I am a little afraid too. 
Since Mark's train does not leave until late in the day a tour has been arranged.  We pile into the van with the coordinators and trainees who are also leaving later in the day.  I accompany the tour and will be dropped off at the Peace Corps office when they head for the train station. 
The city sites are beautiful, even in the chilling drizzle.  We see many brides at various monuments where they pose with their new husbands and toss their bouquets or leave them as a tribute to unknown soldiers or famous poets.  The rain does not seem to bother them.  Cameras flash and smiles flash.  The couples and their friends and family drink champagne and laugh.
Our coordinator points at a couple brides and indicates they may be pregnant.  Some things are the same everywhere.
There is a saying in Ukraine that when one is traveling and it rains it is because even the sky is sorry to see you leave.  I am sorry to see Mark leave. 
I know he will be worried as he whiles away the long hours on this trip.  He will be on the train almost 24 hours one way and another 24 hours when he returns next Thursday. 
I sit in the Peace Corps office on this Saturday night and read my e-mail.  There are many volunteers here and it is a chance to become acquainted with others and to learn more about what I can expect from my assignment here in Ukraine.  Despite my situation, there are still ways to make this an opportunity. 
Across the room I notice one of the volunteers is logged onto my website and is actually reading my Ukraine Journal.  My first instinct is to walk over and introduce myself, but I quickly reconsider and decide to just let him read.  It feels funny to remain anonymous while someone reads my thoughts. 
I decide to take a shower and call it a night.
I soon find I have a roommate.  She is a trainee from my training group who has decided to return stateside rather than continue with her Peace Corps commitment.  We talk.  I can see this is no easy decision for her. 
After while we turn out the lights and sleep.  
A visit to the doctor…
I was whisked off to the office of our dedicated medical staff this morning.  After some discussion they determined I should probably head back to the USA for medical evaluation and treatment very soon.  That means no site visit for me. 
Arrangements are made for me to be looked at by a local physician, have an ultra-sound and a mammogram.  The results will be sent to Washington DC and then we will wait to see what they decide we should do with me.  
It is too late today to have this work done so I return to the conference and rejoin my group as they prepare for their site visit.
Word is out that something is wrong and I receive a few discreet hugs and comforting whispers as I go through the afternoon workshops and the evening activities.
There is a bonfire by the river tonight.  We linger by the fire.  We talk and sing.  People drink beer.  Mark and I sip champagne.  The Ukrainian staff joins us by the fire.  They are pleased to see Americans enjoying an activity they also enjoy.  Spring is in the air, the moon is bright, it is a beautiful evening.
Hot Water & a Lump/Bump in the Road…
We awoke early in the sun filled room at the sanatorium where the Coordinator's Conference continues today.  After the recent cold snap, it is wonderful to see the sun and feel the warmth and promise of spring again.  There is still snow hidden deep under bushes and trees, but singing birds and blue skies are a promise for the future.
I made a rather frightening discovery as I lingered in bed this morning.  There is a rather large lump in my left breast.  I decided to keep silent about this discovery for at least a little while and made my way into the shower where I was delighted to find that hot water was available for early risers.  After a luxurious shower I got dressed and headed down to breakfast with Mark.  I kept my discovery quiet and decided to share it later in the day when we had time to discuss things. 
The busy day unfolded day.  The training staff provided many workshops and opportunities to learn new skills.  We also spent time getting acquainted with our coordinators.
Our Coordinator is also the director of the library system will be working in.  She has a sister here in Kiev and will spend her evening with her.  We will get acquainted at meal times and during certain workshops.  I am sure we will know her well after we spend 24 hours on the train trip to our new site later this week.
Throughout the day, my mind kept returning to the small lump in my breast.  When Mark and I were finally alone late in the day I decided to share this news with him.  Within minutes he was downstairs using the phone to contact the medical folks at headquarters in Kiev.  They advised me to be ready for pick-up in the morning.  I will be examined then.  The initial questions and my answers seem to indicate it may just be a response to the shots I received earlier this week.    
Hot Showers & Site Assignments – Hopes Dashed & Dreams Come True…
The excitement for today is taking a hot shower; when we wake at our host family's home this morning that is the topic of conversation.  We are more fortunate than many of the people in our training group because we do have indoor plumbing and hot water available, but our bathing and toilet arrangements are far from ideal.  Privacy issues and standards are different from what most Americans are accustomed to. 
Today we will arrive at the sanatorium where our Coordinators Conference will take place.  We will have a bright, airy room in a Soviet era sanatorium on the banks of the Dnipro River.  Each room has a private bath.  Though it is really a Spartan facility with an aging infrastructure, we value the privacy and the small pleasures afforded by a hot shower.
But first we must make the journey.  We took the early train to Kiev and were met at the bus station by Peace Corps vans which shuttled us off to the conference site.  As we waited by our bags and sipped tea we chatted with the other members of our training group whom we have not seen for about seven weeks.  Stories fly and there is lots of laughter.  I hear people struggle with their limited skills in Russian and Ukrainian.  It is a good reunion.
The conference day is well organized and filled with workshops and opportunities to share and learn.  The hot shower dreams must wait until the work of the day is done.
The major excitement of the day is site announcement.  We are all eager to learn where we will each serve for the next two years and three months.  All we really know is that we will all be boarding trains or busses on Saturday to head off on our site visits.  Anticipation is the word of the day.
<![if !vml]>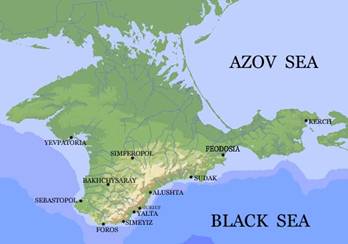 <![endif]>We are delighted to discover we are assigned to a library situated in the beautiful and ancient city of Kerch.  (See the short video Mark posted on the first page of pulverpages.com.)  Our site is technically not in Ukraine; it is on the Black Sea at the very tip of the peninsula of the Autonomous Republic of Crimea.  What a delightful place to call home for the next few years!
Crimea is known for the rugged beauty of the coastline.  There are stunning mountains and there are vineyards and ocean beaches.   There are fortresses and ruins from 3,000 years ago and there are Tartars and Russians and tourists.  The western and southern coasts are vacation spots – it was known as the Russian Riviera when the Soviet Union dominated life in this part of the world. 
Our location is somewhat less glamorous than those on the tourist track and more isolated, but delightful nonetheless.  It was a closed city during the Soviet ere and was the home of a Russian military installation.  (Russia is a mere 4 kilometers from the city where we will live.) 
The Crimean peninsula is a small mountainous area.  Catherine the Great called it " … the MAIN PEARL in the Russian empire crown".
Kerch is near both the Azov Sea and the Black Sea.   The Azov is only 14 m. deep and is not as popular as Black Sea.  It is mostly a wild area with deserted, sandy beaches, lone fishermen and few tourists, and winds. The biggest resorts on Azov Sea are near Kerch and near the Cape Kazantip.
The Black Sea is between Europe and Asia. The Black Sea is bordered by Georgia, Russia, Ukraine, Crimea Bulgaria, Romania, and Turkey. The Black sea is connected with the Azov Sea, the Aegean Sea and the Mediterranean Sea. It is 2.211 m. deep. 
It is a long train ride to the location – 24 hours of bouncing along on the train!  We will be a couple hours away from the nearest PCV. 
My job will be in the children's library.  Mark will work in the resource center at the adult library.  I am delighted.
After a long day and evening of "work" we spend a little time socializing with others.  Mark plays cards and I visit.  Finally at around we make our way upstairs to our room.  Now there is time to relax under the spray of hot water before crawling into bed.  Imagine my dismay when I turn on the faucet and out comes cold, cold, cold water.  Not only is the water cold, it is copper colored.  The pipes clank and whine and the water fails to warm up.  Sigh.  My hopes are dashed and I end up going to sleep to dream of a hot shower.  Mark, the manly guy he is, braced himself and managed to shave his head using the cold water. 
Perhaps there will be hot water tomorrow.  Perhaps they turn off the hot water for the season when they turn off the heat for the season.  These are facts of life in this part of the world where some of the simple pleasures of life in America really are luxuries here in Ukraine. 
Despite the disappointment over hot showers we enjoyed the day and look forward to several days of camaraderie and training.  The euphoria over our future posting site distracts us from the disappointment.  Dreams of Crimea and the Black Sea help me drift off to sleep and pleasant dreams.
Helpful people…
People in Ukraine do like to help.  We confirmed this when our portable printer was not working well and I needed to have some papers in hand for my business meeting today.   Mark though we could probably take the disk to a local business center and get copies, so we left a bit early this morning to tackle this challenge.  At the third stop in our small town, we were finally advised to try the business place next door.  (Please remember we are deciphering the message from Ukrainian using our limited experience with the Russian language.).  In any case, before we knew it, we were huddled around a desk in a hardware store watching a very helpful Ukrainian man edit the file we wanted to print. 
Mark had typed up his introductory remarks in his own version of Russian.  When the gentleman who volunteered to help us get the file printed caught a glance at the content, he took it upon himself to re-write the whole narrative.  With considerable giggling and snorting, the staff at the hardware store rewrote Mark's introductory remarks for him.   About halfway through, I am pretty sure the gentleman typing wished he had not undertaken this particular challenge, but he never-the-less hung in there till the end.   
It was a pretty funny experience.  Later in the day we returned with a half-kilo of chocolates to reward our dedicated staff of local Ukrainians who helped us with our project.  Team work is big here.
It is time to begin packing our bags for our coordinator's conference – we will be on the Wednesday morning train and in a few days, we will be in our future home, exploring the community and making plans for our life there…
We will be gone about 9 days…rumor has it we may be heading south…  We shall see… Check back later for more adventures…
Train-training & Miss Zoë's big turkey dinner…
By we are shivering outside the local station waiting for the bus to Kiev.  Grey skies promise rain.  According to people from the area, rain is not considered part of typical spring weather.  The American saying "April showers bring May flowers" does not seem to have a counterpart in Ukrainian culture. 
Our classmates arrive and our teacher, usually very prompt, rushes up, just in time to purchase a ticket and board the bus with us.  Today's lesson: the vocabulary for taking the train.
It is about an hour ride to Kiev.  We bounce along the highway with headsets in our ears.  Russian words and phrases pour out and fill our heads as we gaze out at the bare earth that grows greener as we watch.  Rainy days and Mondays…
Seventy kilometers later we step off the bus and head underground to the metro.  I am glad I have experience traveling on the subway, because the Ukrainian metro at morning rush hour is no place for an amateur.   This is no place for someone uncomfortable around people or indecisive.  You must move forward and be prepared to protect your own space against outsiders.
The metro stations in Ukraine are grandiose and there is music reminiscent of the soviet era pouring out of the speakers.  The escalators rise from these caverns below the earth and the people are pressed body-to-body. 
For those, like me, who must sound out every word before I can take in the meaning of any sign, it is a major challenge to get my bearings.  I am amazed at the speed with which people move forward.  I try to stop and regroup, but I find that those who stop seem to be simply dragged along with the people who know how to manage the metro system.  I let myself move forward.  I feel, somehow, that I am in a film.  The dirge-like music and the dim lighting reinforce that feeling.
Being in a foreign environment is a good opportunity to practice Zen-like notions.  I mentally step back and observe.  I like the sense that I am watching a film.
When the car stops we are belched forth.  It is obvious we have arrived at the train station.  Pushing, shoving passengers carry luggage and those waiting to board are also loaded down with bags.  We step out on the platform and walk toward the train station, moved forward by the momentum of the crowds.  Musicians play sweet songs and vendors try to sell us things as we make our way up toward the train station.
Our lesson for the day is to learn all we can about how the train station manages all the demands on it.  On Wednesday, most of us will be heading away from the city to visit our future homes.  We will spend many hours on the Ukrainian train system juggling the challenges of language and the logistics of travel and the excitement of life.
I have traveled by train to Paris, Madrid, Rome, and other major European cities, but I must confess, the train station in Kiev, Ukraine is the most remarkable station I have seen.  There is a sense of history in the architecture, but there is a cosmopolitan sensibility among the people who travel on these trains.  As a Peace Corps Volunteer, I will not be experiencing some of the amenities available; however, I enjoyed the opportunity to observe the choices the other half may choose from. There are elegant waiting rooms and restrooms available to those with some money to spend.  The rest of the masses manage somehow.  I amazed at the beautiful flowers available here.  Travelers purchase huge bouquets to welcome friends or lovers or perhaps to share as hostess gifts at the end of the trip.    
As in other areas, there is a mix of modern technology and tradition in the entire railroad experience.  In a few short days, I will be traveling on one of these trains as we make our way to our new home for our initial site visit.
One of the major challenges for those of us in our training group is that signs and announcements are made in Ukrainian rather than Russian.  We must master many new words in order to feel comfortable traveling.  It is a humbling experience, but we watch and listen intently as our instructor coaches us on our lessons.
Once our lessons at the train station are behind us, we adjourn for lunch and then head to the PC office where we can check our e-mail.  Mark and I catch the eye of the PC's vigilant nurse who tracks us down and administers the last of our required shots as we wait for a free computer terminal.  Now when we travel to our coordinators conference we will not have to undergo shots. 
The walk from the subway stop to the PC HQ is wet and cold.  We are glad to arrive.  We spend some time visiting with other volunteers who are in town for one reason or another.  After some time on the keyboard, we head back to the metro and catch the marchutka back to our village. 
We updated our journals, but reading e-mail and answering it was challenging.  It has been about nine days since we read e-mail and I anticipated sending answers today to the mail I read many days ago.  Unfortunately the addresses are not available and there were other problems so something that should be simple, became a sense of frustration.  I am able to stay pretty calm about everything, but I must admit, I do get sad and frustrated when I cannot touch bases on via e-mail.  These lessons are character building for me.  I do look forward to hearing from family and friends…. 
I did get an e-mail from friend-Martha regarding Miss Zoë.  I am sorry to report that our dog managed to catch Mr. Strut (the resident turkey who now seems to be part of the big turkey dinner…) so now Miss Z. has relocated to a Marty's farm.  She seems to be adjusting well to life at the horse farm.  The horses and donkeys keep her in line.  Martha says Miss Z even comes when she is called now.  Siberian Huskies are not noted for that kind of behavior.  I am grateful she is adjusting well and it pleases me that she can have more freedom.  I am most grateful to Marty and Pat for allowing Miss Z. and Bubba to stay with them.  I miss them very much.
We left the house early Sunday and headed over to the bazaar.  K. is the regional market so people from all over the oblast arrive to shop or sell.  Now that the weather is so pleasant, the town is crowded on Sunday mornings. 
I planned to find a pair of suitable spring shoes and so, it seems, did everyone else!  It is fashionable to wear shoes with very pointed toes.  Popular women's shoes are also usually high heels; too much drama for my taste.  I did not find anything suitable for myself.  If I were in my twenties, I may have purchased something, but since I am not twenty, I did not find anything I would care to own.    
We had a lovely lunch with T. and N.  Surprise guests joined us just as we finished our meal so we simply remained at table and continued to eat delightful snacks.  N. pulled out his spirits for everyone and soon the stories were flying and songs were sung.
Later in the day, after the guests left, M. and I headed out for a long afternoon walk around the lake.  We found a cemetery and spent a little time wandering through the site examining graves and considering the customs and traditions we observe there.  At some sites there were rustic tables and benches provided.  Mourners and/or visitors could relax near their loved ones.  At a few sites, we observed shot glasses of clear liquid (vodka) left behind, presumable for the loved one.   
More on my false friends…
Reading in Russian, for me, is a mechanical process.  There are several letters (sometimes referred to as "false friend") which trip me up regularly.  I see "P" and must shift gears into Russian where "P" is pronounced as "R" would be in English. 
When I see a "PH" combination I become confused since the "P" is pronounces "R" and what looks like and English "H" is pronounced as "N".  
Don't even get me started on the backwards letter!  That backwards "N" is pronounced like an "I".  There is a backwards capital "R" that is pronounced like "Ya"…and there are more.  Frankly, this letter strikes me as something a demented five-year-old dreamed up.
Yes, her are several letters that do not hide behind a familiar shape at all.  Those letters seem easier for me to assimilate.  New is better than converting.  There are letters I have known and loved for close to fifty years and trying to change their meaning really is an up-ill battle.   
Once you get past reading Russian, you still must deal with the spoken word.  This is definitely another dimension to explore.  It takes a sharp ear and a dedicated mind to interpret the language and/or connect it with the written word. 
It isn't over until you consider the complex grammar rules that are part and parcel of this language.  
I am impressed by those who master this language.  It really is an amazing language.
There is more hunger
for love and appreciation in this world
than for bread.
- Mother Teresa
I think sometimes we forget this (see the quote above).  It has been my experience that people who work in the business community, at least in the American business community, may not really understand this statement.
I suspect living in Ukraine will be a lesson in priorities for many of the volunteers posted here.  With this thought in mind, you will understand me when I say many of the volunteers who serve here will take home gifts they did not anticipate receiving.  The lessons we can learn here, may outweigh anything we can anticipate sharing with the local people.
Friday was Safety Day for us.  Mark and I were the first to arrive this morning.  As we waited outside the meeting site a babushka struck up a conversation with us.  She spoke to us in Ukrainian and we answered her using our impressive (?) command of Russian.  Despite the obvious language limitations and the fact that she had very few teeth, we managed to have an interesting conversation concerning local news (a young mother died on the main street – a fatal asthma attack) and also about life in America. 
When Ukrainian's speak they are quite emphatic.  If you do not know what they are saying, you might be concerned about what is going on.  They involve their bodies in their speech and there is a sing-song quality about their speech patterns.  There is also a sense of urgency that makes the conversations seem like there may be an interrogation or reprimand going on.   The word flow together and it is often difficult to follow the flow of conversation. 
Today we received our first pieces of mail since we arrive here.  There was a postcard from Vogels and a letter from Cameron and Miranda which included a lovely crayon work of art for our bedroom wall. 
Getting a letter from home is quite an event.  In this age of e-mail, many of the volunteers never receive actual letters.  Since our opportunities to connect with the Internet are very limited, relying on e-mail is somewhat unsatisfactory.  Besides, there is nothing like a handwritten letter that you can read and re-read again. 
People who are far from friends and family share in the enjoyment when one of the group receives a letter from home. 
After a late afternoon technical training session Mark and I stopped at the House of Culture here in K.   N. had invited us to enjoy a school program that was taking place there.  Our schedule only allowed us to stay for about a half hour, but I am glad we had the opportunity to see part of the show, 
The theater was full of proud parents watching their talented children perform on the stage.  The level of talent was impressive and varied.  There were accomplished accordion players and pianists, a laud player and dancers, and much, much more. 
I left the theater feeling relaxed, but tired, after a long, demanding day.  The music lifted my spirits and it was a pleasure to see the children's enthusiasm and excitement as well as their talent.    
I am grateful that tomorrow there will be a change of pace from our usual language training and technical training routines.  Tomorrow we will meet with members of two other clusters for a Safety Day.  It will be good to see the other volunteers and hear about their adventures in training.  After a day focused on safety matters, we will relax at K.'s home and watch a DVD on the computer. 
Today, we also had the opportunity to work with some secondary school students who belong to a business English group.  The purpose of the session was twofold: to provide the students with some OJT on working as an interpreter and to give us some experience working with an interpreter.  Once we are at our permanent sites, we will need to cultivate candidates for this role.  After we find a suitable candidate we will train them and work with them and nurture their talents.  This will be a mutually beneficial arrangement.
The students seem to have a good command of the language, but many of them lack the confidence to speak.  Our trainers tell us this is because of the rote teaching techniques that are generally used.  It was a pleasure working with the students.
<![if !supportLists]>· <![endif]>Tuesday, 5 April 2005
Do not pride yourself on humility or poverty;
pride yourself on your divine inheritance.
-Pir Vilayat Inayat Khan
Alchemical Wisdom
I was a lady of leisure his morning – no appointments until 1300.  I rose with the sun (0630) and had breakfast with T. and Mark.  Morning light spills into our living-space and into the kitchen where we breakfast.  The small lake behind the house has changed overnight.  What was a static, white surface now is dynamic.  The azure water catches the morning sun and makes me think about painting.  Birds sing and all over the valley, roosters crow and remind us all that the day is at hand.  It is time to give thanks, rejoice and begin the day. 
Mark had a morning meeting at the school to learn about how computers are used in the classroom.  I spent my morning transcribing some of my notes on the Russian language.  This is a good way to review and reminds me that we have covered a lot of territory in the past month.  Outside, N. worked at chopping down a cherry tree that was damaged during the past winter.  The neighbors are also outdoors enjoying the warm Spring sunshine.  When I leave for my afternoon class, I do not wear a coat – not even a jacket.  It feels good to be free of coats, scarves and gloves. 
My agenda for tonight is to come up with a few proposals to share at my meeting tomorrow.  I will be coordinating a seminar with the youth leadership group.  I am also planning to work with several other trainees to present a community workshop that focuses on providing internships for youth who are starting out in the working world.  This concept is not widely practiced here in Ukraine (or at least here in K.) My hope is that I can prepare a seminar for the youth leaders that will inspire/motivate them to explore this idea and prepare questions and perhaps a proposal for the workshop. 
Of course I have some language homework too. 
Our interactions with local people continue to grow and with those opportunities, our confidence grows too.  Enroute home tonight we stopped at the hardware store and made a couple purchases.  The owners dropped by and chatted with us.  Their 12 year old son and I worked together to carry on the work of translating.  I pulled out my photo album and shared photos of our grandson and granddaughter to keep the conversation going.  Their son's English is quite good.  Afterwards we ran into the school teacher who translated for me last week and whom I will meet with tomorrow when she translates for me again.  She is an English teacher and enjoys having the opportunity to use her skills in a real life situation. 
We do not hear much news here so what is happening in America is a mystery.  The Ukrainian newsgroup I subscribe to over the Internet mentioned that the President of Ukraine is currently visiting the USA.  His wife is actually from Chicago.  The woman who is Prime Minister is also from the USA originally (she is from a town in Florida).  It will be interesting to read about the First Families visit to America.
<![if !supportLists]>· <![endif]>Monday, 4 April 2005
Ukrainian idioms…
Time to share some of the idioms we have picked up during our brief time here in Ukraine.   Thanks to PC and our language instructor for sharing many of them with us. 
I wish I could share them in native Russian.  Mark has "trained" his computer to speak Russian, but I am not that advanced yet.  So, here you will read the English version of these sayings.  I will refrain from sharing my interpretations, but I suspect you will agree with these sayings.  Some of these are fun…
<![if !supportLists]>· <![endif]>One is not a warrior in the field.
<![if !supportLists]>· <![endif]>It is nice to be a guest, but it is better to be at home.
<![if !supportLists]>· <![endif]>The house is not pretty with its corners, but with its pies.
<![if !supportLists]>· <![endif]>What we are rich in, we are happy to share.
<![if !supportLists]>· <![endif]>The husband is the head of the family, and the wife is the neck.
<![if !supportLists]>· <![endif]>Children are the flowers of life.
<![if !supportLists]>· <![endif]>Tell me who your friend is – and I will tell you who you are.
<![if !supportLists]>· <![endif]>Small children do not let their parents sleep well; big children do not let their parents live.
<![if !supportLists]>· <![endif]>The satisfied does not understand the hungry.
<![if !supportLists]>· <![endif]>Don't open your mouth for someone's pie.
<![if !supportLists]>· <![endif]>The first pancake is a lump.
<![if !supportLists]>· <![endif]>Seven people do not wait for one.
<![if !supportLists]>· <![endif]>God likes the number three.
<![if !supportLists]>· <![endif]>A week without a year.
<![if !supportLists]>· <![endif]>Seven Fridays in one week.
<![if !supportLists]>· <![endif]>Morning is wiser than evening.
<![if !supportLists]>· <![endif]>The darker the night, the brighter the stars.
<![if !supportLists]>· <![endif]>To go where one's eyes look.
<![if !supportLists]>· <![endif]>There will be holidays on our street too.
<![if !supportLists]>· <![endif]>It is better to ride a donkey than to fall off a horse.
<![if !supportLists]>· <![endif]>Daring takes cities.
<![if !supportLists]>· <![endif]>What is written with a pen can not be cit out with an axe.
<![if !supportLists]>· <![endif]>If you like to go sledding, learn to like carrying your sled.
<![if !supportLists]>· <![endif]>Small children – small problems, big children – big ones.
<![if !supportLists]>· <![endif]>To swim like an axe.
I love these saying…I hope you enjoy them…
Today we had the opportunity to tour a milk production factory here in K.  The director and an engineer accompanied us.  We donned white lab coats and followed along behind our leader, craning our heads and straining to hear the translator over the noise of the machinery. 
The factory is clean and bright with wonderful facilities for the employees to eat, relax and to shower and change.  The equipment is new and computers are used effectively to monitor deviations.  After the tour we enjoyed a large cup of rich milk and some kefir too. 
I wish my nephew could have shared this visit with me since he has worked at the dairy in my hometown for many years.  
<![if !supportLists]>· <![endif]>Sunday. 3 April 2005   
Sunday is market day.  The bazaar is an integral part of the community and is open every day except Monday, but it is at its best on Sunday.  K-town is a regional market so the community fills with people on Sunday.  Now that the weather is warming, even more people come to enjoy a few hours of shopping, socializing and snacking at the local market. 
Today the side-streets were filled with cars and motorcycles.  Men read their newspapers or stood around talking with one another as they wait for their wives and family to finish their shopping adventures.  The bus station is crowded and busy too. 
Since this is a regional market, people come in from outlying villages to shop and socialize.  When a bus pulls in, scores of babushkas pour out the doors of the busses.  They each carry large bags filled with items to sell.  There are bags with potatoes or sunflower seeds.  There are woman toting live rabbits or chickens.  The woman are old and strong and make quite an image as they pour out of the busses and stop traffic as they cross the road to get to the bazaar.  Each wears a large, colorful kerchief knotted around her head.  Most are stout women, hunched over and close to the ground.  It is hard to imagine that the next generation of Ukrainian women will ever resemble these grandmothers who are such a symbol of Ukrainian life. 
The younger women do not make a public appearance with out carefully composing their makeup, hair and wardrobe.  The current look for the under 30 set includes stiletto boots and tight jeans or very short skirts (It is not unusual to see a loooooong bare leg extending out from under a coat.  Skirts are short and seeing all that leg peeking out from under a long coat is pretty provocative.)  Despite mud, snow, or rough terrain, these young women indulge themselves.  They are stunning.  Of course such beauty is short-lived.
We attended church today.  The Russia-speaking Australian minister is on vacation, but his associate, from America provided the sermon.  The music was stimulating.  There were many Ukrainians at church.  People here did not (could not) attend church during Soviet times.  There are no church edifices in this town.  The pre-dominate religion in Ukraine is Ukrainian Orthodox and they have beautiful churches in some cities.
The Pope is gone.  No one mentioned this at the church services we attended.  When we brought it up at lunch, our hosts gave us blank looks and asked if we were Catholic.  I will be interested to see what direction things go when a new leader is appointed. 
On our walk home we passed the body of a cold, stiff, dead dog.  This past week the local paper advised people to lock up their dogs because those found running the streets will be eliminated.  The violators are shot with a lethal dose of some chemical.  They die and are transported to a dumping ground.  This is a form of population and disease control that does not sit well with those of us from other cultures.  Here it seems to be a fact of life. 
In the spring, local dogs tend to procreate and make a nuisance of themselves.  They also join forces and as a member of a pack, do considerable damage to other animals and endanger people too.  We have observed large groups of dogs (10-15 animals) roaming the streets and threatening people. 
Lunch today was quite a feast.  T. prepared one of the national dishes of Ukraine: Vareniki with cheese (spelling?).  These delightful, rich dumplings are steamed and then served with a healthy spoonful of sour cream.  They are absolutely out of this world.  This is one dish I plan to master once I have my own kitchen again!  The filling is a special cheese very similar to cottage cheese.  The flavor is light, but it is a rich, filling dish, worth seeking out.
If the only prayer you ever say in your entire life is thank you,
it will be enough.
-Meister Eckhart
Saturday night in a small town in Ukraine….  Our host family shared a wonderful meal with us and engaged us in conversation for a few hours.  My passive vocabulary allows me to understand (or believe I understand) a great deal of what they share with us, but my ability to respond is so limited.  Many of the words are familiar but grammatical issues and pronunciation challenges make it hard to actually respond.  I string together words and gestures in an unsophisticated stream, trying to get across my point.  Of course we have only been here in country around four weeks now…I think my skills will improve.
We seldom finish a meal with our host family without Mark striding back to our room to retrieve the Russian/English dictionary to resolve some conversational issue.  Tonight the map of the USA and the map of Ukraine also made an appearance as we discussed where family lives and other matters that involved maps. 
Our Saturdays are not our own while we are in training.  We have cross-cultural training and technical training each wk.  This week the classes were held here in K-town so our cluster-mates had to take the bus and mashutka to our village.  We slept n a bit, visited the market to stock up on cookies, chocolate and fruit to serve with tea for our guests.  We arrived at class around 0930. 
It is good to see the other trainees and hear about their recent experiences.  Their post is very different than ours.  They are close to Kiev and it is a very urban setting.  The apartments are newer and the community has a different personality than our rural home here in K-town.  The PVT's in U. have a gym where they attend aerobics classes and play basketball.  One of the trainees is giving tennis lessons to local youth.  Their Saturday night plans include time at a local disco while here in K. we plan to read books or go for a walk.  
Our mentor provided additional feedback to our group at the training today.  She is posted at a remote tourist community in the mountains of western Ukraine.  Her cottage is perched two miles uphill from the community.  During winter it is inaccessible by car/taxi.  J. is a more mature volunteer and has led wilderness hikes in the Rockies.  Her experiences in Ukraine are helpful to us since most of us are likely to be assigned to smaller, remote areas. 
After class, Mark and I took a long hike around the local park.  The snow is gone, but the air is still cold and the sky was uncharacteristically grey today.  We came into the park through the area adjacent to the bazaar.  This area is more isolated and quiet.  It will be lovely when he spring clean-up project is complete and the leaves and grass begin to turn green. 
The lake is small and an even smaller island is in the middle of it.  The island is accessible only by using the hand-powered ferry system (a pulley and cords which one pulls to navigate the small ferry boat).  There are many chickens scratching in the dirt and enjoying the spring air in the park.  Apparently these birds live in homes adjacent to the park. 
We left the park behind us and continued our walk into another part of town we were unfamiliar with.  Many people were taking advantage of the day to clean up their yards.  When the snow melts, clutter, rubbish and dirt surface so there is much work to be done.  Most homes have outbuildings where they may have poultry or even a small pig or two.  There is usually a main house and often a small secondary house on the property too.  People were cleaning chickens and drawing water from their wells as we walked by and greeted them. 
After our long walk we had a wonderful dinner at home and spent the evening reading.
During diner last night, a large truck arrived and delivered a load of bricks to our host family.  We could not decipher exactly what the impending project is, but it is clear, the pile of bricks needs to be neatly stacked.   
Mark invited our classmate T. to come by and help stack bricks after class.  When we arrive, N. has already started, but welcomed the help.  Once the stacking was finished, the three men climbed the stairs to the house and came into the kitchen.  N. and T. quickly set the table with tasty snacks, a bottle of homemade wine and some homemade vodka too.  Two toasts and a sip of the wine made the conversation flow.  I wondered if Tom would be able to navigate his way home safely. 
The plan for Friday evening was to meet at our language instructor's home at for a movie night.  One of our PCV mentor's is in the area so the plan was to meet and talk.  Movie night was a nice way to spend a relaxed evening.  C. has a good collection of DVDs and we brought our laptop to view the movie on.  We sprawled on the floor, ate cookies and watched "50 First Dates".  Afterwards we visited for a while and then found our way home on the dark streets of K-town.
Today was April Fool's Day, but we did not pull any pranks.  Here in Ukraine, it is called the Day of Humor.  We did not experience any jokes, but talked about some pranks people pulled in the past.  It is interesting which holidays are universal and which are not. 
Today's language lesson involved a "field trip".  We were required to approach three people on the street and ask for directions to a local establishment.  I had no problem stopping people and squeaking out a simple phrase or two requesting directions.  I know that if the respondent would have actually provided a narrative, I would have had a hard time interpreting the reply, but my experience was typical.  People pointed in the general direction and provided a few directions such as, "it's over there between those two buildings" (in Ukrainian or Russian of course).  My success in this language will be in my tenacity rather than in my ability to speak it.  In any case, I found the designated store and tackled the exercise with humility and a smile.
The weekend is ahead.  Always a joy.