I "suffer" Camino Fever…recently I have found another series of forums and list serves to pre-occupy myself with everything related to the Camino de Santiago de Compostela.  I love the Internet and the opportunity to access the entire world from my desktop.  It is amazing!
Boot & shoe lacings - For those who might want to explore more lacings to see what works best for them, here's a URL that illustrates a whole bunch. Check out the hundreds of photos showing beautifully laced shoes...amazing numbers of styles...apparently this is an art form!  And it is also a science – proper lacing actually helps make the journey easier.  Choices vary depending on terrain, whether the walker is hiking uphill or hiking downhill, etc…
http://www.fieggen. com/shoelace/ lacingmethods. htm
<![if !supportLists]>· <![endif]>25-27 September 2008 – Ruidoso Regionals
I was off to Ruidoso to present at a literacy workshop.  What a beautiful place – alpine forests, elk and deer, log cabins and tempting outdoor cafes…so inviting. 
But how I hate driving through the mountains and around the curves.  My travel companion drove.  She is not disturbed by the mountains, but is inclined to get car sick.  What a fine pair we make!
<![if !supportLists]>· <![endif]>Wednesday, 24 September 2008
Isabel Allende at the Lensic!
What a surprise to see such a short woman step up to the microphone.  But as soon as she began to speak, she grew in stature.  Of course almost everyone in attendance already revered Allende for her wonderful writing.
It was a pleasure to be in the audience for this event.  The tickets came as a delightful, last-minute gift. 
I am so grateful for the opportunity to hear Allende speak.
__________________________________
Check out my HippieBoy nephew Christopher's video - he REAAALLLLLY can't dance. He is good at web design though... So, do you see a family resemblance?  Kinda?

http://www.youtube.com/watch?v=z7-8D35S-PM
<![if !supportLineBreakNewLine]>
<![endif]>
<![if !supportLists]>· <![endif]>Thursday, 18 September 2008
We went on and on and on, but the audience was polite and seemed interested.  My cousin invited us to speak to her Methodist church group about our adventures in Ukraine (and Peace Corps). 
Cousin Phyllis and her crew came down from Colorado to Santa Fe to work at the Habitat for Humanity build.  They travel to four different locations each year and work on the builds.  They have been doing this for years and years and years.  They are quite a team.
This time they "camped" in the local Methodist church.  We arrived in time for dinner and then spent three hours sharing stories and answering questions about Ukraine. 
It was almost like opening a Pandora's Box!  We have not had time or opportunities to really talk about our Ukraine experiences so once we began, everything came spilling out. 
We were grateful for the opportunity to relive our 27 months in Ukraine.  I look forward to making time to organize our materials, make a PowerPoint and orchestrate our scrapbook.  Life has rushed on – this year in Santa Fe doing our AmeriCorps*VISTA work has consumed us.
Life is so good.  Life is soooo full!
<![if !supportLists]>· <![endif]>Tuesday, 16 September 2008
(ANOTHER E-MAIL EXCERPT)
Another tell-all quiz! I love these things and don't know why.

1. What time did you get up this morning?
> 0610 - gotta walk the dog! It gets harder to rise as the temps drop...brrrr

2. Diamonds or pearls?
> Oh, some Mrs. Cleaver pearls would be nice ...but the cold, sparkle of diamonds are stunning!

3. What was the last film you saw at the cinema?
>Sex in the City - with a large, diverse group of women so who cared about the film - The crowd was a delight!

4. What is your favorite TV show?
>I watch The Nanny and Wife Swap...people stuff interests me.

5. What do you usually have for breakfast?
>Coffee and an oatmeal, nut, raisin based cereal that my spouse blends up for me. Yum!

6. What is your middle name?
>Jeys now...it is JoAnne actually. I just use the initial usually

7. What food do you dislike?
>Pretty much whatever I am eating at the moment - no real favorites! I do have comfort foods though. (Beth, I loooooove beets - we eat them often!)

8. What is your favorite CD at moment?
> No CD favorites...we listen to the radio... (Our NPR station regularly plays Native American stuff and Mariachi, etc...it's a great switch from the normal NPR music fare!)

9. What kind of car do you drive?
> No car - I drive an old Dodge Dakota 4X4 which gets respectable mileage actually.

10. Favorite sandwich?
>Turkey, avocado on whole grain...yum!

11.What characteristic do you despise?
>Unkindness

12. Favorite item of clothing?
>My old jeans...I missed them in Ukraine.

13. If you could go anywhere in the world on vacation, where would you go?
>My mind is on Alaska these days...maybe because of Janeen, but I would loooove to go to Finland, Norway.... 8-) (Oh Beth - you really should go to Serengeti- do a safari and tourist stuff there and then extend the trip down to Byron's farm...you would love it and so would he!)

14. Favorite brand of clothing?
>Not much on brands...just stuff that makes me happy!

15.Where would you retire to?
>I keep looking...I want to retire where I live. Santa Fe is pretty good!

16.What was your most recent memorable birthday?
>This year's b'day was just a lazy, lovely delight!

17. Favorite sport to watch?
> Not much on sports...watched the Olympics regularly though.

18. Furthest place you are sending this?
>Alaska I guess...maybe Ukraine...

9. Person you expect to send it back first?
> Speed isn't everything! I just enjoy reading the ones that come back!

20. When is your birthday?
> 3 September

21. Are you a morning person or a night person?
> I come alive again after 11 PM...but love to be up at dawn. Getting up...another story...once up, I am darn perky!

22. What is your shoe size?
> 9.5

23. Pets?
>Zia Maria, my pound puppy...wish I could get a cat too...

24. Any new and exciting news you'd like to share with us?
>Hmmm...nothing exciting on the horizon, though I am planning a walking trip across northern Spain (500 miles) in May.

25. What did you want to be when you were little?
>An early dream was veterinarian - later I wanted to do radio or write (done both)...

26. How are you today?
>I am going to be late for work because I am doing this ... !

27. What is your favorite candy?
> Dark chocolate (frozen snickers are a substitute!)

28. What is your favorite flower?
> Wild flowers ...pick one. Please pick one! 8-)

29. What is a day on the calendar you are looking forward to?
> Thanksgiving...

30. What is your favorite pastime?
>Walking the dog...

31. What are you listening to right now?
> NPR Morning Edition

32. What was the last thing you ate?
> Cereal

33. Do you wish on stars?
>Frequently...the skies are so starry here.

34. If you were a crayon, what color would you be?
>Yellow...a warm yellow...

35. How is the weather right now?
>Wonderfully dry, cool and sunny bright...

36. The first person you spoke to on the phone today?
> No one yet...later I must conduct a horrible phone survey...ick...

37. Favorite soft drink?
> Don't drink soda much...maybe Mountain Dew

38. Favorite restaurant?
>Most anyone with a patio and some charm - Santa Fe has wonderful restaurants...

39. Real hair color?
>Dark brown with white threads running through it...

40. What was your favorite toy as a child?
>My huge stuffed bear (Schnicklefritz) and my blue bike that gave me tremendous freedom

41. Summer or winter?
>Winter has its appeal...

42. Hugs or kisses?
>Hug me please...
.
43. Chocolate or Vanilla?
>Chocolate...

44. Coffee or tea?
>Coffee and lots of it!
45. Do you want your friends to email you back?
>No, I just do this stuff to annoy them... yes, I love to hear what people think!

46. When was the last time you cried?
>At a parade - the marching bands bring tears to my eyes.

47. What is under your bed?
>Nothing but dust...

48. What did you do last night?
>Sorted through our Ukrainian paraphernalia getting ready for a Peace Corps presentation to a bunch of Habitat Caravaners ..

49. What are you afraid of?
>Curvey roads and unexpected snakes...

50. Salty or sweet?
> salty...

51. How many keys on your key ring?
> 5 or so...

52. How many years at your current job?
> almost 1

53. Favorite day of the week?
>Saturday

54. How many towns have you lived in?
>Oh, about 17 ....

55. Do you make friends easily?
> No

56. How many people will you send this to?
> 5+

57. How many will respond?
> However many answer will be the number that respond...

And I am off to the rat race...late, late, late....not usual for me to be late!

VJP
In Sunny Santa Fe
<![if !supportLists]>· <![endif]>Sunday 14 September 2008
The Renaissance Fair in Santa Fe
Los Golindrinos is a historic Spanish living history ranch just outside Santa Fe.  What better place to host a Spanish Renaissance fair?  The proceeds go to charity.
We spent a delightful day wandering the grounds and soaking up the ambience provided by the performers and their costumes.  The Society for Creative Anachronism provided jousting and battle events and of course there were artists and dancers.  And yes, m'lord and I gnawed on a greasy turkey leg, sipped wine and had a wonderful time under the sunny Santa Fe skies.
<![if !supportLists]>· <![endif]>Friday, 12 September 2008
(Following is my part of a skill-building discussion in the Peace Corps 2 Yahoo group…)
"I've learned that people will forget what you said, people will forget what you did, but people will never forget how you made them feel."   - Maya Angelou
I think a lot about human behavior so when I saw the above quote this morning; I decided to share my initial thoughts about it. This topic seems like a useful subject for people heading off to Peace Corps service to discuss. It is good to hone our skills and find ways to cope with things before we find ourselves in the fire!
I hope some of you will find this stimulating and that you will share your stories and your thoughts and experiences on this topic. (I bet some of the RPCVs out there have some great stories on this topic!)
To me, this quote (above) is about "saving face" - I think in modern day American culture we have kind of lost this concept. We Americans, compared to people in other cultures, tend to pride ourselves on being direct and frank. Sometimes we call it being honest. In other cultures, people are frequently far less direct and they do not really value (or understand) our straightforward approach to things. In fact, we can come across as uncultured, unkind - brash, thoughtless, and even mean-spirited. Peace Corps volunteers often learn about saving face during their initial training, but many of the PCVs end up learning about it in face-to-face situations...on the job training (OJT) is not always the best way to learn a new concept!
I will spell out the basics of this concept, just in case some of the people reading this have not really thought about this behavior.
Individuals may find themselves in a situation where they know (or suspect) they are wrong. But instead of backing down or admitting they have made a mistake or that they are wrong, they bluster ahead. They stick to their guns. The conflict continues because that individual just plain does not want to experience of looking bad.
The trick is to allow that individual to save face. How? Allow your opponent a way out; find a way to let them gracefully conceded without having to actually admit they have made a mistake.
This is the basis of diplomacy. It is essential to any act of negotiation. It is so important in simple interactions. It is a talent to cultivate (along with many others) and practice. It will help people navigate through their PC experience and will continue to be useful in almost any career or relationship you enter into.
Frequently just a change in wording can make all the difference in the world. Allow people to maintain a positive image - do not push them into a corner.
It is about cooperation not competition. It is about re-framing things to sound more acceptable, less threatening...it is about perception...
How do we do it...hmmm....it is YOUR turn to share! Any examples from PC experiences? Did you ever bully someone into a corner, leaving them no gracious exit Were Anyone have any strategies to graciously get out of a situation like this? (and maybe you did not even know you were doing it!)? How did you repair the damage? Have you ever been the one cornered with no escape? How did the situation get resolved? What would you do differently?
Here are a couple links that lead to good reading on saving face and related strategies:
1. Seven Strategies for Treating Perception/ Framing Problems: Fisher, Ury, and Patton share techniques negotiating agreements (principled negotiations). Saving face - dealing effectively with people problems...
Skill Building - http://www.colorado.edu/conflict/peace/example/fish7421.htm
2. Beyond the Hotline: Controlling crisis/conflict situations - giving the opponent a face saving way out of the conflict.
http://www.colorado.edu/conflict/peace/!treating_core.htm#recocil
<![if !supportLists]>· <![endif]>Thursday, 11 September 2008 – Patriot's Day
Last week I was rather pleased to discover our American flag tucked away in a little-used closet.
Flags should be flown, not stored.
This one was in the closet, because I did not remember packing it up when we planned for our AmeriCorps*VISTA year.  My packing plan was to keep things simple for our tenure here in Santa Fe; just bring the basics.  We could live a pared down, Spartan life.
But somehow, that plan morphed when my wonderful spouse got started loading the truck.  Consequently, we ended up with most of our belongings here in the delightful dome-home we are gratefully house-sitting in.
"It's the anniversary of 8/11.  Let's put up the flag today," Mark suggested as we sipped our morning coffee.  My father flew the flag everyday, so I was pleased that Mark suggested hoisting Old Glory.
I glanced at the clock.  "We have a few minutes before we have to leave for work so we better hurry," I replied.  In a matter of minutes we had assembled a hammer, nails and the flag. 
"I'll stand on top of the Jeep and hang it from the portico," Mark said, as he scrambled up on top of the Wrangler.  He stretched to place a nail in the wood high above his head.
But it was not to be.  As soon as Mark unfurled the flag, it was clear we would not be flying the flag on this day.
The flag is huge.  It is over 20 feet long!  No matter what we did, we could not find a way to hoist our flag! 
The huge flag we brought with us is not the modest flag we routinely flew from our SC porch.  This is the mysterious flag that was one presented to us at Caleb's memorial service.  The mystery is where it actually came from.  The men Caleb used to ride with wanted to pay tribute to our son.  These riders (bikers prefer the term riders) did an impressive 21-gun salute using their personal weapons and then presented us with this flag of enormous proportions.  (The Air Force honor guard that was came to honor our son that day also did a 21-gun salute and flag presentation, but theirs was definitely overshadowed by the one done by the riders!)
As the riding club members solemnly presented us with the flag several of them advised us to "ask no questions" regarding how this massive flag was acquired.  And wisely, I chose not to probe. 
So, we did not fly the flag on Patriot's Day – we could not fly that huuuuuge flag without special equipment to post it!
But watching Mark standing on the roof of the Jeep (which once belonged to Caleb) laughing about the size of the flag, conjured up wonderful memories of those good men (and women) who were there to honor our son after his death. 
Caleb's death came just six months after the events of 9/11.  The pain, fear, sadness, confusion and myriad difficult emotions produced by the events of 9/11 were still fresh and raw when we received word about our son.
All these feelings and images from these two significant experiences kaleidoscope before me…I could cry; but I choose to laugh with joy.  So, I stood there laughing in joyful memory of all those who were touched by those events on the 11th of September, 2001.
<![if !supportLists]>· <![endif]>Wednesday, 10 September 2008
(Following is an excerpt from a discussion in the peace Corps 2 Yahoo Group…)
Re: RVs and Vs: What was/is your biggest fear during service?
Fear is in your head...let me elaborate (communicating via e-mail is such a
challenge):

The *event that triggers* emotion, behaviour and action is real (generally
speaking).

The *emotion, behaviour and/or action resulting from the trigger are
subjective and consequently not "real" * ... you can choose to accept fear or
to re-frame it in another guise; you can conquer fearful feelings/emotions
and move forward, etc...

Yes, the trigger is real...the resulting action or reaction is within your
control.

My Mom helped me learn about this when I was young - she often reminded me
to act, not react...choose your attitude....

And this in no way minimizes events...but it does put one in a position of
power - to know you do have choice and to recognize you do not have to allow
yourself to be controlled by situations. You always have an element of
choice when it comes to how you act/react...

Even when one may be dying (I mentioned in my previous e-mail that I was
medievaced during my PC adventure and faced three major surgeries in a three
week period and the demise of my PCV dreams - cancer...I chose to let anger
drive me initially and then figured out that was not wise and chose to find
joy and gratitude that I actually have resources and could move forward...I
could just as easily have let fear overwhelm me...but I did not let that
creature dominate my experience) I have been in many challenging and
potentially frightening situations (lost on a mountaintop in Malawi with a
mentally challenged man for one...I chose not to accept fear then either...I
chose to be confident and kind...fear would have made me a victim...) they
have an opportunity to choose. My point is this: the event may be real,
but how we choose to respond (or react) is not so concrete. We do have a
choice. We do not have to choose to let fear dominate us.

(As for your reference to the 12 year old dying ...I can empathize...just a
few years ago, I lost my only son in a motorcycle accident on a mountain
road...so I have an idea how painful your experience can be...My son's
death is one of the reasons I decided to join the Peace Corps in the first
place - in a way I can give his life and death more meaning by living my own
more fully with a sense of gratitude for the abundance we have...I could
have as easily chosen to be overwhelmed with fear, grief and
sorrow...sometimes people let fear and sadness conquer their will to live a
life of joy...such a trigger event can leave one reeling. It is wise to
examine how you choose to respond...Understand that I am not giving you
advice here, I am merely explaining my thought process and my experiences
and constrained by letters on a computer screen rather than a face-to-face
discussion.  I hope you too, in time, will find a way to make this incident
meaningful and proactive...far too many people use death and difficulties
and fear as an excuse to wallow in the ugliness of mortal life - conversely,
we can use the sad and painful triggers to live more fully and with greater
joy, because we know our days are limited... )

I have cultivated the art of choice throughout my life and find that making
a choice about whether to allow my life to be controlled by fear, anger,
uncertainty, bitterness, sadness, etc is counterproductive. While I cannot
control the trigger event, I can choose my response and the behaviours that
follow.

I am grateful for the opportunity to share these thoughts with you all...This
forum is a wonderful place to learn new ways of thinking and living...Thank
you for letting me share these thoughts with you!

Learning to act rather than react and to choose what behaviour, emotion or
activity will follow a trigger event are good lessons to learn - and
certainly not easy ones! Like any skill they require some practice and
repetition. I keep getting opportunities to practice and it does get
easier! 8-)

Life is good..

"Ginn"
Read my Journals: www.pulverpages.com
<![if !supportLists]>· <![endif]>Tuesday, 9 September 2008
(EXCERPT FROM E-MAIL – 33 QUESTIONS)
Welcome to the new 2008 edition of getting to know your family and friends. Here is what you are supposed to do, and try not to be lame and spoil the fun. Change a all the answers so that they apply to you. Then send this to a bunch of people you know, INCLUDING the person who sent it to you. Some of you may get this several times; that means you have lots of friends. The easiest way to do it is to hit 'forward' so you can change the answers or copy and paste. Have fun and be truthful!

1. What is your occupation right now?
AmeriCorps*VISTA for a year (post Peace Corps) - I'm a recruitment consultant for the New Mexico Coalition for Literacy in Santa Fe, NM - service ends in November...

2. What color are your socks right now?
Red cotton socks I wear for dog-walking - these socks are decades old!

3. What are you listening to right now?
National Public Radio...love it. And rainfall....

4. What was the last thing that you ate?
It's my birthday and my spouse made his wonderful, raisin scones for me to start my celebration right!

5. Can you drive a stick shift?
Thant's all I've ever driven! I drive a 5-speed, 4X4 - red Dodge Dakota name "Dakota Jack"...Mark drives a black Jeep Wrangler he inherited from our son

6. Last person you spoke to on the phone?
I am not a phone person - I go weeks without answering the phone. I spoke to my daughter, son-in-law and grandkids Sunday.

7. Do you like the person who sent this to you?
I do - she makes me laugh frequently with her dry wit...

8. How old are you today?
I try not to ever specify - kind of limits my thinking if I ascribe an actual age...but today is my birthday! Yay! I am starting to sneak up on 60...just trying to get used to that idea will take a few years and by then I will be 60!

9. What is your favorite sport to watch on TV?
I am not much of a sport watcher or player...but I did watch the Olympics - the athletes are soooo amazing!

10. What is your favorite drink?
I drink gallons of black coffee and also enjoy dry, red wine

11. Have you ever dyed your hair?
I've used a rinse...but never really dyed my hair...lots of grey/silver streaks in my long locks these days.

12. Favorite food?
Hmmm...I am not a real foodie - I tend to like whatever I am currently eating...left to my self, I would live on cereal, toast and other boring food probably... Ask me what I do NOT like to eat! I have an answer: Holidets...a Ukrainian thing and trust me, it is not good!

13. What is the last movie you watched?
"Dan in Real Life"...liked it. Next NetFlix will be "Smoke" with William Hurt...I saw it years ago and frequently flashback to interesting scenes...wonder if I will still find it intriguing the second time around.

14. Favorite day of the year?
Thanksgiving is pretty nice...just friends and family being grateful for life and eating good food....

15. How do you vent anger?
Sometimes I write...sometimes I clean....I don't get mad much...and don't hold a grudge at all.

16. What was your favorite toy as a child?
Schnikle Fritz, a large black and white, filthy, eyeless Panda...later my blue Western Flyer bike - which gave me freedom and opportunities for adventure...

17. What is your favorite season?
Autumn gets into my system and gives me energy...rainy Fall days and Indian Summer ....love it.
18.Cherries or Blueberries?
Cherries....

19.Do you want your friends to e-mail you back?
No...yes, of course - it is fun to read the answers and interact a bit, but if people choose not to participate that's cool too.

20.Who is the most likely to respond?
Hmmmm ... the ones who enjoy this sort of thing.
21.Who is least likely to respond?
The ones who do not care for this sort of thing ...

22.Living arrangements?
We are housesitting in usually sunny Santa Fe - an old hippie dome home on 3 acres...the two of us and our 3-legged pound-pup.

23. When was the last time you cried?
I cry at parades...something about the drums...

24. What is on the floor of your closet?
Lots of shoes and boots...

25.Who is the friend you have had the longest that you are sending to?
Marty...she was at my 6th birthday party. I have photo documentation!

26.What did you do last night
I curled up on the couch and read a novel about a woman dealing with grief after the death of her husband...

27.What are you most afraid of
I've developed a reaction to driving/riding on curvy, winding mountain road and overpasses...my palms sweat...since I live at over 7,000 feet here in Santa Fe, this can be a challenge.

28.Plain, cheese, or spicy hamburgers
Cheeseburger and fries please...

29.Favorite dog breed?
Larger breeds - German Shepherds, Siberian Huskies... I love most any dog or cat!

30.Favorite day of the week?
Saturday mornings...the day unfolds with so much possibility...unfortunately as of yesterday, my spouse works on Saturdays! Sigh....

31.How many states have you lived in?
Hmmm...at least 11 and a couple foreign countries....

32.Diamonds or pearls?
Pearls...

33.What is your favorite flower?
A big bouquet of purple lilacs...wildflowers in general...
******************************************************
<![if !supportLists]>· <![endif]>Monday, 8 September 2008 –International Literacy Day
I've worked to orchestrate Literacy Day events at the state capital today.  Our keynote speaker, John Corcoran, should engage the crowd and promote interest in the issue of literacy.  Almost half of adult New Mexicans cannot read and/or write at/or above a fifth grade level (in their native language).  This affects our quality of life, our economic system, the health of our population and so many other aspects of life.  In a culture that relies on the written and spoken language literacy is a huge issue.
<![if !supportLists]>· <![endif]>Sunday, 7 September 2008 – FIESTAS!
The Hysterical/Historical Parade
We park our backsides on the curb, along with all the other locals who have turned out for this hometown event.  We bring umbrellas to ward off the hot sun.  We chat with total strangers as if we were long, lost friends.
The parade route is packed with families.  Small children scramble for candy as the floats and bands move steadily by.  I place my open umbrella top-side down along the curb; handfuls of candy rocket into the well formed by the umbrella.  I make friends with eager children, sharing candy with them as we laugh and cheer at the passing spectacle.
There is nothing like a local parade.
<![if !supportLists]>· <![endif]>Saturday, 6 September 2008 – FIESTAS!
The Pet Parade
Zia Maria and I meet our friends (one adult woman and her canine companion) downtown for this early morning parade.  Originally, we had planned to participate in this annual event, but discovered at the last minute that only children (and their adult escorts) can participate.  So we settle on the curb to watch the passing display.  We sip coffee and answer the questions that pet-owners frequently field when they are out in public with their animals.
Miss Zia's missing leg often prompts questions or philosophical comments on how a three-legged dog, unlike a human, does not let this misfortune define who she is.
This parade is comprised of pets and people wearing outlandish costumes.  They parade around the Plaza to the cheers and applause of the best kind of audience: family and friends.  The tourists have almost all disappeared.  Santa Fe belongs to the locals once again.
<![if !supportLists]>· <![endif]>Friday, 5 September 2008 – FIESTAS!
Our Wedding Anniversary – 37 Years Ago Today!
<![if !vml]>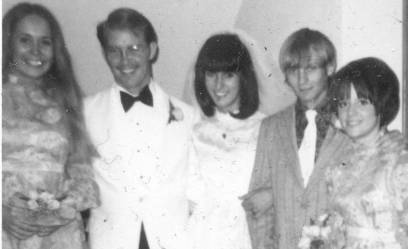 <![endif]>
Mary Ann, Mark, ME, Doug & Patty – 5 September 1971
We enjoy a lovely evening on the Plaza watching people enjoying life.  Music spills from the stage and people crowd around to observe dancers.  Many couples dance in the street.  The setting sun, the misty mountains, the adobe building, the smells of good food and the sounds of music, laughter and conversation stimulate me.
This is a community celebration.  For the most part, outsiders do not attend.  Wandering among the locals provides a window on why people chose to come here and call this beautiful place home. 
<![if !supportLists]>· <![endif]>Thursday, 4 September 2008 – FIESTAS!
Burning Old Man Gloom – Zozobra!
The tradition that kicks off Fiesta in Santa Fe is to throw all your sorrows and gloom into the flames and dance as they burn.  The locals begin gathering in early afternoon and by dusk the crowd has reached a frenzy spurred by drinking, drugs, and pounding music. 
The tall figure of Zozobra towers over the crowd.  People chant: "Burn him, burn him, burn him!" as the 50 foot marionette groans and moans, flailing his arms about.  People scrawl their bad thoughts onto paper and cram them into the box to be burned along with the huge puppet. 
It is quite pagan.  It is almost disturbing to see the glee in people's eyes as they chant and dance.  It is probably cathartic.  Finally the fire sparks and the crowd roars.  Zozobra writhes and screams…the flames lap at his torso, his head moves back and forth.  Eventually he is consumed and fireworks fill the sky.
Gloom is dead…gone…we can be happy and enjoy Fiesta…
I watch the event on a webcast this year.  In the privacy of home the event seems odd.  Last year, we saw the burning first hand.  The smell of the crowd and sense of craziness is easy to conjure up even a year later.
This annual event has been held for many decades and garners a huge amount of money for scholarships.  It brings out such primitive emotions.  In a world that is increasingly sterile or politically correct, this event retains an air of danger.
How soon before it is banned or cleaned up beyond recognition – turned into a Disney-esque replica of its former self? 
<![if !supportLists]>· <![endif]>Wednesday, 3 September 2008 – My Happy Birthday
I spent this day staying happily in the moment.  I cannot name just what it was about this day, but it is among the most meaningful one I have spent.  I spent it quietly at home, pursuing personal matters, taking in the simple joys of life. 
I am so grateful today for the life that is mine, for friends and family, for the richness of content, peace, quiet joy…
I am filled.
One of the highlights of my birthday involved the hummingbirds who live outside the door - I sat out at the picnic table outside our door.  The hummingbirds who live nearby came over to investigate my bright read shirt - three happy hummers just inches from my face...and Zia's too...I felt like I was in a Walt Disney movie with wild creatures frolicking around me!
<![if !supportLineBreakNewLine]>
<![endif]>
<![if !supportLists]>· <![endif]>Tuesday, 2 September 2008
The Joys of Recruiting
The three-day, lazy weekend recharged my batteries and left me refreshed. 
I start the day with a happy task.  I drive down to the heart of Santa Fe on this fine sunny day and spend a few hours distributing flyers (Literacy Day at the Capitol: September 8th, 10-11:30) and chatting with people about the state of literacy in New Mexico.  Almost half of adult New Mexicans cannot read above fifth-grade level – this is a good conversation starter.  This number does not include those who are learning English as a second language.  I weave this information into casual interactions and it stimulates engaged conversation.  I share many business cards and raise consciousness too.
It is a delight to have work that allows me to be out in the community on a fine touch-of-autumn morning. 
Fiestas start in a few days.  People joke that the Fiestas celebrate the departure of the tourists.  There is some truth in their jest; once September arrives, most of the tourists leave Santa Fe behind and the locals can enjoy their own city again.  The pace relaxes; parking is available; one can sit on a bench in the plaza and simply enjoy the bright morning sun. 
So, I focus on my work as I enjoy the day, but I also indulge myself a bit.  I seldom get to wander about downtown without a crowd of guests or without my dog in tow.  I enjoy the freedom and wander into a few shops.  Of course I engage the salespeople in conversation always weaving a discussion of literacy into the exchange.  I window shop.  I splurge on a wonderful "picture book" on design (I am fascinated by using small space effectively) – call it an early birthday gift to myself.  I consider what I can find to gift my dear husband – our anniversary is Friday.  And I pepper all my talk with literacy themes.
I find myself in the library, post my flyers, chat with several employees, fill out a book request for The Teacher Who Couldn't Read by John Corcoran (our keynote speaker for Literacy Day in New Mexico).  Time for another splurge – a latte to go. 
It is a beautiful day and I am enjoying the freedom of my job.
I drive to a few more venues and post flyers and chat.  In the early afternoon I go to the office, feeling stimulated b the fine weather, the beauty of the town, the warmth of the people, my enthusiasm for the mission and of course the caffeine (and sugar)in the espresso. 
In my role as Recruitment Consultant at the New Mexico Coalition for Literacy, I seldom get out and recruit.  Why?  Because as a VISTA, I am in a capacity building role - researching, providing guidance and advice, developing materials, processes and workshops.  Actually getting out into the community is a direct service role, and one that is a joy (at times) and one that needs to be done more frequently by all the people in the coalition (the focus of my current workshops – building a recruiting culture!). 
There is nothing that refreshes one as much as sharing passion for the mission.  And when people get out and share their enthusiasm for their work they stimulate others.  One of my goals during this year is to challenge the dedicated people committed to adult literacy in New Mexico, to develop a recruiting culture in their organization.
After my stimulating morning, my afternoon at the office was like the whipped cream on fresh strawberries – my co-workers feted me with wonderful chocolate cake and gifted me with a plant.  An early birthday celebration – a lovely surprise.  We lingered over cake, sharing good conversation and family tales.  I work with good people and spending personal time with them is a treat.
A delightful day - and tomorrow I have the day off!
<![if !supportLists]>· <![endif]>Monday, 2 September 2008 – Labor Day
The pace has been hectic this past year.  I feel as if I have been running a marathon.  And I am a little out of shape!
Most of my life has been kind of a series of sprints.  And I am not overstating things when I say I consider myself an old pro at taking care of myself while simultaneously juggling frequent moves, challenging jobs, raising, kids, deaths and grieving, diseases, separations, different cultures, economic challenges, etc. - all the items that add stress to life. 
I always seem to have at least three of the top stressors active in my current experience.  This past year though, this transition back to the USA after our 27 months in Ukraine, has somehow seemed more challenging in many ways.  In retrospect I can see we have gone through a lot and we are happy.  But I am tired.
I am grateful to have had the past two days and today to simply be.  I like to be rather than do.
I feel recharged, ready to move forward.  I know that I will have a day off to celebrate my birthday and I am happy, relaxed, ready to celebrate.  Most of this year I have felt tired.
I look forward to time on Wednesday to reflect on the place we live and the beauty around us…a day of counting the huge blessings that comprise my life. 
I have so much to be grateful for.
Back in 2002, I had planned to take a sabbatical – to do some writing and orchestrate my thoughts.  That year, we lost Caleb.  I took the sabbatical, but my agenda was changed – my task was to learn about death and dying, to grieve and find joy…  Part two of that lesson came when I lost my mother and then we went off to Peace Corps in Ukraine.  I was med-evaced home to learn more lessons about life and living and the other lessons of breast cancer.  I went back to Ukraine and carved out a niche - the pace continued and we went from Ukraine to Santa Fe with AmeriCorps*VISTA…
Today I feel as if I have finished a race somehow.  I am ready and grateful to walk a cool down lap.  
Life is good.  What adventures lie ahead?  I am happy in the here and now.
<![if !vml]>
<![endif]>
ab
TO READ AUGUST POSTS OR OLDER ENTRIES,
RETURN TO THE ARCHIVES ON THE LEFT.
FYI: If you want to read about our
Peace Corps Ukraine adventures,
start with January 2005 - May 2007.
Happy Reading!
Now we are having AmeriCorps*VISTA adventures
here in beautiful Santa Fe, NM.
COMING SOON: My Camino de Santiago Blog!
More on that later.
Life is good!
ab