<![if !supportLists]>· <![endif]>Sunday, 30 September 2007
Surprise!  More House Guests!
The phone rang this AM and we learned that unexpected houseguests will arrive this afternoon.  They are just hours away with their RV and a car in tow. 
I head off to church a bit preoccupied with the mental checklists involved in playing hostess to people.  I am late heading out the door and as I pull into the last empty parking space at the church I realize I need to stop a minute to comb my wild hair.  I tame my locks with a clip and head purposefully toward the door.  I am late, late, late.
Surprise!  The Wrong Church!
Standing in the doorway, I suddenly realize that I am at the WRONG church!  I am in the doorway of the Greek Orthodox Church instead of the Christian Science Church next door! 
I quickly stride back to my pick-up truck and ease out of the parking lot.  I laugh aloud and consider a story I head before I moved to the paradise that is Santa Fe.  The storyteller was fed up with all the adobe and pseudo-adobe buildings in Santa Fe.  All the buildings are varied shades of pink and to an outsider, they all sort of look alike!
It is true.  Giving directions is a challenge in this city where most of the architecture is so similar.  It must seem strange to natives of Santa Fe when they move away to other parts of the USA where adobe is not an option. 
Of course, the truth is, I turned into the wrong parking lot because I was preoccupied with juggling my life, rearranging my plans rather than living in the present.
I mentally switch gears and find myself being grateful that we have friends and family close by.  After several years abroad ad many years in isolated places, having frequent houseguests is new to me.  What a joy to have friends and family.  What a great opportunity to be a happy, gracious hostess.  By the time church is over, I am finding many reasons to be grateful for this sudden turn of events.
Surprise!  I am Happy!
Children love surprises.  I can learn to be like a small child and find joy in the unexpected.  As each day dawns, I can be grateful for the abundance that pours into my life.
I have a choice and I choose to be happy!
<![if !supportLists]>· <![endif]>Saturday, 29 September 2007
New Mexico's distinctive insignia is the Zia Sun Symbol…
The state flag of New Mexico depicts the ancient Zia Sun Symbol in red on a <![if !vml]>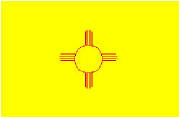 <![endif]>field of Spanish yellow.
This ancient symbol which is in evidence everywhere in New Mexico, originated with the Indians of Zia Pueblo.  The Zia reflects their abiding tribal philosophy concerning the basic harmony of all things in the universe.  They believe that all things are bound together in a circle of life and love - there is no beginning; there is no end.
Four is the sacred number of Zia.  The symbol is comprised of a circle with four points radiating from it.  These four straight lines of varying length represent the sacred number four; the number most often used by the Giver of all Good gifts.
To the Zia Indian, four is the sacred number.  The number four dominates the all the cycles of life on earth: there are four directions, four seasons; four parts of each day (sunrise, noon, evening, and night), four stages of human life (childhood, youth, adulthood, and old age), and we have four sacred obligations (we must develop a strong body, a clear mind, a pure spirit, and a devotion to the welfare of our people).
Would it be inappropriate to name a dog Zia?
Zia Maria, Queen of the Desert!  The name occurred to me as I watched our little wonder-dog scramble across the desert on our long afternoon walk.  She is all heart and spirit!
I am grateful to the Giver of all Good for the gift of this small, humble creature who brings great joy to the seasons of my day.
<![if !supportLists]>· <![endif]>Friday, 28 September 2007
My Tail is Wagging!
<![if !vml]>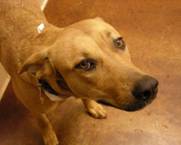 <![endif]>This gentle, sweetie-girl has a tail that wags constantly and amber eyes that will melt ice.  She is also missing her left rear leg, but that sure does not slow her down. 
No, I did not make it out of PetSmart Friday afternoon without her by my side.  I have mentioned that dog-shaped hole in my heart many times and this little red dog fills it nicely. 
She is about 2 years old and spent her earlier life in Roswell, NM, several months of those two years in that animal shelter before her month here in the Santa Fe shelter.  Her shelter name is Tasha.  She is is currently the Pet of the Week on the local Humane Society website.  There is no information in her meager history concerning the missing limb, but havng only three legs does not seem to sow her down!
She may be missing a leg, but all the important parts are here!
Chinese Food and a Movie
We watched "Pan's Labrynth" (Spanish subtitles) while we sampled take out from China Star.  Miss Dog is polite and does not beg or eye our food. 
Our houseguests left this morning.  They are probably dining somewhere in Phoenix with our daughter and family now.  No news is good news I guess.
Miss Dog snoozes with her head resting on my foot.
<![if !supportLists]>· <![endif]>Thursday, 27 September 2007A Fall Day in Chimayo
As we walk, we formulate plans for Good Friday 2008.  Years ago the seeds were planted when I read a James Michener description of the pilgrimage at Santiago de Compostela. We lived in Spain for ten years, so the seed was well nurtured, and now, though long dormant, I can feel life within it.  A pilgrimage may be in the offing.
Probably not.  Most likely we will retain our tourist standing and simply make a visit to this site next spring to watch as the devout, grieving and the infirm arrive - barefoot and on their knees.  They will pray, weave crosses into the fence, light candles, sing, dance, and respond to the spirituality that permeates this special, sacred site.
The Santurio do Chimayó is only about 27 miles northeast of Santa Fe and yes, people begin their pilgrimage in Santa Fe.  Many begin in Albuquerque which is an hour's drive south of Santa Fe.  During the pilgrimage the roadway is littered with abandoned, worn out shoes. 
<![if !vml]>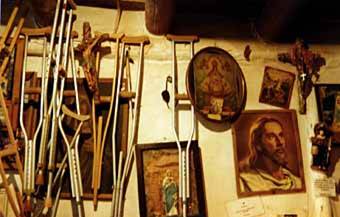 <![endif]>Even now, on this beautiful autumn day, there is much evidence of pilgrims.  Abandoned crutches, braces, and walkers decorate the walls.  Pilgrims leave behind heartfelt notes of gratitude and requests for blessings.  Photographs of soldiers, sailors, airmen and marines gaze back as us as we take it all in.  There many before and after photos and tiny shoes line the walls too.  (These are gifts to the Christ child who wanders through the night working blessings and wearing out his shoes).  (No photos allowed – this picture is from off the Internet)
Over 300,000 people visit this sacred site every year.  It is obvious why El Santuario has been called the "Lourdes of America".   
There is no written testimony  - the tradition concerning the apparition of Our Lord has passed from oe generation to the next. 
The story goes something like this.  In about 1810, a Chimayó friar was up in the hills, praying and making penance.  He was amazed t see a light burs from the hillside.   He dug with his hands and found a crucifix which he dubbed the miraculous crucifix of Our Lord of Esquipulas.
Three times the local priest took the crucifix to Santa Cruz, but each time, the cross disappeared and was always found back in the hole where the friar originally found it.  Everyone understood that El Senor de Esquipulas wanted to remain in Chimayó!  So they built a small chapel on that very site.
<![if !vml]>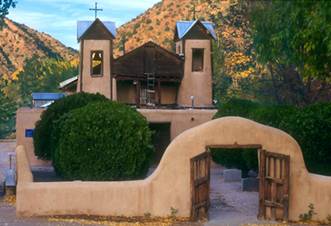 <![endif]>That is when the miraculous healings began. Many, many miracles happened so the tiny chapel was replaced by an adobe mission in about 1816.  The earth used in this shrine is sacred, with miraculous healing power, but El Posito, the "sacred sand pit" where the cross was first found is where pilgrims can obtain the most powerful earth.
Mark reaches down to collect a handful of dirt.  We will share it with Lyudmila back in Ukraine.
(Lyudmila once bottled up some holy water in an old instant coffee jar and gave it to us – "for emergencies!" she said.  The jar of brownish water sat on our kitchen windowsill for about two years, just waiting for the right emergency.  Do we drink it or splash it, I wondered?)
We shop
We leave the shrine and stop in a trading post where our guests make a few purchases, among them a beautiful small painting framed in an original punched-tin frame made by the young man behind the counter.  His work was honored with first prize in the Spanish Market this year.
Chimayó is famous for the weavings of the Ortega and Trujillo families, so we tour Ortega's weaving shop and examine the special weft-faced offerings made from the wool of sheep brought from Spain many years ago.  The weavers too came from the dusty Estremadura of Spain originally.  A few weavers were brought n and eventually about 40 families were part of the industry.
The piles of rugs and blankets and the looms have an almost visceral effect on my.  Like seeing pottery being shaped on a wheel, I want to touch and feel; to be pat of the process.
We Lunch at Rancho de Chimayo
One of New Mexico's oldest restaurants is located in Chimayó and that is where we dine — Rancho de Chimayó.  We dine on a patio, enjoying the crisp, bright air.  I sip a tart margarita, eat wonderful sopapilla rellenos and savor excellent flan for dessert.  The meal is like a small vacation.  The inn has beautiful rooms for rent, but this visit is just a day trip. 
http://www.ranchodechimayo.com/index.htm
We drive back to Santa Fe, winding past Camel Rock and the Santa Fe Opera House. 
The evening entertainment involves watching a DVD: The Bagdad Café.  (a cult film about a café in the Mojave Desert that the four of us visited in June) 
<![if !supportLists]>· <![endif]>Wednesday, 26 September 2007
A Day on the Plaza
<![if !vml]>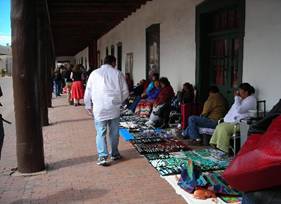 <![endif]>We take our houseguests to the Plaza to start the day visiting the lovely shps there.  Under the portal, we examine the fine workmanship in some jewelry and just enjoy being outside.  In September, the weather is wonderful and most of the tourists have vanished.  A cow calls from a tall tree in the square.  There are vacant benches where one can sit and talk.  This is when to visit Santa Fe.
Picnic under the Aspens
As the sun sets we haul my red table and benches out under the aspen tree by the koi pond and the hammock.  Then we place vases of wildflowers and plates of savory food on all the available spaces.  I throw a bright yellow quilt on the ground.  We place a large fake crow in the tree to amuse our guest as they arrive. 
Our friends arrive.  We feed brown bread to the koi and take turns petting them.  We sit outdoors sipping wine and talking about nothing very important as the sun drops below the horizon.
Bonfires & Moonlight
A full moon beams down through the tree branches and the air feels chilly so we relocate to the small patio on the opposite side of the koi pond.  Mark builds a crackling fire in the fire pit.  We sip coffee and continue our wandering conversation for another hour or two.  The burning wood is like incense.
<![if !supportLists]>· <![endif]>Tuesday, 25 September 2007
If you hear a voice within you say "you cannot paint,"
then by all means paint, and that voice will be silenced.
- Vincent Van Gogh
Tomorrow our house guests arrive…
<![if !supportLists]>· <![endif]>Monday, 24 September 2007
My posts of late seem to reflect more of a diary than a journal. 
I seem to be chronicling events more than I care to.  I prefer to sit at my keyboard and just let my mind fly and my fingers tap away.  I like to be surprised by the story or the observations that unfold on the screen. 
Lately though I find myself simply recording the events of the day.
Making Movies…
Did I mention that Friday night we were part of a movie shoot?  Yes, Kevin Costner and Kelsey Grammar are in Santa Fe working on a film ("Swing Vote").  They needed people for a crowd scene so Costner offered a free concert and some door prizes as a lure to get a bunch of people all in one place. 
Mark and I arrive early and are among the first ten cars inside the gate at the local rodeo grounds. 
I had the opportunity to act: I sip fake coffee and carry a box of fake donuts as I pretend to wait in line to go through security for a large political event.  I banter with the pretend security agents and fake reporters and have a fine time.  Mark remains perched in the bleachers most of the evening. 
Overhead, helicopters fly by, filming events.  On the ground the crowd is entertained by a few horseback riders and a stand-up comedian.  A bass boat, and trips to Vegas and Disneyland are raffled off.  Mostly the crowd sits waiting for direction, catching glimpses of stars and just waiting, waiting, waiting.
Eventually (around 11 PM) Costner's own band performs, but by then most of the crowd has gone home.  The night air is cold and moviemaking is slow, dull work.
Look for my cameos, most likely on the cutting room floor.
<![if !supportLists]>· <![endif]>Sunday, 23 September 2007 – SF Habitat for Humanity's 20th B'Day
The cake and champagne reception at a local art gallery consumed the afternoon. 
Later at home, I watch the PBS broadcast of the first in a series about the effects of WWII on four American communities (Waterbury, Conn; Luverne, Minn; Mobile, Ala; and Sacramento, Calif.).  This tale is from a very human point of view and not about the Generals.
I watch with great interest.  Hundreds of questions fill my mind – things I wish I could ask my mother and father.
One of the communities is Luverne, MN.  The video of this small Midwestern community is like a tip into my past.  I listen as Tom Hanks reads excerpts from a local columnist who gives us a window on the sacrifices and the pain of those who lived through these events.  I am mesmerized by this documentary.
Our experiences in Ukraine have made WWII so much more real.  As Americans, we are quite naïve about the impact of these events.  In the USA, we did not watch our own homes burn and our friends and family die.  We were isolated and insulated by oceans. 
I think of author Elie Weisel and how these events confirmed the spiritual nature of life, yet for many these events defined them in negative ways…they remain stuck or angry or in great pain.  I think about the lessons and faith and understanding.
I will watch the series.
FYI:  The War" began on Sunday, Sept. 23, and will air on PBS as a 15-hour, seven-episode series.
"A Necessary War" (December 1941 - December 1942) Today, 7 p.m.
"When Things Get Tough" (January 1943 - December 1943) 7 p.m. Monday
"A Deadly Calling" (November 1943 -June 1944) 7 p.m. Tuesday
"Pride of Our Nation" (June 1944 - August 1944) 7 p.m. Wednesday
"FUBAR" (September 1944 - December 1944), 7 p.m. Sunday, Sept. 30
"The Ghost Front" (December 1944-March 1945) 7 p.m. Monday, Oct. 1
"A World Without War" (March 1945-December 1945) 7 p.m. Tuesday, Oct. 2
<![if !supportLists]>· <![endif]>Saturday, 22 September 2007
The Joys of Domestic Life
A Saturday routine is one of the joys of domestic life.  Our weekends frequently get usurped by work related events and inspired projects which we are happily involved in, but what a joy when we get one of those free Saturdays - a rare day when we just let the day unfold with no real agenda.
The events of this fine fall day included taking in a few garage sales where we found some treasures to enhance our life.  Part of the pleasure of this activity includes seeing the interior of homes and speaking to locals. 
When I tired of this activity, we wondered through the local pet store.  I flirted with a sweet, elderly, grey cat who needs a home…hard to say goodbye to her. 
Next a stop at the ranch store to get Mark some proper work boots.  I browsed and admired all the wonderful cowboy inspired clothes.
And what Saturday is complete without a stop at Lowe's or Home Depot?  America's fascination with home improvement makes these centers almost like huge places of worship!  We successfully avoided the garden center and all those temptations and simply made our paint purchase.
Next we headed home for lunch.  Mark put together a tasty cheese board and some fresh veggies and fruit.  We ate in our own bright kitchen, with NPR programs playing in the background, providing stimulation for our lazy conversation.
Saturday's are the time for home improvement projects, so Mark got out his manly power tools and enjoyed the pleasures of working with wood.  He made modifications to our old bed frame so we can finally (after 2 ½ years!) sleep on our own bed again.  Then we decided to freshen it up with a coat of glossy black paint.  Painting is companionable work.  We work side-by-side and quickly accomplish the task at hand.  Painting something always leaves me with a sense of accomplishment far beyond the actual skill or time commitment involved. 
I even found some time to linger in the hammock, catching the late afternoon sun and reading an engaging novel.  As I turn the page, I am briefly distracted by a bit of black paint on my hand – a pleasant reminder of our earlier task.  That work justifies the hammock time!  Inside I hear the sounds of Prairie Home Companion playing on the radio.  Mark is working on dinner for two.  I turn another page and read on.
Perhaps this day sounds dull to some.  But for me, these days that smack of routine are among the best.  In our frequent moves and busy life, the daily habits and customs are often in flux.  In all the newness and stimulation, I relish tradition and habit.  Living in the now means finding that joy wherever I am.  Today I am grateful for the quiet pleasures of such a peaceful day with my old cowboy spouse.
<![if !supportLists]>· <![endif]>Friday, 21 September 2007 – The Equinox & International Peace Day
After childbirth, women often experience postpartum blues.  Is it real?  I do not know.  Perhaps it is simply a lull after the excitement of birth when the woman has an opportunity to pause and think a bit; and realizes she has had just a small walk up the tremendous mountain of commitment that lies ahead.
Well, I am not a new mother, but this transition to post-Peace Corps life in a new community and a new job makes me feel a little like I did after my children were born.
I am exhilarated but the learning curve seems like rock climbing up a sheer cliff.
I see the effects in my ability to focus (or should I say my inability to focus).  I love to read.  The novel I began reading last spring still haunts my bedside table on this crisp autumn day.  My writing efforts suffer.  I begin small writing projects and abandon them to wash dishes or other mundane tasks.  Or I begin to research something and hours later I find I have been online reading blogs for HOW long?  Wow, I cannot even admit to that!
I know that after dramatic events (deaths, divorce, moves, job changes, etc) these behaviors are typical and so I am not overtly concerned, just a little frustrated.  I am like a child off my regular balanced diet – I feel like I have eaten too much sticky sweet candy and cookies and cakes and sodas. 
I am being kind to myself as I muddle through this period of my life.  I find relief in tasks that require little more than repetitive motion – I knit, I weave. 
And I wonder how others in our Peace Corp training group are faring after the craziness of all the changes in such a short period.
I am grateful for this community and this place – a haven and a home during this period when I am like a butterfly still in the making – trapped inside a cocoon of primordial goo. 
And will I know how to fly when I emerge?  Yes of course.
This fine fall day is too bright and beautiful for this kind of writing…
<![if !supportLists]>· <![endif]>Thursday, 20 September 2007
It has rained most of the day. 
As I stood looking out the window and wondering how much more rain we would get, a small movement caught my eye.  I glanced down and to my surprise, a fury little head popped out of a small hole just inches away from where I stood.  He poked his head out and then just as quickly disappeared back into his burrow again.  Then the little guy appeared again, pushing a pile of dirt and squinting his tiny eyes – a mole!
I watch with fascination as this industrious little mole moves earth at a rapid pace.  He is on well on his way to making a mountain out of a mole hill.  What an amazing little creature!
Of course he really cannot build a burrow here. 
I hate to evict him, but it is the prudent thing to do.  Perhaps Mark will be the mean landlord that makes him leave.
I direct my attention to the koi pond.  The day's rain has caused the water level to rise significantly.  The water is above the stones that mark its perimeter. 
The fish seem happy in the rain.  I see them flashing by as they swim close to the surface.  They poke their curious heads above the water near the bank as if they might crawl out of the water and see what life is like on land.  Then they dart away again and head toward the depths of the pond. 
<![if !supportLists]>· <![endif]>Wednesday, 19 September 2007
I am sitting here at my key board thinking about my Mom...this is her birthday.  (Mother died in late July 2004)
Having for so many years lived far away from my hometown and family, I can almost imagine Mom is still there in the big yellow house on Eighth St. She would have finished with morning dishes, made the beds, swept the upstairs floor and the kitchen floor by now. She might have the radio on (she only listened to particular programs, tuning the radio off when the program was over.) and she might be standing near the sink, sipping coffee that has grown cold as she gazes out the window, planning her day or thinking her thoughts on life. Then she might turn and go into the bright dining room where the morning sun spills in and saturates the room with a golden light reflected off the golden oak woodwork. She would take a seat at the table to study her Christian Science lesson. Or perhaps she would pen a few letters.
Mother was a faithful correspondent.  Her frequent letters (often including a variety of clippings) were a pleasure I looked forward to.  I would read them aloud to my spouse, sometimes pausing to decipher her penmanship.  She wrote the way she spoke, so letters from home were like a little coffee break at the kitchen table. 
Mom lives on in my heart and continues to influence me in my choices and in my joys and the way I live my life.
Happy birthday Mom and thank you for everything!
<![if !supportLists]>· <![endif]>Tuesday, 18 September 2007
A Double Rainbow…
I step outside the door and almost bump my head of a double rainbow arching across the azure skies off to the east of here!  The colors are as stark and appealing as the hues found in a box of sweet-smelling crayons.  Only moments earlier the sky was black and rain streamed down n a frightening torrent, accompanied by the sounds of rumbling thunder in the distance.  The weather here makes me think of the clichés about Italian temperament.  The passion of the fight with screaming and recriminations quickly yielding o caresses and sweet nothings whispered into eager ears.
I stroll around the garden, under shimmering skies, watching water droplets fall from the leaves of the aspen tree.  The koi invite me closer to their pond with their enthusiastic antics.  They hear me and eagerly thrust their noses and mouths above the water, crowding one another out in their attempts to get my attention.  I breathe in the late afternoon air and let out a sigh of contentment.
The rainbow has disappeared now.  The sun sinks behind the mountains west of here.  I reluctantly return to the house to attend to some mundane item on an equally mundane check list.  But, I am refreshed, centered, ready to resume my work
<![if !supportLists]>· <![endif]>Sunday, 16 September, 2007
As luck would have it, we did not drive our own vehicle to the Habitat celebration of the 500th home built in NM. 
The original plan was to drive ourselves so we could explore the area around Espanola after the event was over.  Instead, we accepted the invitation of a surprise visitor to the area and as a result spent a stimulating hour mostly listening as our driver mesmerized us with tales of his adventures around the world.
The man, Don Mosley, is part of the group of people who created the concepts behind Habitat for Humanity and implemented those plans back in the early years. He also served in Peace Corps as a volunteer and as a regional director.  He is a motivator and coach.  He is a man with vision.
What a pleasure to just listen.
And the return trip was even better.  There is nothing like hearing from someone who has lived a principle-centered life fully, with joy and enthusiasm.
<![if !supportLists]>· <![endif]>Saturday, 15 September 2007
500th Habitat for Humanity House in New Mexico!
Later today, the 500th NM Habitat for Humanity house (or should I say home?) will be dedicated at a celebration in Espanola.  We will be there, video-taping, photographing and cheering, but for now, I am engaged in the early morning delights of THIS house (definitely a home!)
Our Own Enchanted Habitat
Outside the sliding screen door is another kind of habitat.  Each morning I take great pleasure in greeting my "neighbors" here in our Santa Fe home.  There is such a varied crowd of charming small creatures.  This morning I watch as a nervous grey squirrel scurries around, pausing to stare in the window at the human staring back at him.  Near the tree with the face, a downy young robin pecks in the damp earth, in search of worms.  A larger, fatherly-looking robin joins the young one and keeps a suspicious eye on me as I sit quietly at my desk inside the window. 
In the trees further away, a yellow-bellied bird has found some treat and a couple brown birds have joined him there.  A lizard rushes across the red brick of the patio.  Hummingbirds charge around - always busy, busy, busy.  One of the hummers, attracted by the bright red stained-glass hearts hanging in the window, hovers as if admiring my decorating choices.  Dragon flies dance on the pond and I see water lilies relaxing into bloom as the sun warms them.  Water droplets sparkling on several spider webs make me think of large glistening snowflakes.  The turtledove couple splash in the morning sun.  I hear jays calling to one another.  And somewhere out there is the snake that startled me earlier this week.
There are so many creatures living so close by us. And how often we are not even aware how rich our own environment is.  We rush about and miss these quiet joys as we head off to work, our minds filled with to-do lists. 
I am grateful for these moments.
I take my cup of coffee and some bread for the Koi and head outside my door to be part of this early morning scene.
I feel as if I am walking onto the set of Disney animated film. 
Maybe these delightful creatures will break out into song and engage me in a dance.  Maybe this lovely home we house-sit in really is an enchanted place!
<![if !supportLists]>· <![endif]>Friday, 14 September 2007
At Wednesday evening meeting I am showered with blessings!
The week before, I went to services and somehow came away feeling like an outsider, feeling invisible.  I mentioned this to a CS friend in a whiny e-mail.  She quickly responded with several wonderful thoughts which I hungrily read and digested.  My perspective changed.  I realized I needed (and wanted) to be in church, not for myself or what I would get out of it, but because I have to (and want to) share my gratitude and joy in living with others.  The question is: how can I bless others?  Not what's in it for me?
Oh, it is NOT all about me!  What was I thinking?  How embarrassing – but perhaps that is how I was behaving!
So, on Wednesday evening, I joyfully attended church.
The readings from the desk resonated with Truth.  The words and music of each hymn sang back to me.  I was glad I ad chosen to be there. 
When the time came to share remarks and testimonies of healing, I rose shyly and spilled out a few words of sincere gratitude.
I did not, however, share the remarks and testimony I had early outlined in the privacy of my home.  I spoke from the heart.
Earlier in the day, I had tentatively prepared some thoughts that involved a life-changing and unexpectedly joyful experience involving a group of motorcycle riders.  Instead when I found myself on my feet to speak, I spilled out few words about gratitude for church and the legacy of Christian Science which my parents gave to me.  I made a reference to our recent life in Ukraine.
I kind of babbled really.
So, when I sat down, a feeling of disappointment briefly washed over me.  I quickly replaced my disappointment with a small prayer of gratitude for the opportunity to be in church and to hear the remarks others were sharing.  I continued to listen with an open heart.
The next several speakers rose and shared stories of physical healings.  Their tales shared a common theme – in addition to the demonstrations of CS healing, each of their experiences had something to do with motorcycles! 
As I pondered their remarks, I found myself a bit puzzled.  The more powerful remarks I had anticipated sharing also concerned lessons learned from motorcycles and riders.  I wondered why I had not delivered those remarks on faith since clearly this group of visitors would have responded to that topic. 
What had stopped me? 
Why did I instead talk a little about my gratitude for church, my parents and our experiences in Ukraine?
When the reader was about to draw the service to an end, one last speaker suddenly rose to share some remarks.  This woman discussed how her faith has allowed her to embrace the joys of being motorcycle rider.  She spoke from the heart and had much to say.
When the last hymn was sung and the service over, I suddenly felt arms embracing me from behind.  I turned and found that last exuberant speaker staring into my face, smiling brightly and calling me by name.  I was amazed, amused and delighted to find that the unlikely motorcycle rider smiling up at me was the wife of my CS teacher!  More hugs.
We had not seen one another in over thirty years.  Her home is in California.  I did not know she was an avid motorcycle enthusiast.  And she, did not know of our recent move to Santa Fe.  What an unlikely, but delightful surprise. 
.  If I had not attended church and shared remarks, we probably would not have had this reunion.  And, it is unlikely we would have recognized one another after all those years
I was also aware that had I chosen to share my original remarks, though obviously well suited to the guests filling the church on this particular night, it is unlikely we would have connected.  She identified me from my reference to Ukraine (she knew we were serving there in Peace Corps and cleverly put two and two together).
The other riders, a group of delightfully, adventurous women who were traveling cross-country together, gathered around us to share stories.  The reader joined us.  We all laughed and lingered.  Throughout the church other people lingered too.  The sounds of warm conversation washed over us.  Several members greeted me with smiles and shared gratitude for my remarks. 
What a change from the last few times I attended church here – when everyone seemed to rush for the door or turn their backs to greetings.  I certainly did not feel invisible!
The shower of blessing fell on me and blessed us all.
When we have a willingness to give, when we actively strive to bless, when we delight in giving, use our talents, we are blessed.  Abundantly!
Addendum: my sweet husband came to pick me up after church and patiently waited in the truck as we all lingered inside long past the usual hour. (He did not know what a joyful experience was going on inside those doors!)  When I finally emerged from the church twenty minutes late, rather than being impatient or disgruntled, he smiled and greeted me warmly.  As I closed the door and started to tell my story, he thrust a lovely bouquet of sunny yellow mums into my arms!
And we all lived happily ever after!  8-)  (Yes, life is good!)
<![if !supportLists]>· <![endif]>Thursday, 13 September 2007
Example is not the main thing in influencing others, it's the only thing
- Albert Schweitzer
I feel very stimulated lately.  I feel so alive.  I am so aware of things.  Everything seems to take on more meaning these days o new meaning.  I hear phrases I have heard a hundred times before, but they seem fresh and alive.
Is it the autumn weather that influences me?  Is it the special light here in Santa Fe; the light that draws artists and creative people? 
Here we are, continuing our lives in genteel poverty (as AmeriCorps/VISTA Volunteers) after living a frugal, but happy, life for 27 months in Ukraine as Peace Corps Volunteers and all I can think is how grateful I am for the abundance in my life.  I am buoyant with this sense of quiet joy.
I read a quote today (in a recent Oprah Magazine) that I may have to adopt: fortune favors the brave. 
The decisions to serve in the Peace Corps and then to serve in AmeriCorps/VISTA did not come easily, but they do reflect our (or should I say my) need to serve.  By pursuing these activities, I am following my heart.  In my experience, when you follow your heart, you are no longer so mindful of the restrictions and potential challenges that you (will) face.  I am energized, armed with love, ready to do gentle battle, and ready to see the good and true around me.  Gratitude dominates my thoughts.
Fear can be a problem.  Fear (worries, limitations, fretting, detailing plans) takes away the ability to respond to the abundance of life.  Fear blinds us to beauty and opportunity and even joy.
Fear takes on clever guises to trick us.
A fiend e-mailed me a note in response to my challenges with being an outsider in a new community … her words reminded me that Love is reflected in Love.  If we are fearful (reticent, caught up in self, etc.) or our perspective is off, we react to illusions rather than acting on substance.  We must graciously, gratefully love.  Perfect love casts out fear… What can I give; how can I bless?
We are free to be who we really are.
Life is just so good.
Window Shoppers…
Yesterday and today, unexpected visitors have invaded our happy home. 
The house, our current home, is for sale.  As house sitters, we expect realtors to call and potential buyers to visit this cozy place on occasion and are happy to accommodate them. 
Yesterday and today though, I was surprised to look up and find potential buyers pressing their noses against the sliding glass door to the patio, gazing and grinning in at me as I sat here tapping away at my keyboard.  I felt like a zoo animal!
Yikes!
No phone call preceded their visit – and today I am in my blue-stripey, baggy jammies and our breakfast dishes are still undone.
But I am a gracious hostess (and grateful house-sitter) so I invite the potential buyers in and give them the grand tour of this very special home.  I let them feed brown bread to the Koi, who always charm visitors to this peaceful oasis.
And it is interesting to entertain total strangers in my PJs…not something to add to my resume though, but I guess it comes with the turf!
Yowser – I Just Saw a Big Snake!
A very long, pinkish snake just slithered past the large sliding screen door to the patio.  Maybe 6 feet long (of course the fear factor may make him look larger than he really is I suppose).
I reached for the camera and he slithered away up toward the pond rather quickly so I did not get photos.
I could have lived quite happily without seeing him.
Yeah, I know that snakes are out there, but I just do not relish seeing them slithering around in the wild.
I hope he doesn't dine on the cute little chipmunk that scampered by the door earlier today. Or make sushi from one of the Koi.
NEW RULE: The sliding screen doors WILL be secured EVERYTIME people pass through it! Be advised, guests who violate this rule will be evicted (or surprised by a slithery friend!)
<![if !supportLists]>· <![endif]>.Wednesday, 12 September 2007- Rosh Hashanah & Ramadan
Two major religions begin holy days today.  So, while our Jewish friends honor Rosh Hashanah our Islam friends begin their own holy days.  I wonder how often these events coincide.
It seems momentous to me.
.For the Jewish community, Rosh Hashanah is the start of the "Days of Awe," the most holy days of their year.  It is a period of self-examination and repentance.  This culminates ten days from now on Yom Kippur, the Day of Atonement when people totally abstain from food and drink, they do not wear leather shoes, they do not bathe/wash, they do not anoint themselves with oil nor do they have marital relations.
The Muslim month of Ramadan is associated with daily fasting, prayers, and charity. They abstain from marital relations during the fast.   During Ramadan, Muslims read the Qur'an and in their daily life they strive to refrain from anger, envy, greed, lust, sarcasm, backstabbing and gossip. 
Muslims honor Ramadan by trying to be pure.  They avoid things obscene or profane, they turn away from worldly activities, they strive to be at peace and reflect calm.  This is an act of self-discipline and sacrifice. 
How is it there is so much strife in the world, when there are so many people striving to be better?
I am grateful for the efforts of people everywhere to examine themselves and to strive for purify themselves and their motives.
These holy days almost coincide with the anniversary of the events of 9/11 too… That anniversary can provide us all with a motive to evaluate our own lives and our own choices – a chance to repent and move forward with joy, gratitude, and peace.
<![if !supportLists]>· <![endif]>Tuesday, 11 September 2007 – Anniversary of 9/11 (Patriot's Day)
The one thing worse than not being able to see is having no vision.
- Helen Keller (1880-1968)
Last year, we commemorated the anniversary of 9/11 at a monument in Kiev, Ukraine.  Several Peace Corps Volunteers met us there to present flowers and say a few words.  The monument was literally covered with flowers and small votive candles lit up the night.
I am still rather awed that there is a monument to this event in Ukraine.
Where in America do we commemorate significant tragedies and events that happened in Ukraine?  (the Chernobyl disaster; the mass starvation of peasants: the Holodomor; the brutal shooting of the Jews and mass grave at Baba Yar; and other heartbreaking calamities)?
<![if !supportLists]>· <![endif]>Monday, 10 September 2007
Ravens on the Roof!
I am sipping my morning coffee here in this lovely dome home when I hear a strange sound.  I scramble up the stairs to the loft. 
Just outside the windows overlooking the annex to the dome is a large regal raven bathing in a small puddle.  What an amazing creature.  His ebony feathers are impeccably groomed and glisten in the morning sunlight.  E goes about his ablutions with great dignity.  I stand, mesmerized, watching him until he spreads his mighty wings and launches himself into the blue skies above.
In his sudden absence, I am still caught up in awe over his presence.  I find myself wondering if I simply conjured him up.  Is he real?
The Raven Day-Care Center
The Director at the NMCL has a Raven Day-Care Center on her property.  Of course, R jokes a bit, but her home really is on the migratory path of these birds.  She and her husband routinely offer the birds water and a feast of crunchy dog food.  The elder birds have given them the stamp of approval and return regularly.  They elder birds even encourage the young birds to dine and rest there.
One raven, Edgar, is recuperating from an injury to his abdomen.  R. amuses the staff with Edgar tales.  He is not a tame bird, but he tolerates the humans who worry over him as he regains his strength and dignity. Edgar scuttles around on the ground like a chicken.  He tries out his wings by jumping off rocks.  On occasion he falls over and can not right himself.  He has allowed R. and her spouse to help him out when he falls.  They stand him up on his legs and he immediately darts off to the feeding dish, going about his raven-business as if nothing has happened.
No Ravens Allowed Here!
I have been warned not to encourage raven visits.  The koi make lovely sushi offerings for these warrior-eating birds.  I do not want to witness what would be a rather brutal scene: a raven swooping down to snatch away a three-foot long Koi and winging off into the sunset.
We do encourage the humming birds that visit our feeder each morning as we breakfast in our bright kitchen.  Through he large sliding glass door and the three flanking windows we have a marvelous view of the yard and garden.  We see cocky, noisy Blue Jays darting about and the gentle Turtle Dove couple frequently stops by the pond.  A large robin danced across the patio this morning.
There are delightful, harmless lizards skittering around regularly too. 
I keep binoculars near the breakfast table, so we can see the wildlife up close, but they are really only a few feet away from wee we sip our morning coffee. 
We have Monsoons in Santa Fe…
When I hear monsoon, I think of India.  But we have monsoons here in New Mexico.  We are having one now. 
The sky opens up and torrents pummel the earth.  The water is rising above the doorframe as I write. 
During monsoon season (roughly the end of June through the middle of September) there is a shift in the prevailing wind pattern which brings humid air masses from the Gulf coast.  The rains come and go quickly.  The humidity falls and the ground quickly dries up as though nothing had happened. 
They are merely inconvenient I guess and most of the annual rain fall here comes from monsoons. 
In fact, as I tap away, the sun has come out and the rain has ceased as quickly as it started. 
No indoor ponds this time!
<![if !supportLists]>· <![endif]>Sunday, 9 September 2007
I Attend Church
I am so grateful to live in a community with a CS Church.
So much of my adult life has found me living in isolated areas, far from services.  In many ways the absence of formal church services has made me more mindful of what a blessing a church community can mean. 
Today I attend church.  This is my second visit.
I quietly find a seat near the front.  The service begins.  I love hearing the resonant voices of the readers as they share the weekly lesson-sermon.  I join in the joyful singing and worship.  The soloist seems genuinely happy to share her gifts with a receptive audience.  She smiles.  The organist plays from the heart.  I am inspired by the lesson.  It amazes me how relevant the truths shared are to my own experiences. 
I am glad to be here.  But, I am still an outsider.
When the service concludes, I walk rather slowly toward the foyer at the back of the church.  I smile and say good morning to several people as they gather their things to leave.  I pause a few moments in the vestibule.  I smile and nod my head.  People gather in small groups discussing their plans, etc.  I overhear bits of conversation.
I just feel kind of invisible. 
I go home.  It is hard to be the new person.
Frankly, I really enjoy the morning hours at home.  It is one of life's pleasures, so why rush off to tackle the outside world on a beautiful Sunday morning?  During the work week we scurry off in the pre-dawn hours to earn our daily bread.  On Saturdays there are errands to run and so we rise early and begin checking to-do items off the mental check list. 
Sundays can be a rich pleasure with a leisurely start to the day and the opportunity to simply enjoy one's home and family in an unhurried way.  I like to have days when I can linger in my own nest – I can write, read, paint, weave.  I can work in the garden, sip coffee by the Koi pond, enjoy the company of my happy husband.  I can simply be.
<![if !supportLists]>· <![endif]>Saturday, 8 September 2007 – International Literacy Day!
The Annual Fiesta Pet Parade
Once again, I skipped my favorite Saturday routine (yard saling) in lieu of another activity.  We headed for the Plaza to catch breakfast before the annual September Fiesta Pet Parade!
Santa Fe's patron saint is Saint Francis of Assisi, so I suspect there may be a connection to him in the origins of this parade, though there was no evidence of any pet blessings happening on this fine fall day.  Pet owners and school bands showed up in costumes with all manner of pets in tow!  The streets surrounding the Plaza were packed too.
For an hour cats, dogs, hedgehogs, goats, chickens, snakes, rats, parrots and other pets paraded by.  Many spectators had their pets in tow too.  After the actual parade, pet owners continued to stroll about showing off their pets. 
It was delightful.
<![if !supportLists]>· <![endif]>Friday, 7 September 2007
The Statehouse is Evacuated and I was There!
My second day on the job and I am at the New Mexico Statehouse, helping with the logistics of the NM Coalition for Literacy's tribute to International Literacy Month. 
The program included a remarkable guest speaker, Marten Griego, a 58 year old man who only 8 years ago was functionally illiterate and is now an avid reader and a published author (look for "Leaving the House of Tears") and motivational speaker on behalf of literacy programs.  He is a very dynamic speaker.
As I stood in the back of the room where I reigned over the refreshment table laden with pastries and coffee and passed our programs to late comers, I heard a garbled announcement over the loudspeaker.  Staff members made eye contact, but no one really responded.  A few moments later, we heard a second, equally garbled announcement.  Once again, eye contact, but no real reaction.
Only later did we discover that the announcements concerned evacuating the building because of a very real bomb threat!  Later in the day a SWAT team grabbed the man who had called in bomb threats at various locations.  They diffused the bomb in his car.
<![if !supportLists]>· <![endif]>Thursday, 6 September 2007
Viva la Fiestas!  Zozobra – Burning Old Man Gloom!
Part of September Fiestas here is Santa Fe is Zozobra.  About 30,000 people begin gathering around 3 in the afternoon, but the real event culminates around 10 PM.  By ten the crowd is pretty rowdy.  They chant and cheer: "Burn him, burn him, burn m to the ground!"  The 50-foot tall papier mache marionette is finally torched as onlookers laugh and cheer wildly.  Fireworks go off and the sky is as bright as day.  It is all rather exciting and a touch pagan.
Fiesta has been celebrated n Santa Fe since 1712 – it is reputed to be the oldest civic celebration in North America!  Zozobra has gone up in flames since 1924.  He symbolizes doom and gloom.  By burning him all our troubles go up in smoke and we are free!
I can get behind that kind of celebration.
These days the Kiwanis Club uses this amazing annual spectacle to finance college scholarships for local youth.
The Kiwanis Club of Santa Fe and The Santa Fe Downtown Kiwanis Foundation announces  Zozobra™ …
www.zozobra.com/ -
VIDEOS:
4 min - Sep 11, 2006 - <![if !vml]><![endif]><![if !vml]><![endif]><![if !vml]><![endif]><![if !vml]><![endif]><![if !vml]><![endif]> (5 ratings)

The burning of Zozobra on September 7, 2006. Initiating the Santa Fe Fiestas...Zozobra Fiestas burning SantaFe

http://www.youtube.com/watch?v=x68wOexQjmA

<![if !vml]><![endif]>Watch video here <![if !vml]><![endif]>Hide video - Related videos
2 min - Feb 8, 2007 - <![if !vml]><![endif]><![if !vml]><![endif]><![if !vml]><![endif]><![if !vml]><![endif]><![if !vml]><![endif]> (5 ratings)

Fe torches the year's sorrows by cheering the flaming demise of Old Man Gloom. Zozobra is a 5-story tall growling, groaning symbol of darkness, transformed

http://www.youtube.com/watch?v=h-K26j-rJwI

<![if !vml]><![endif]>Watch video here <![if !vml]><![endif]>Hide video - Related videos
<![if !supportLists]>· <![endif]>Wednesday, 5 September 2007 – Our Wedding Anniversary
Our Guests get to Go Home
The good news is, our guest's car is repaired and roadworthy and paid for by the warranty.  The bad news is that by the time our guests depart, we are too exhausted and broke to really celebrate our wedding anniversary.
But, it really was wonderful to have family here and I am so grateful they could get the repairs done without damage to their pocketbooks. 
I hope we will see them again very soon!  But for now – well, I need my beauty rest!  Tomorrow I start my new job
<![if !supportLists]>· <![endif]>Tuesday, 4 September 2007
Who are These People Coming up the Walk & Me in my Jammies??
Our house guests were juggling lots of details since their stay was prolonged due to car trouble.  They were on the phones and online trying to resolve work and school demands back in Phoenix.  I was looking online for car rentals deals.  The grandkids wisely kept a low profile and kind of relished a day off from school.  They parked in front of the TV for much of the morning.  We were all in our PJs and coffee cups, milk glasses, etc littered the house along with stray socks and shoes and the usual paraphernalia of American families at home.
Now usually I keep a fairly tidy house, but with the demands of this particular day, keeping order was not high on the list.  Imagine my shock when I heard a couple vehicles pull up outside the door.  I walked outside and found myself shaking hands with a realtor with two prospective buyers standing behind her.
Hmmmm.  It seems to me a phone call to coordinate a visit would have been smart.  A home always stands a better chance of looking good when there is advance notice to the occupants.
I was a bit disgruntled as the couple strolled through the chaos to look over the house. 
Yes, the house is for sale, and most days I could roll with a drop by visitor, but smart agents call ahead and make appointments so we can accomplish the theatrical work necessary to make the house more appealing.
<![if !supportLists]>· <![endif]>Monday, 3 September 2007 - My Birthday/Labor Day
Pancakes & the International Folk Art Museum are the order of the day.  The museum is a wonderful place.  The main collection comprises over 1000,000 toys from all over the world.
Granddaughter plays tour guide, reading from the guide book which explains each exhibit.  At 9 years old, she does not even flinch at the multi-syllabic words, scholarly words.
I delight in the visiting textile exhibit.  We all spend time playing with the hands-on part of that exhibit – weaving, doing cross stitch.  We linger in the gift shop.
Later, we return to the dome-home, to picnic by the Koi pond.  Son-in-law procured a bucket of the Colonel's best crunchy fried yard-bird with sides of coleslaw.  My daughter made sure there was B&R Rocky Road ice cream, a favorite of mine!  I opened gifts and cards, received phone calls from my sisters and just generally felt like a queen for the day.
<![if !supportLists]>· <![endif]>Sunday, 2 September 2007
The Chaotic Event Continue
Our houseguests limped in yesterday afternoon, only a little behind schedule.  The grandkids, daughter and son-in-law piled out of their car, all sharing their version of the crazy trip they had.  The last 70 miles or so involved serious trouble with the transmission.  They drove in second gear.
So, a tow truck was called.
We ferry Son-in-Law back to the dome-home crammed in with the four of us in my red pick-up truck.  Shortly after we arrive, storm clouds roll in and the sky breaks loose with a torrential downpour.
I say a little prayer of thanks that we are all cozy in our domestic nest.  As I count my blessings, I Granddaughter holler.  Water is streaming in the living room windows and down the walls.  We scurry around closing windows all over the house.  At the back door, I see water pooling up.  Daughter points out a growing puddle near the door – water seeps in under the wall.
We jam the few towels we have under the doors to staunch the flow of water.  Outside lightening crashes and thunder rumbles threateningly.  We unplug electric devises, just in case. 
We sit down to eat our late lunch.  My Jell-O offering elicits laughter – there is an un-appealing icy frost on the surface.  (Wow, I can't even make Jell-O).  The cold pesto salad is not a hit either.
We are off to a slow start!
1,500 Miles in Two Days: Mark Arrives Home
We had planned to attend the night-time Fiesta Parade, but the rain foiled our plans and we wanted to be home when Mark arrived.
By the time Mark arrives in early evening, the chaotic start to this happy visit seems over.  We listen to Mark's trip tales and hear about his AmeriCorps training experiences. 
Mark is almost deaf after spending so many hours in the ragtop Jeep with the wind rushing through his hair (oh, yeah, he has no hair!).  Our guests are tired too (they began their trip at 3 AM). We call it a night.
Sunday Goes Better
Santa Fe is always celebrating something and the Plaza in the place to find action. 
This weekend is the start of the Fiesta that celebrates the tourists leaving for the season.  Actually the fiesta marks the return of the Spanish to Santa Fe and d the holiday lasts about ten days.
So we pile into the truck and we head downtown.  Enroute we stop to explore Jackalope's, a great place to wander, shop and talk.  The prairie dog village is a big draw.  Later we spend time checking out the wares and street food at the arts and crafts festival on the Plaza.
We while away later hours playing Scrabble, watching movies and starting a 1,000 piece jigsaw puzzle.  Grandson and Granddaughter help feed the Koi and then squabble over who gets to hang in the hammock.
Life is good.
<![if !supportLists]>· <![endif]>Saturday, 1 September 2007
I Love Saturday Yard Sales.
One of my favorite ways to get to know a new community is to venture out to the Saturday morning yard sales.  It is fun to explore the neighborhoods, and see homes and gardens up close.  It is a chance to chit-chat comfortably with strangers. 
And sometimes there are real treasures to be found.
No yard-saling on this fine, fall Saturday morning.  No, I am happily waiting for my husband to arrive from the East and my daughter, son-in-law and grandkids to arrive from the west. 
Mark's Road Trip Continues – This Just in From Texas
Excerpts follow:
Date: Sat, 01 Sep 2007 04:54:20 -0600
From: Mark <mspulver@pulverpages.com>
Subject: good morning
<![if !supportLineBreakNewLine]>
<![endif]>
It's tomorrow, or today or what ever. I spent a restful night in Marshall, Texas and it is time to take off.
I feel very positive about today. Oops, there is the alarm so it must be time to get up. I am so eager to get going, I guess that I was already up and showered. Not looking forward to Houston or Dallas today but what the hey it is all in a days travel to get to the one you love.
I stopped last night and intended to write a long note but after I ate I came back to the room, turned on the computer and fell asleep before it even booted up. Guess I was tired. Well I am off to breakfast then the road so I will write you from somewhere in Texas, then somewhere in Texas, Then somewhere in Texas, before I get to New Mexico. Today is a Texas kind of day Maybe some Stevie Ray Vaughn today and a little Texas Flood to push the Jeep.
Have a day
Mark
Getting Ready for Family – the Food Fiascos…
I use these morning waiting-hours to get ready for my family.  I alternate between looking out the window, checking my e-mail and doing some proactive things around the cozy house.  I have done the watering and koi chores, swept floors, cleaned bathrooms and sinks, oiled all the wood furniture including the kitchen cabinets, and made several artful flower arrangements. 
And then, rather belatedly, I remember lunch! 
My guests will arrive around noon.  They will be hungry!  So, I quickly pulled out some frozen stuff and pray it will thaw in time!  I am not a foodie…I forget about food.  And, I am unused to planning and cooking meals anymore. 
Mark enjoys the process of cooking, so I seldom volunteer for that detail.  I do, happily wash dishes.  And I occasionally bake stuff.  Left to my own resources I happily live on cereal, turkey sandwiches, coffee, cheese, crackers and apples.
But today I decided to make grandkid food: a simple pasta salad and some Jell-O to augment turkey sandwiches and carrot sticks...what lunch could be easier and more suitable for grandkids?  (The tenderloin for dinner –it may be thawed by then!)
Well, we have no large saucepan, so I make do with a small one and cook half the pasta at once.  It boils over and creates some excitement – flames and smoke!  Thankfully they burn out quickly, but not before the smoke alarm goes off - somewhere.  But where?  I am new here and do not even know there is a smoke detector.  With the harsh screams of the alarm echoing throughout the dome and in my sensitive ears, I quickly turn on the fan and then scramble in search of the smoke detector and its insistent shrieking.
The acoustics of a dome make this more challenging.  Sound surrounds one in this house.  It bounces and echoes in a bewildering fashion.  After a frantic search, I finally locate the source of this sound on the ceiling in the loft.  I quickly find a long pole and poke at the unit rater viciously and randomly.  (Loud sounds undermine my ability to think - I have been known to simply cover my ears and scream when an abrasive alarm clock wakens me!)  Eventually the sound dies and I return to the kitchen to resume my tasks.
I manage to survive.  Jell-O and pesto/pasta salad are now chilling in the fridge and turkey slices and tenderloins are thawing on the counter.
I'm thinking maybe take out for dinner.
ab
TO READ AUGUST POSTS OR OTHER, OLDER ENTRIES,
RETURN TO THE ARCHIVES ON THE LEFT.
FYI: If you want to read about our Peace Corps adventures, start with January 2005 - that's when we received our invitation to Ukraine!  We returned to the USA in May 2007. 
Now we are on to AmeriCorps/VISTA adventures in the USA!
Life is good!
ab