<![if !supportLists]>· <![endif]>Thursday 30 May 2007
The Bus Smells of Hair Oil
The bus smells of hair oil, human smells, damp air.  (The hair oil makes me think of George Clooney and "Dapper Dan" in the film "Wherefore Art Thou Brother?") 
It is 1845 and we are in Rock Creek, WY.  Hundreds of 18-wheelers line the road – backed up like elephants.  In front of us, another 18-wheeler is upside down.  Police crawl all over it.  We stare out the window.
Three hours to go to Salt Lake City where we change buses to go on to Reno, NV.  We'll be in Reno about 0700.
Janeen dropped us in Omaha, NE on Tuesday and that is where we began this leg of the bus trip.  We spent that day wandering around in Old Marketplace and adjoining areas. We "discovered" a store selling Ukrainian and Russian treasures ("Red Square") and had fun practicing our Russian on the clerk.  We also found a great used book store, and ended up shipping a couple must have volumes back to sunny SC.  Who can go in a book store without making a purchase?
It rained in the afternoon so we took refuge in an Internet café and whiled away the remaining hours till bus time.  We sipped clatter and munched giant choco-chip cookies while we read and sent e-mail. 
Around 1600, we boarded the bus – destination: Denver. 
It was very cold on the bus so at the first stop I changed into jeans and purchased a blanket.  My hair got completely wet when I made the dash back to the bus so I shivered under my blanket and tried to get comfortable in the small bus seats. 
At 0600, I was grateful to step off the bus and have a good breakfast at a "yup-scale" historic place in downtown Denver. (I wolfed a huge breakfast burrito!)  We had five hours to explore the city – great place!  We took a hybrid electric people-mover (free) to tour the downtown. 
Now we are Crossing Wyoming
We drive across Wyoming in the moonscape that comprises the terrain.  I pen these notes in the moonlight. 
Some More Brief Passenger Profiles…
<![if !supportLists]>· <![endif]>A Russian Pair – There are two Russian-speakers two rows back.  We try to strike up a conversation, but they are not responsive even when we speak Russian and make references to Ukraine.  They travel with a translator.  I wonder about them. 
<![if !supportLists]>· <![endif]>An Asian Couple – They have many tote bags crammed around their legs and feet.  They pull wonderful foods from these bags and eat frequently.  The food smells are exotic.  They smile, but do not interact.
<![if !supportLists]>· <![endif]>A Deaf Couple – Fingers fly. He speaks in the unsettling voice of one who cannot actually hear himself.  The sound is like a seal barking.  She reads his lips and quietly signs in reply.
<![if !supportLists]>· <![endif]>Monday,28 May 2007
Memorial Day Memories – Norman "Rockwellesque"!
<![if !vml]>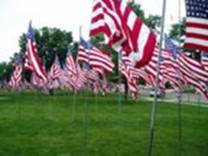 <![endif]>The annual Memorial Day Parade in Le Mars is, well, memorable.  All those American flags flying in the morning breeze stimulate the senses and create sensations hard to pin down.  Each flag represents a soldier, sailor, airman or marine who served and died.  Among them are my own Father and my beloved son. 
This year, there is a new addition.  Dog tags have been added to the 1,000 or so flags snapping in the breeze.  The tags are like delicate wind chimes and engage one more sense into the mix.  The sight of all those flags conjures up complex feelings.  Awe may be the best word for this feeling.
Following the parade and the dedication and posting of the new flags, my oldest nephew catches up to me.  He and his rider friends (also veterans) have planned a small memorial service for our son Caleb.  It has been five years since we dedicated and posted Caleb's American flag here on the courthouse lawn in my home town.  My nephew did not know we would be present when he planned this small event – all the more meaningful. 
The chaplain read a few remarks and we surreptitiously scattered a few of Caleb's ashes on the courthouse lawn.  Caleb's flag fluttered around my shoulders and his dog tags made sweet music.
We miss him.
I am grateful for family and community.
<![if !supportLists]>· <![endif]>Saturday, 26 May 2007
Drive West Till You Hit the Missouri, Turn Right Till You Arrive
I've made the trip from Des Moines to Le Mars so many times and with so many different drivers.  I have some wonderful memories of that simple trip.  This time my niece is in charge.
She arrives with twins and twin-paraphernalia loaded in her suburb-mobile.  She is so efficient in her role as Mom and chauffer.  She has thought of everything!  She rings the bell, thrusts a travel mug of steaming coffee into my hands, and grabs my bag while I fumble with the door key.  We are off on our road trip.
The girls sleep happily while my niece and I chat.  My niece is a delight, a treasure.
In Sioux City we stop and pick up another special niece, but not before we get a tour of her cozy nest.  She's remodeling her bathroom and show off the innovations proudly.  It is fun to laugh and linger there - a lovely home and a yard with flowers, birds and bunnies.  She has a happy, busy life.  I like to see her smile and hear her laugh.
We crowd into the car wit the twins and all their baby gear and head for my sisters' farm. 
We arrive at the farm and mingle with the nephews…these funny bothers have bought the same make and model car unbeknownst to one another!  Lots of laughter over this! 
The small grand nieces and nephew scamper around and the nephew's clever, witty, wives banter and take pictures.  It is delightful to be with family.
Who knew being an Aunt could be such fun.
One of the highlights of the day is the tour of the Baronial Hall in the R's. Mansion!  There is a huuuuuuge table with places for 14 guests (no leaves!).  This wonderful dining room has consumed my sister and her husband as thy made all the fun decisions involved in making a dream come true.  All the room needs is a pair of thrones!  8-)  It is beautiful!
Family Dinner at "The Ranch"
<![if !vml]>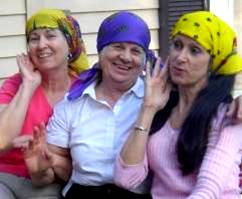 <![endif]>My sisters and I had a great time sharing lots of stories and making up for lost time on our visit to "the Ranch".  There were nieces and nephews and small children, cats and chickens, lots of laughter, too much food, and not enough time – never enough time. 
I am so grateful we had the opportunity to spend some time together.
We had a good time donning our "babushka" scarves and pretending to be much older than we are.  My family was kind enough to let Mark and me babble on and on and on about our wonderful experiences in Ukraine.
"The Three Iowa Babbas"
Late at night we went upstairs and slept hard.  It is god to be "home" – home is where family is.
<![if !supportLists]>· <![endif]>Friday, 25 May 2007
We boarded a bus at 0900 (in Anderson, SC) yesterday – almost 24 hours later we are patiently waiting as our stout bus driver recruits people to fill the empty seats on the bus here in Kansas City, MO. 
The last vacant seat, in an otherwise well maintained, comfortable bus, has no seat cushion.  The springs show.  It appears to have been vandalized, but the unkempt bus driver ignores this and booms, "You can sit on this seat or you can just sit on the step, r you can wait 24 hours for the next bus!"  He pauses, "That's all I can do for you!"
Because of delays, we will arrive in Des Moines 3 hours late. 
We had 4 transfers on this leg of the journey.  These involve rousing ourselves in the middle of the night and dragging our bags out from under the bus and scurrying to form a line where we wait to board another bus.  It is not a very practical system.  Though we paid for tickets, a ticket does not guarantee a seat.
We are grateful for the food we brought with us (a legacy from our travels in Ukraine where you never know if there will be food available).  We ate oat-bran cereal from a pair of sturdy red bowls and wiped our lips with the cheerful red and black napkins I packed.  The napkins have happy black and white dairy cows on them.  The accoutrements please me and the simple food satisfies me better than the vending machine options others wolf down.
We rolled across the Missouri River.  In the background passengers are talking.  Yesterday the voices reflected the speech patterns of the old South; today I hear that familiar Midwestern twang…pleasing sounds after being immersed in Ukrainian and Russian for 27-months!
We are literally elbow-to-elbow with people and in the tight confines of the bus, people open up in surprising ways.  People share their secrets.  No business men or women with briefcases, laptops, and work.  That's for airline passengers, not bus passengers.
Outside, the houses in the suburbs make me think of the dachas back in Ukraine…country life, close to town, gardens, grass, trees…no children though and no cats or dogs running free.
At the frequent bus stops, smokers spill out of the vehicle and congregate and commune while they share their smoking bond.
Some Brief Passenger Profiles…
<![if !supportLists]>· <![endif]>Young Soldier – He graduated from high school Friday and married on Saturday.  This week, he deploys.  He has trouble managing his duffle bag.  Mark helps him hoist it into the overhead rack.  The boy/man is too young to be going off to war.
<![if !supportLists]>· <![endif]>Waitress – She is a talker and laughs often.  She dyes (bleaches) her hair, chews gum and is definitely from the south – her accent is the give-away.  She gets up at 3AM each day to work at a diner.  She is off by 11AMShe served time in jail.  In the bus station, she gave $5 to a young couple with a baby and no cash.  She makes friends quickly and knows all about riding the bus.  She shares pointers.
<![if !supportLists]>· <![endif]> Coke-Baby Grown-up – He is a happy boy of 11, traveling with a relative who is very kind and soft spoken.  He makes loud, peculiar sounds and shrieks occasionally.  The woman pacifies him.
<![if !supportLists]>· <![endif]>The Musician – He plays the sax and reads nonfiction blues history as he rides.  He as a friend in Malawi.
<![if !supportLists]>· <![endif]>A Security Guy from Denver – A large man who talks about his dog (a gentle pit bull), his car, his job, everything.  He likes to talk.
<![if !supportLists]>· <![endif]>Prisoners – The Waitress (see above) advised us that we would stop here and that prisoners would board the bus.  "Don't let 'em sit by yew, if yew can help it," she recommends, chewing and popping her gum.  Three prisoners board the bus.  They wear white t-shirts and each carries a large envelope with their release papers inside.  No one on the bus makes eye-contact with them.  Outside the window the three policemen who comprised their escorts to the bus door, laugh and smoke in the dark night.
<![if !supportLists]>· <![endif]>Pregnant Girl and the New Army Husband – she wears a Betty-Boop t-shirt that stretches across her bulging belly.  She chews gum and wisecracks to her redheaded spouse.  He is nervous about meeting her parents for the first time.  They talk about just staying on the bus and heading for the West Coats instead of going through with the big meeting. 
<![if !supportLists]>· <![endif]>Ex-Navy Guy – He travels with a large, black trash bag as luggage.  He is dealing with being drummed out of the Navy on a medical disability.  He stares out the window.  What will become of him now?
<![if !supportLists]>· <![endif]>4'9" Man – This man of such small stature lost his wife to cancer.  She lost both her breasts and then died of lung cancer.  Life holds many surprises.
<![if !supportLists]>· <![endif]>
The Amazing B&B Twins
We arrive in Des Moines in the early afternoon (over 24 hours on the bus!) and my sister whisks us off to my niece's new home in the 'burbs.  Since Gramma plays trombone in the circus band could the granddaughters be anything but performers?  And perform they do!  The baby twin girls are learning to walk.  Oh to be so confident and cute and eager to learn! 
These adorable baby girls (as pretty as their young Mom and the apple of their handsome Daddy's eye) are certainly charmers!  We whiled away a lazy day in the suburbs of Des Moines, enjoying the simple life of goo-goo gaa-gaa…  We dined on take-out pizza – the perfect treat for recently returned Peace Corps Volunteers lusting for Americana!
We relish a hot shower and head off to sleep in a real bed.  No dreams, just sleep.  Life is good.
<![if !supportLists]>· <![endif]>Thursday, 24 May 2007
Greyhound Adventures – Heading North & West
We are taking the bus across the USA – the "Great American Road Trip" officially kicks off today! 
Since there is actually no bus service in our little southern town, House-sitter Jim chauffeured us to Anderson, about an hour away, to catch our Greyhound.  In the USA, people without cars <![if !vml]>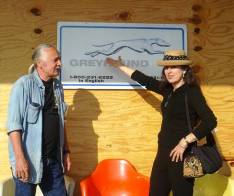 <![endif]>are trapped in remote, isolated, dead end towns.  Supply and demand systems are OK, but often those most in need have the fewest resources and suffer from this system.  In Ukraine (and most of Europe) busses and trains are available everywhere and they were cheap too!
The station itself was a bit unsettling.  It adjoins a seedy gas station and the front window is actually a piece of unvarnished plywood (see photo!) with a small cardboard Greyhound Bus sign tacked onto it.  The bathroom is in the service station – dirty, dirty, dirty.…and this from a women who has frequently used pit toilets for the past couple years.
Everyone Should Travel by Long-Distance Bus at Least Once…
Adults used to the luxury of air travel and private vehicles could use a concrete reminder of what it is like to be disenfranchised.
Politicians could learn a lot by making a coat-to-coast trip via the bus!
After 27 months in Ukraine living Peace Corps life, it is not hard to imagine 24-hours on a US bus.  Greyhounds have air conditioning, seats that recline, on board bathrooms, individual light and air controls, and foot rests.  Only about 45 people can ride at one time and no one smokes or stands in the aisles.  No one drinks alcoholic beverages and there are no live birds.
We are traveling during the highest gasoline prices in US history (over $3.00 a gallon in sunny SC and more in more affluent areas elsewhere no doubt).  Taking the Greyhound bus makes economic sense.
Riding the bus allows one (forces one) to step outside privileged middle-class life and see what another segment of real people deal with on a regular basis.  Money buys freedom and usually those with money do not have to deal with some of the frustrations of life.
Frankly, I am glad my seatmate is my spouse.  It makes traveling easier and more fun of course, but right now I am grateful because if a stranger sat beside me, I would feel very cramped.  My personal space would be violated. 
Outside my window, a bright sunny Georgia day smiles back at me.  Beautiful blue water and boats dominate the scenery as we crisscross dammed up rivers.  Georgia has pine forests and many deciduous trees – so much green, even though the area is under drought conditions. 
There are about twenty people on the bus right now.  Only one person is reading (Mark).  The others have their eyes closed. 
No one else looks out the window.
Where are these people going?
<![if !supportLists]>· <![endif]>Saturday 19 May 2007
Ukrainian Mark & Me at Renn Faire in GA
<![if !vml]>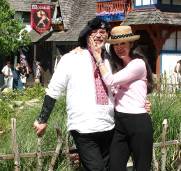 <![endif]>Today we celebrated being back in the USA with a trip down to the Renaissance Faire near Atlanta.  We strolled around and admired the crafts, laughed at the comedy shows, ate lots of junk food and took lots of photos.
We stopped at the International Market in Atlanta on the way home and stocked up n favorite cheese and wine, etc.
<![if !supportLists]>· <![endif]>Thursday, 17 May 2007
Coke Pipe, Cops, Mice, & Bamboo
Today the police arrived, upon our request.  While we were in Ukraine for 27-months, someone broke into our stored camper and left <![if !vml]>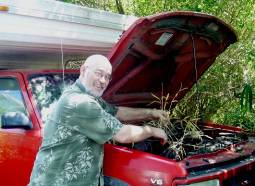 <![endif]>behind a coke pipe!  I watched through the window while the police collected information from Mark and filed a report.
The truck itself is OK, but it had bamboo stalks growing up through the engine block and a mouse had made a cozy nest under the hood.  Despite everything, our reliable Dodge pickem-up-truck cranked right up on demand!  So did the Jeep!
<![if !supportLists]>· <![endif]>Wednesday, 16 May 2007
Pulling out Boxes & Pawing Through Clothes – Too Much Stuff
Today I try to find some clothes.  The weather here is much warmer.  I arrived still wearing my Ukrainian snow boots (with jeans).  Here in SC, it is hot outside. 
I look through the boxes we hurriedly stowed before we left for Ukraine back in early 2005.  There is just too much stuff in that storeroom…after living in one room for a couple years, I find all this space and all this stuff overwhelming.
<![if !vml]>
<![endif]>Plumbing
Welcome home – time for a plumbing challenge!  Mark and House-sitter Jim end up tackling a plumbing problem on our first day home.  Mark is under the sink and Jim supervises.  We get a new faucet in the kitchen during the repair operations  It is quite nice.
Later we grill steaks, sit on the porch and sip wine while we talk, talk, talk.
<![if !supportLists]>· <![endif]>Tuesday, 15 May 2007
Rental Car – Drive to Greenwood, SC with stops at IKEA
Cruising down the east coast of the USA is pleasant on a fine Spring day like this one.  We stop a few times – a visit to a huge IKEA store is over-stimulating for me.  I am eager to feather my nest, but that will not happen for quite some time…gotta decide where to live and get jobs and so forth.  For now, stay in the moment and enjoy being back in the USA.
Home again!
We arrive home and are greeted by our happy house-sitter and his girlfriend and the big, bold cat!
Home sweet home!
<![if !supportLists]>· <![endif]>Monday, 14 May 2007
Off to Dover, DE
We caught a C-5 and had an uneventful (FREE) flight to Dover, DE.  The arrival there was not quite as wonderful as our arrival at Ramstein AFB.  There are no rental cars on base nor are there any taxi services so the logistics were a challenge.  We son discovered that there would be no flights out of Dover so checked into a motel and cashed.  First I had an American breakfast (for dinner) – pancakes again!  Yum!
First Impressions of USA…
My first impression of the USA is that so many people are overweight here…no make that fat! 
My second impression is equally negative.  Americans look like slobs.  They dress down or call it casual, but to my new eyes, most of them just lack any style or attention to fit and flair.
Tomorrow we will rent a car and drive south to sunny Greenwood!
<![if !supportLists]>· <![endif]>Sunday, 13 May 2007 – Mother's Day
Mark gave me a Cinnabon to celebrate Mother's Day
Yes, it is small things that make life a pleasure and that humble cinnamon roll was a pleasure!  I munched on it and sipped good US coffee while we waited at the AF Base terminal to see if we could catch a flight today.
While we waited we observed the military folks transiting the terminal.  I was surprised when a major approached me and said she recognized me from my Ai Force recruiting days back in Boston.  We had a fine conversation. 
She was enroute to Iraq.
After a few hours, it was clear we would not get a flight today so we checked back into billeting and went downtown to Kaiserslaughtern for a visit to a traditional German beer garden.
<![if !supportLists]>· <![endif]>Saturday, 12 May 2007
"American" Breakfast – Wow!
We strolled off to the NCO Club for a typical American breakfast of pancakes, eggs and bacon plus lots of black coffee.  Then we explored the base a bit. 
We discovered a terrific used book store.  It was hard to get out of there without a stack of wonderful books.  After a couple years on a limited diet of books in English we were a bit overwhelmed by the variety of selections and the cheap price.
We visited all the base facilities and wallowed in hearing English and meeting such friendly, smiling people…
Tomorrow we will try to HOP back to the USA.
<![if !supportLists]>· <![endif]>Friday, 11 May 2007
0415 Taxi Call
We take a cab through the sleeping city and arrive in plenty of time to get a cup of coffee and relax at the airport.  My luggage is overweight!  The excess baggage fee is $300…sigh.  And that is not all…
Springing me from Ukraine – I've been "detained"!
Apparently my multiple-entry visa for five years does not allow me to stay in country without leaving for five years…I am in violation.  I can be detained.  Eventually cash resolves the issue.  For 600 UAH I get a reprieve – a little scrap of paper with a very mundane stamp which will get me out of Ukraine.
So between my visa and my excess baggage, I leave Ukraine with lots left cash.
Off to Frankfurt…in Gale Force Winds!
We bounce across Eastern Europe on a Ukrainian carrier <![if !vml]>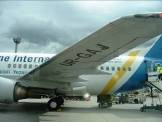 <![endif]>buffeted about in the gale-force winds.  The white-knuckle landing was pretty scary, but I was very happy to be safely off the plane when we finally touched (bounced) down in Frankfort. Germany. 
Germany is sooooo clean and neat.  It feels like a movie set – everything is perfect.  I observe someone actually field-strip a cigarette into the appropriate recycling bin at the airport.  What a contrast to the very casual lifestyle in Ukraine where trash and urine and graffiti dominate most of the public areas.
No one in Germany seems to wear spiky. High heels or very short, flamboyant skirts.  I see no one drinking liter bottles of beer or sharing vodka shots.  I see no stray dogs and cats nor do I see people playing chess.
We Stay at the Air Force Base
We take a clean, modern train to the Air Force Base an hour from Frankfort.  We plan to <![if !vml]>

<![endif]>catch a military HOP to the USA from there.  We are met by a smiley, cheerful friend-of-a-friend.  He's an Armed Forces Radio and TV guy – Mark was one during his Air Force tenure. 
Our delightful host has to be the most generous and kind man I have met in a long, long time!  He smiles constantly and insisted we take his tuck for the duration of our stay.  He kindly helps us get Mark's ID card updated and settles us into a comfortable room at billeting. 
We were very grateful and a bit overwhelmed by all the Americana we found around us.  All these friendly smiling, helpful Air Force people: the culture shock is into high gear! 
We indulge in Subway sandwiches, Mt Dew and junk American TV and smile, smile, smile.  I took a long hot shower and crash. 
Ukraine already seems like a long time ago.
<![if !supportLists]>· <![endif]>Thursday, 10 May 2007
Peace Corps Office - Faces to Names…
This is our last visit to the Peace Corps Ukraine offices.  We hand out a few pens and say our farewells. 
A couple of Peace Corps Volunteers in the lounge hear us talking and recognize my name from the Peace Corps 2, Yahoo Group.  We talk; they ask questions and give me warm feedback on my advice, thoughts and observations.
We learn that another PCV we know is being Medivaced to DC tomorrow.  Her disorder is a mystery and a Peace Corps staff member will actually travel with her.
<![if !supportLists]>· <![endif]>Wednesday,9 May 2007 – Victory Day
Parades, Presidents, Communists,Bands,  Downpours, Patriots, Politics, & Flowers
The Soldiers Memorial, Motherland Statue, Lavra & the Afghanistan War Museum
Coffee and Brandy under a pergola - This was a wonderful day – our last in Kiev
<![if !vml]>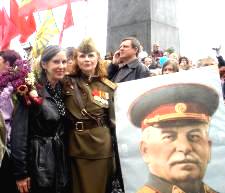 <![endif]>
<![if !vml]>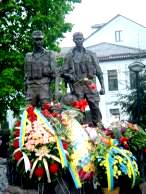 <![endif]><![if !vml]>

<![endif]><![if !vml]>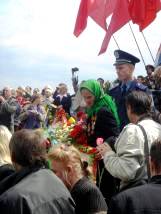 <![endif]>
<![if !supportLists]>· <![endif]>Tuesday, 8 May 2007
Packing and Sorting –Streamlining Again…
Airline restrictions are extreme…we have to weed out more things.  It is hard to leave things behind.
We watch sentimental Hallmark movies on cable TV and take a walk around the neighborhood.
<![if !supportLists]>· <![endif]>Monday 7 May 2007
Peace Corps Office
A dull day of administrivia at the Peace Corps office…
<![if !supportLists]>· <![endif]>Sunday,6 May 2007
House of Chimeras, Andreyevsky Spusk, Museums, Islands, Bridges (Kissing and Climbing)
We packed the day with sight-seeing.  Slava played tour guide.  He climbs like a mountain goat and enjoys seeing every hilltop vista.  He is happy living in Kiev. 
At days end, Mark and I are very tired.
We will miss Slava.
<![if !supportLists]>· <![endif]>Saturday,5 May 2007
It's all Happening at the Zoo
<![if !vml]>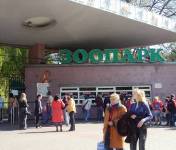 <![endif]>Mark and I paid an early morning visit to the Kiev Zoo.  It is being upgraded, but there is still a large section of the old Soviet-era cages.  There are many children in the park and there are zoo employees providing sidewalk chalk and soap bubbles and other activities to engage the children.
Hiking Kiev's Botanical Garden -300 Species of Lilacs in Bloom
We hook up with Slava, a friend formerly from Kerch and take an extremely crowded bus to the end of the line to visit the famed Botanical Gardens.  Unfortunately, we failed to get our tickets punched so the bus matron fined us…boooo….
<![if !vml]>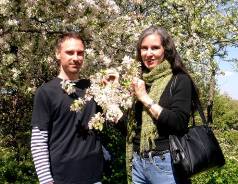 <![endif]>
The gardens are fabulous.  We take lots of photos of the beautiful lilacs and views of the city and the river.  Kiev is such a wonderful place, especially in the spring time.  We picnic and relax and finally call it a day when the fire flies come out.
Kiev is a beautiful city.
<![if !supportLists]>· <![endif]>Thursday, 3 May 2007
The flat we are staying in for the next week has cable TV – including a couple English-language channels.  I spent most of my day indiscriminately watching cheesy movies on the Hallmark Channel and shorts on Animal Planet.  I am mesmerized by this TV that speaks in English!
Outside, it is cold and windy and rain falls intermittently.
Mark is at the Peace Corps office – a medical exam, then off to a dental exam and a few appointments with staff members.  There are more appointments tomorrow and Monday.  It's hard to believe in a few short days Mark will officially be a Retuned Peace Corps Volunteer (RPCV).
<![if !supportLists]>· <![endif]>Wednesday, 2 May 2007
Kiev is Cold, Cold, Cold…
There were snow flurries in Kiev last night.  The man wrangling our baggage for us said there were accumulations in his neighborhood.  There are, however, lilacs in bloom!
I m glad I have on snow boots!
We walk to the Peace Corps office. The streets are deserted.  No cars or people about.  The city has the feel and look of a movie set for some disaster film where all the towns' people have mysteriously vanished.  No one seems quite sure of what the holiday is.  Of course the First of May is a holiday, but this is the second.
Notes on Checking into our Temporary Flat…
We take the metro to the flat we reserved for our stay in the city.
T, our temporary landlady, and her husband welcome us.  "You look like movie stars!" she says as we stand in the middle of the one-room flat we rented for our ten days in Kiev.  I laugh in response. After 24-hours on the train trip and the day previous to that spent scrubbing, cleaning and packing, I am sure I look exhausted…an exhausted star from a horror film maybe!
T. bustles around making us feel comfortable.  She tells us where to shop, shows us how to use the washing machine and how to operate the TV and the phone. Then she meticulously demonstrates how to lock and unlock the various doors.  Typical of soviet-ear Ukrainian flats, there are two doors at the entrance and each door has two locks.  These open onto a hallway shared by several flats.  At the entrance to that hall, there is a large metal door with a pair of locks.  The flat is on the third floor so there is yet another door and more locks!
"If someone knocks and you don't recognize them (through the peephole), don't open the door(s)," T advises.  "Even if they say it is the police, do not open the door."
When the conversation moves to work, T. is delighted to learn about Mark's computer background.  She turns to her husband and draws him into an animated conversation.  He teaches business and economics and is interested in getting up to speed on using computers in business.  Conversation dances around that topic – no textbooks or materials available in Ukrainian, and no experience…Mark mentions possibilities and says something about working at the Kerch library.
"Kerch!" she gasped. "Oh, don't tell people you are from Kerch.  They will be afraid!"
T's husband chimes in, "Yes.  Kerch is where the gangsters (mafia) are!"
<![if !supportLists]>· <![endif]>Tuesday, 1 May 2007
Leaving Kerch for the Last Time…
Mark piles all our baggage outside on the babushka bench in <![if !vml]>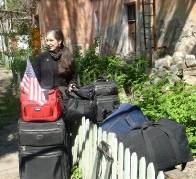 <![endif]>the warm spring sunshine. We take photos of this embarrassment of baggage and then wait patiently for L. and V, who will drive us to the train station.  A small boy, curious about the unusual activity in this quiet courtyard, wanders over and engages us in conversation. He prattles away, asking questions in Russian, and has a fine time coaching us on ours.  He teaches us new words, patiently spelling them out as his teacher might.
<![if !vml]>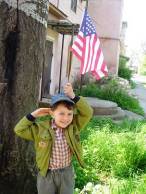 <![endif]>Mark gives the boy an American flag.  The boy dances around in circles and the flag flies, enjoying the dance.  .  I take photos of the boy.  The boy and I wander around the courtyard feeding stray cats from a small stash of cat chow I had.  The boy tells me the names of the cats he knows
At last our friends arrive.  We pile our luggage into the car's trunk.  It takes two trips to get us to the train station.
We trundle all our various bundles (amazing how much you accumulate in 27-months!) into the station café and sip bitter coffee. At noon, L. buys a bottle of cognac and a plate of cheese.  From my handbag, I pull out a chocolate bar (I am so Ukrainian!) and put it on the table. We make toasts, nibble and take photos.
The train arrives.  Several members of our English Club arrive.  A large, sunny-yellow, <![if !vml]>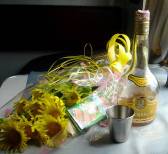 <![endif]>beribboned, bouquet is thrust into my arms and several small gifts.  More photos.   Lots of hugs.  Every one on the rain is curious: is there a celebrity on board?  We pose with the conductors.  We settle in for our long train ride.
Later a retired Ukrainian Army Colonel joins us in our coupe and spreads a small feast of salo, radishes, and dark bread on our table.  We sip wine and swap "war stories," alternating between Russian and English.  Outside our windows, we pass charming dachas, each with an assortment of chickens and geese, cows, flowers and fruit trees. 
Can we really be leaving Crimea and our cozy nest on the Black Sea?
ab
TO READ APRIL POSTS OR OTHER OLDER ENTRIES,
RETURN TO THE ARCHIVES ON THE LEFT.
FYI: If you want to read about our initial Peace Corps adventures, start with January 2005; that's when we received our invitation (short-notice) to Ukraine!
ab