<![if !supportLists]>· <![endif]>Thursday, 3 April 2008
Oh my…where has time gone? Another month has arrived… 
Well, see you over in the April section…'
<![if !supportLists]>· <![endif]>Sunday, 23 March 2008 – Easter Sunday
Finger Weaving…
I stayed up late last night, absorbed by a finger-weaving project. 
I am no artist, but there is something satisfying about creating, blending colors and textures.  This spontaneous project spawned a few bight bookmarks.  Late at night, I am sleepy, tired, but happy.  I have let me be me.  It is good.
I spread my small creations on the footstool by my chair and look at them.  Hardly works of art, but they make me smile.  And that is enough.
Today slipped away.  We walked the dog.  Mark made mousaka.  I wrote a few letters to friends.  I avoided work.
I have been feeling like part of the rat race and lately there are cats pursuing us rats.   It is no longer the pleasure of running and catching our prey – we have become prey!
All of my hours are scheduled up and filled with demands.  The phone rings and I ignore it because I know there will be someone talking strategies and projects and plans.  I kick my tote bag with work projects under the bench where it is out of sight (out f mind). 
This weekend has been about remembering who I am and living in the moment. 
<![if !supportLists]>· <![endif]>Saturday, 22 March 2008
A Perfect Day…
Unplanned days are the best.  I do not like to have dirty fingerprints marring the day before I have the opportunity to watch it unfold.
Zia piled into the big, red pick-up truck and struck her happy pose in the backseat.  Saturdays mean a day tagging along with her humans.  A day with the potential for new places, new scents, new treats and plenty of time with the humans in her life.  She stretches out and settles in.
I climb in beside Mark.  All week long the truck is my vehicle.  But on Saturdays, Mark drives and I am the navigator.  Plans are loose: find a few yard sales and see what treasures pop up and what characters spill their tales to us as we explore the town and see how the locals live.  It is not about the treasures that might appear, it is about the people, their homes, their willingness to open up to strangers…to connect. It is the randomness, the discoveries. 
We poke through tables of eccentric stuff and chat with a woman from Tahiti. Another woman decided to have a garage sale to throw together cash for an urgent car repair.  She is a cat lover and the table is full of cat related foolishness.  We like the looks of the neighborhood.  Miss Zia tugs on her leash so we head off to explore the neighborhood a bit.  Turtledoves coo, the spring air is gentle.
Later we park ourselves at a local outdoor café.  A guitar player sings the songs of our youth.  We sit in the warming sun, gaze at the mountains and eavesdrop a bit as the locals discuss politics, careers, religion and the future. 
The lazy morning has slipped away and the checklist surfaces in my head.  So much to do, so little time. 
We take the truck to the car wash.  This is a task that is almost play.  We ease our way home and sneak up on the checklist.  Once home, the warm sun lures us outside.  The Koi leap in the air and dance on their tails.  They splash loudly.  We become a captive audience. 
We sink down into lawn chairs and soon we agree to play hooky a little longer.  We sip on tall, cool drinks, read chapters of the library books from the red tote bag, soaking up warmth, listening to bids singing and reading our respective novels.  Miss Zia stretches out on the patio, as if to guard us.  The hours slip away.
A lizard sits on a nearby rock; bids splash and bathe, just a few feet away from us.  Time slows down. 
I think about Easter, the resurrection, life…
Life feels good. 
We need more of these days.
How is it that life evolves around work rather than such simple pleasures?
<![if !supportLists]>· <![endif]>Friday, 21 March 2008 – Good Friday
The Coyote at Sunrise.
The sun glinted down from the mountains, casting a spotlight on the healthy coyote that stood staring at me and Miss Zia.  I was in his space, but he remained calm and collected.  Miss Zia did not panic or react in any visible way.  I merely stared back at the beautiful wild creature who blessed me with this opportunity. 
A photo is burned into my mind.  Better than a photo, I can conjure it up at any time or place I wish.
My mental photo gallery includes a few cranes – one in Boston and one in sunny South Carolina.  I can call them up at will and feel the emotions f the moment.
It amazes me how we live side-by-side with nature and yet so seldom do we actually come face-to-face with these beautiful creatures.
<![if !supportLists]>· <![endif]>Sunday,16 March 2008
Exhilarating and Exhausting
Our Santa Fe life is delightful – "exhilarating and exhausting" is how I worded it when I was catching up on some long overdue correspondence this morning.
"It is all good" – I have frequently heard people use that tagline and it applies.  There is just soooo much good going on in my life right now that I do not always appear to grateful for this amazing bounty. 
We are surrounded by bounty, beauty, blessings - abundance.  I am like an over-stimulated child, giddy, laughing, and suddenly weeping out of exhaustion and then laughing again.
I am like a manic, without the depressive! 
I have so much to be grateful for and even as all these events push at me, I whisper sweet "thank yous" under my breath.
I could not have outlined the life I am leading.
I know that somehow this awareness of all the good in the world and in my life comes from letting go of a personal sense of things…not clinging to events and anger and grief…not seeing these things as evidence of evil…denying the darkness and seeing the light….
Though I often fail to express this wonder and may seem overwhelmed in the moment, juggling all the pretty balls, I am ultimately keenly aware of the demonstration of abundance and joy that are my life.
And I am truly grateful.
<![if !supportLists]>· <![endif]>Saturday 15 March 2008
Today I Play Hooky
Spring is in the air and I decided to take a day off to just follow my whims, to recharge my battery, to sharpen the saw…a day to play hooky from the self-imposed agendas and relax…a day to acknowledge life in simple ways.  A day to stay in the moment and ignore check-lists (the toxic poison in many lives).
We piled our pound-pup into the back seat of the pick-up truck and headed off.  We did mundane things – exploring the town using garage sales and estate sales as a template.  Later we bought some yarn for a weaving project for me and then decided to drive south to Albuquerque to buy groceries at the commissary on the AFB.
The Need to Live in the Now…
There are so many things going on in my life and all of them are good.  I've been feeling challenged by a sense of limited time and personal responsibility…today I think I finally broke that chain. 
I was mesmerized by the illusion that time is limited…time is a mortal concept so perhaps it is.  But in reality, we have just what we need right now.  Our Infinite Father/Mother God withholds nothing from us.  Sometimes we mortals seem to act like recalcitrant children and want to have it our own way…as if we would rather believe a lie…
If I humble myself and acknowledge the Truth and turn it all over to God with a prayer of gratitude, I am suddenly, delightfully free.
"I can see clearly now.." goes a line in a popular song from my youth…
<![if !supportLists]>· <![endif]>Friday, 14 March 2008
My sweet spouse came to my office on this quiet Friday and helped me work on a brochure I am developing for the NM Coalition for Literacy.
I love working with my spouse on projects like this.  There is a synergy between us that brings out the best in each of us. 
We each sat at our computers working on graphics and content and exchanging ideas and coming up with wonderful new ideas.
The draft we came up with is edgy, eye-catching and one I am very pleased to say I had a part on producing.
But, as in all things, it is the process, not the product (the journey, not the destination) that matters in the end.  It is a pleasure to have a mutually respectful and creative companion to wok with on any kind of project in life.
I am grateful for such a companion.
<![if !supportLists]>· <![endif]>Thursday,13 March 2008
My Brother's Travel Plans…
My bothers travel plans dominate much of my free time lately.  Midnight phone calls and coordinating details with people all over the USA…it is finally all coming together in a plan.
Technology is great and here in the USA we tend to forget that so many people do not have such easy access to phones, faxes and even, mail.  A letter to my brother in Malawi takes about a month to surface in his mail-box.  And then someone must hike miles down the mountain to collect that mail and then hike back up to deliver it. 
To call me, my bother must hike up a steep mountain and place the call, relying on an infrastructure that often fails.  The act of connecting on the phone often means an hour o two of trying to call him back – dead air, busy signals, charges for nothing…we spent a few hours and $20 trying to reconnect one night (3AM) and only managed to become frustrated, cranky and irritable…and my poor brother on the other end was probably no better off, but he had a long hike back down the mountain ahead of him.
Dealing with ambiguity and being flexible are two things Peace Corps Volunteers hear a lot about…Definitely these skills should be bullets on a resume!
So should being graceful and gracious under fire. 
Lately I have let things get to me a bit – I cling to my crankiness because it is the only thing I seem to have control over.  It would be wise to let it go.
I will let it go.
My role really is to give thanks and to rejoice…why am I so tempted to cling to control….?  Of course I am not the only one who does this…
Now that this is on paper, I can see what needs to be done…I can let it go and know that God is guarding, guiding and governing my life and I just need to acknowledge all those gifts – be grateful, give thanks, rejoice – be fit to receive more. 
Ahhh, the lessons of life…what an apprenticeship this is!
Excuse me – I have some mental thank you notes to compose and deliver!  8-)
<![if !supportLists]>· <![endif]>Saturday, 8 March 2008 – International Women's Day
Find a Women and Treat Her Well!
This is a holiday we fail to acknowledge here in the USA, though historically this is where it is rooted.
It is quite a celebration in Ukraine. (Read March 2005-2007 journals notes on our Ukraine experiences with Women's Day)  There, it is a combination of Mother's Day and Valentine's Day...chocolate bars, champagne, parties, time off!  Flowers are showered on important women in one's life....It is a biiiiiiiggggg deal.  Those foolish people who fail to respect this holiday are considered uncultured and, well, scum!  8-)
We need t revive this holiday in the USA!  Spread the word…
<![if !supportLists]>· <![endif]>Friday, 7 March 2008
Following is information on a Habitat for Humanity event in Malawi, the country my dear brother has called home since the mid-1980's.  There are so many ways to get out and be part of the larger world…ways to see the world through new eyes (as Proust said).
Lilongwe, Malawi
<![if !vml]>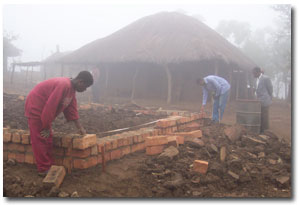 <![endif]>Habitat house under construction in Malawi. 

Country Profile
<![if !supportLineBreakNewLine]>
<![endif]>
April 2-16, 2008
Are you looking for a unique and rewarding experience? Do you possess a sense of adventure? Then consider traveling to Malawi, in southern Africa, with a group of Habitat for Humanity volunteers and make your next vacation a "day on," not a "day off." Experience the beauty, the culture and the charm of the country affectionately known as the "Warm Heart of Africa," while working alongside partner families and the local community.
About Malawi
Malawi, formerly the British Protectorate of Nyasaland, is a landlocked country in southeastern Africa, bounded by Tanzania, Lake Malawi (Lake Nyasa), Mozambique and Zambia. Malawi is a country of gorgeous scenery and extremely friendly and welcoming people. The Great Rift Valley runs north to south, surrounded by mountain ranges and high plateaus.
Malawi ranks among the world's least developed countries. The economy is predominately agricultural, with about 85 percent of the population engaged in smallholder farming.
Habitat for Humanity Malawi started in the capital city of Lilongwe in 1986. HFH Malawi is constructing houses of burnt clay bricks, cement floors and tile roofs. More than 5,000 houses have been built, making it one of the largest Habitat building programs in the world.
Itinerary
Our Global Village trip to Malawi will be for 15 days including eight days of building and three days of R&R. While in Malawi, we will visit Lake Malawi and may visit a wildlife park for safari.
April 2, Wednesday - Depart for Blantyre
April 3, Thursday - Arrive; travel to accommodation
April 4, Friday - Travel to affiliate; orientation and welcome
April 5-9, Saturday-Wednesday - Build (possible cultural activity Monday afternoon)
April 10, Thursday - R&R
April 11-13, Friday-Sunday - Build; farewell ceremony
April 14-16, Monday-Wednesday - R&R; depart for home
Accommodations
Teams traveling to Malawi usually stay in guesthouses, or at modest hotels. These facilities will have running water and electricity, but please be prepared for times during the trip when you may need to use a pit latrine or go without electricity and running water. Sleeping bags and mosquito nets are usually needed. Breakfast and dinner are usually provided where team members are lodged, and lunch is typically provided on site.
Cost
The trip will cost $1,800, not including round-trip airfare. This price includes lodging, food, ground transportation, cultural tours, insurance, orientation materials and a donation to Habitat for Humanity Malawi. Special excursions may add additional costs. Participants will need to arrange and pay for transportation from their point of departure to Malawi. This should be done in consultation with the team leader.
Team leader
Elysia Busick has just left New York City recently and is a graduate student in Uppsala, Sweden, studying development. She also has experience in architecture and design. This is her first build as a team leader and she is excited to share this life-changing experience with others! Elysia has been on one build to Chile in 2006 and has been hooked on Habitat ever since.
If you are interested in this once-in-a-lifetime opportunity, learning about a new culture and making new friends, please e-mail Elysia at malawibuild08@gmail.com.
Not Everyone Thinks This Habitat Event is Good….
A former PCV who served in Malawi sent me a note regarding the Habitat event in Malawi – he felt it was a waste of effort.  He feels that the money and time should go toward hospitals, school, etc.  He has a point, but I wan to go on record saying that any activity that brings people to Malawi has the potential to open their eyes to ways to make an individual difference in the lies of other people.
By spending time in Malawi on this program, people will see with their own eyes, how poverty looks.  They may decide to use their personal resources in ways that may be more meaningful.
Our Global Community
I encourage people to get out and experience the world in ways that challenge their values and beliefs. 
But, that said, even tourists who see only the tip of the iceberg, often come back changed and ready to tackle more of the work our global community demands.
<![if !supportLists]>· <![endif]>Thursday, 6 March 2008 – Snowbound!
I am snowbound!  What a delightful surprise and all the better because it is an unexpected gift.  I sip coffee and gaze out at the beautiful, wet flakes drifting down from the usually turquoise, sunny skies above Santa Fe.  The snowflakes seem languid, yet there are so many falling.  The world outside resembles an old black and white movie snowfall.
I open the door and let Miss Zia nose her way out.  She hesitates a moment and then burrows her muzzle into the snow.  She does a little doggie-dance before racing off to explore.  I stand, still sipping coffee, watching her expression of joy, savoring the moment.   
"Have you visited the Iditarod site yet?" asks my sweet spouse.
He dons his cowboy hat and turns to look at me before he heads off to work.  I have a snow day, but he does not.
I smile at him, suddenly knowing that instead of checking off items from the un-ending check-list that seems to control my days lately, I have the luxury of whiling away a few guilt free hours looking at photos and reading narratives about the annual mushing event in Alaska.  What a pleasure!
"Thanks for the suggestion," I answer and give him a hug.
<![if !vml]>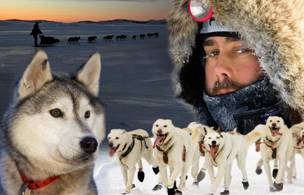 <![endif]>
I turn back to the window and watch my own snow-princess dashing across the snow-blanketed yard and smile.
I am not a sportswoman, but the appeal of a dog team and the challenge of trekking across that icy terrain makes my blood run faster. 
Yes, I finally have a guilt-free day and a totally unexpected opportunity to play.  And play I will!
My list of challenges and deadlines and the stress that has nagged me unrelentingly for several weeks seems to melt away in the reflected glow of the images on my computer screen.  I enjoy a few hours of absolute pleasure.  I feel rejuvenated.
* Read about Susan Butcher, one of the great legends of the Iditarod: 
http://www.iditarod.com/learn/susanbutcher.html
Later the Same Day – Sigh…Not Everyone Loves Dog sledding…
March is Women's History Month so I submitted the idea of recognizing Susan Butcher, a legend of dog sledding and cancer, to a blogger that I read each day.  Her blog is well-read and this seemed like a good match to me. 
My suggestion was re-buffed in no uncertain terms.  The idea that dogsled-racing is cruel and inhumane came from her and felt like a slap in my face.  Yes, there are incidents, as there are in any activity, but I believe that in general mushers and their dogs are a team, expressing joy and working together as a pack.  Here's an excerpt to my reply to the woman whose response hit me so hard.
….Well, I am disappointed and find myself wondering how people can have such diverse opinions on things...I see the beauty of the animal and the human blending into a dynamic, spiritual team...using their talents joyfully. (I am not in denial about incidents of cruelty - but I know that there is evidence of cruelty in almost every activity we humans indulge in, regardless of all the laws and checklists and legislation we conjure up...).
I do not mean to be contentious or to pick a fight, but it occurs to me that if you do think the Iditarod is promoting cruelty, you would take the challenge and address the issue - be the change (as Gandhi says). Your blog has visibility and you are a woman of conscious.
You just never know…
<![if !supportLists]>· <![endif]>Wednesday 5 March 2008
Dinner at El Farol
Finally the long awaited dinner and Flamenco show at El Farol.  We have to reschedule once because the dancers were not available. 
Tonight when we arrived, the host indicated that they really had not planned to have a show tonight - the regular dancers were not available again, but they were putting on a show anyway…
We were seated in a cozy corner of a small room.  Outside snow was starting to fall in earnest, but we relaxed and enjoyed our meal in the charming ambience of a room that reminded us of our years in Spain. 
The meal was good.  It was not memorable, but attractively plated and suggested meals we had eaten in Spain.  And though we unexpectedly ended up paying for a more expensive bottle of wine than we ordered, we enjoyed sipping it as we visited quietly before the show. 
The atmosphere, more important to me, was charming.  Had the dining room been crowded it would have been less charming since guests are asked to share a table.
The dancers were not the regulars and one of them was clearly a student.  The other was an Asian-looking woman whose costume appeared more Asian than Spanish too.  The guitar work was delightful.  No coffee or drinks were offered during the show.
Fortunately, the company (my spouse) made the evening a delight and so did the beautiful snow falling outside, framed in the window near our table.
We came to the restaurant because we were "homesick" for our earlier years in sunny Spain and the restaurant has a good reputation.   We will return, but probably only for tapas in the bar. 
FYI: the meal should have been about $120 with tip, etc…but we walked out paying closer to $200…a cover charge not identified on the webpage,  a higher price bottle of wine than we ordered, etc…we discovered this when we went online to do our bills  
There are a few other Spanish restaurants in town.  When we decide to splurge (we are still AmeriCorps*VISTA volunteers) again, we will try one of them.
ab
TO READ
FEBRUARY POSTS OR OTHER, OLDER ENTRIES,
RETURN TO THE ARCHIVES ON THE LEFT.
FYI: If you want to read about our
Peace Corps Ukraine adventures,
start with January 2005 - May 2007.
Now we are having AmeriCorps/VISTA adventures
right here in Santa Fe, in the USA!
Life is good!
ab