<![if !supportLists]>· <![endif]>Saturday, 31 March 2007
The Next Group of PC Ukraine Trainees Arrives this Weekend!
Group 28, our training group, arrived in Ukraine on 1 March 2005. It seemed auspicious since 1 March is the Peace Corps' anniversary.  The new training group arrives on 1 April 2007; perhaps a less-than-auspicious date since it is April Fool's Day!  Ouch!
I imagine many of the new trainees will wonder what they got themselves into as they disembark from the aircraft and start their Peace Corps career. 
A warm welcome to the new trainees!
<![if !supportLists]>· <![endif]>Friday, 30 March 2007
Bye-Bye Birdies…
I will miss my cheepsters. Early Saturday we will board the bus and travel to another community to visit some PCVs.  We are taking along a suitcase filled with odd paraphernalia and we are taking our birds.   They will go to a new home, along with an odd collection of things we cannot take with us.
The birds will ride, in their cage, on my lap for the two hour bus trip.
The flat will seem empty when we come home.
These lively little characters have become such a joyful part of our routine here. 
And now they will bring joy to someone else.
<![if !supportLists]>· <![endif]>Thursday, 29 March 2007
<![if !supportLists]>· <![endif]>Wednesday, 28 March 2007
Fickle Spring Weather…
March always seems like the longest month of the year…sometimes February feels that way too…and actually, now that I am thinking about it, I am not too fond of April. This turning-winter-into-spring business is not my idea of fun.  At least not in colder climates where snow is as likely in April as are high temperatures.
I am fond of remembering the annual Tulip Festival, celebrated each April, in a small community near my girlhood hometown in Iowa. Orange City's festival celebrating their Netherlandic heritage is exceptional and exuberant.  The floats and marching bands in the parade and the midway set up on the downtown streets are impressive, but when I was a child, it was the wooden shoes and the Dutch costumes that held my interest. As an adult, it is the amazing riot of tulips that mesmerizes me.  Tulip Festival helped me bridge the gap between Winter and Summer. 
In my opinion, Spring is not really a season in America's Midwest. The weather vacillates and is erratic and then finally just leaps from Winter to Summer sometime at the end of May…just in time for Memorial Day usually.  No, Spring is not a season in the Midwest; it is more of a mood or perhaps an illusion. 
I only came to this conclusion after a few years of life in a southern clime.  In the south, spring is a lovely season.  In the north, it is intemperate and unreliable.  (The term mud-season is accurate)  The season cannot commit. So, as a northerner, I find that Autumn is the finest season, while spring is simply an annoying, cold tease.
Here in sunny Crimea, daffodils are in bloom, forsythia is budding, the sky is bright and clear, turtle doves soothe me with their morning crooning.  It is very alluring as I gaze out my kitchen window. Step outside though, and the air is brisk, urgent winds redden my cheeks, and I forage in my pockets for my gloves.  I need a hat and a scarf.  
And just as the weather here gets pleasant enough to walk about unencumbered with winter-wear, we will head further north to Kiev, where the climate seems about a month behind us here in Crimea.  In the merry month of May (a phrase clearly conjured up by someone from a southerly climate) we will be traveling through cold, damp places in Europe, as we wend our way back to the USA.
In only 35 days, Mark will be heading off to have his close of service physical while I explore Kiev. 
There is one really wonderful thing about May in colder climates – there are lilacs in bloom.  And Kiev is no exception. In fact, the botanical gardens in Kiev have several hundred species of lilacs. So, in early May, I hope to be wandering in a sunny, lilac-scented garden, as I say my farewells to Ukraine.
For now, I am donning some wooly socks and turning on the space heater. I will sit in the bright sunlight streaming through the kitchen window.  These are my springtime rituals in this northerly place where Spring never really arrives.
<![if !supportLists]>· <![endif]>Tuesday, 27 March 2007
Designing Graphics, Building Data Bases, Drafting Policy…
I should be drafting letters of recommendation for myself and working on my resume. I avoid these tasks. I look at the materials and sigh. I make such work of it. Each time I begin it is like re-inventing the wheel.  I need a consultant or a colleague to help me forge ahead with this distasteful project.
Instead, I avoid those demands and I spend many hours on administrivia, some of it creative.  I am designing a logo and graphics for a newsletter, building a template for a membership application, and developing policy for an organizational team.  I am preparing presentations/lesson plans for three (one time) classes I will conduct mid-April, and I am slowly building content for a business website. 
In between these projects, I am orchestrating packing and parceling out all the accumulated stuff in our flat and doing research on travel arrangements (in Europe and USA).  I am puzzling over farewell gifts and protocols. 
Mark is immersed in a world of work too.  His classes will run right up until we leave.  Working with these students in a creative capacity takes energy and keeps him engaged, both in and out of class.  In his free time, he is also designing a website, drafting content and producing an organizational newsletter.  He is coordinating a PCV application with a local organization and winding down some other projects too.
We have ideas about where we may want to live, and ideas of the kinds of work we may pursue, but have yet to commit to a place or a path.  These decisions are in abeyance as we work our way through the next few weeks.  When the facts are all in and the heart speaks, we will move forward in that arena.
Then there is the house back in the USA…hmmmm…
The truth is, the most important thing is to simply spiritualize my thinking: find joy in each day and give thanks for the blessings of this abundant life. 
And maybe dance and sing a bit too!
<![if !supportLists]>· <![endif]>Monday, 26 March 2007
<![if !supportLists]>· <![endif]><![if !vml]>

<![endif]>Sunday, 25 March 2007 – Pete's B'Day! 
Friday night the wind howled through the trees and the Black Sea raged.  The usually calm sea was rife with 12-15 foot waves crashing on the break wall.  Cold rain followed.  March is the lion as the month draws to a close.
Today, the ground is littered with debris and tree branches.   Several large trees are uprooted.  .As I look out the window observing the storm damage, I think of brother-in-law Pete, smiling, a swashbuckler with his chainsaw at the ready.  He would be in his element here today!
Pete has an easy way with people. He can make people feel at ease.  He can make people feel as if they are the most important people in the world.  He listens, he makes eye-contact and he has a ready laugh that invites others to join in. 
I can imagine him here in Ukraine, joking with people as he works – his essence would transcend the language barrier. 
<![if !supportLists]>· <![endif]>Saturday, 24 March 2007
The Mayor Awards Mark a Medal!
<![if !vml]>

<![endif]>Friday was "Day of Culture" in Kerch.  We were invited to attend the mayor's ceremonies and anticipated speeches and maybe some singing or dancing.  But we did not expect Mark to be the star of the day's events! 
The large conference room was packed. TV cameramen and an official photographer documented preliminary events as the crowd entered, took their seats and spoke in low voices.  When the mayor and his staff entered, everyone came to their feet and stood quietly until the mayor was standing at the front of the room.  (I was reminded of similar military protocols)
Just as we settled into our seats, the mayor spoke Mark's name, calling him to the front of the room.  The mayor quickly pinned a medal on Mark's chest, handed him a carnation and a large blue folder.  They struck the usual presentation pose, cameras flashed, people applauded and then Mark had the floor. 
Fortunately Mark had the foresight to prepare some appropriate remarks in Russian (anticipating the possibility of farewell speeches in the near future).  He delivered his more generic remarks in heartfelt Russian and then asked N., a translator, to help him with some specific words for the occasion. He reverted back to Russian for the close.  (In <![if !vml]>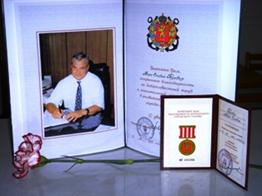 <![endif]>my humble opinion, just learning enough Russian and being poised enough to deliver remarks in front of a crowd, deserves a medal!)      
Following the ceremony, we adjourned to the library where L. had arranged a celebration with the usual champagne toasts, chocolates and finger food followed by coffee (usually they drink tea, but they know we are coffee drinkers).
L. made sure to splash <![if !vml]>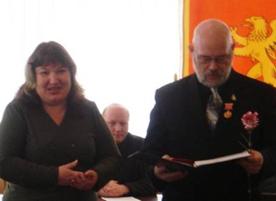 <![endif]>champagne on Mark's medal – it is a tradition.
The documentation that accompanies the medal interests me.  The process seems to be very similar to the procedures for awarding a Meritorious Service Medal.  Of course this culture (so influenced by the Soviets) is known for its bureaucratic approach to things so it should be no surprise that each medal has an individual identifying number which is printed in a small, passport-size, folder.  Of course that document bears several official stamps and signatures.  The large presentation folder also includes a certificate and an autographed photo of the mayor, posed sleeves rolled-up, hard at work at his desk.
The Mayor of the city of Kerch knows how to do things up right, and so does the director of the library! 
So now the Cowboy of Kerch sports a medal on his black suit. He will probably never take it off!
<![if !supportLists]>· <![endif]>Friday, 23 March 2003
Packing Could be a Challenge…
It is time to remind my friends and family to stop sending snail-mail to Ukraine and begin using our stateside address.  The wheels are in motion for our return to the USA.  Like our postcard says, the packing has begun! 
<![if !vml]>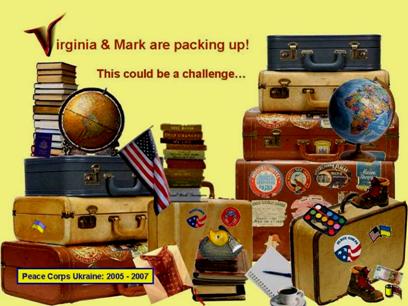 <![endif]>
Where have these 27 months with Peace Corps Ukraine gone? And the year of waiting before we even became part of the Peace Corps seems long ago, and brief.
Packing to leave Ukraine seems harder than packing to come here.  There is a lot of angst (and insecurity) among PCVs as they pack their bags to begin service.  It comes as no surprise that in retrospect, we could have brought far less with us and simply relied on what is available here. 
Too much baggage – learning to travel light is one of life's lessons that applies to many areas of living!
Now that leaving Ukraine is on the horizon, I think of our life in the USA more often.  Throughout our tenure here in Ukraine, I have evidently, kept my thoughts of the USA at bay, carefully cordoned off.  Frankly, I have not really missed it. I have been quite happy here.  Content even.
But now, I find certain small pleasures popping into my mind.  I will enjoy hearing the early-morning thud of the fat Sunday paper delivered to my door, the sound of NPR spilling from my radio and the anticipation of seeing the mail carrier making daily stops with catalogues and correspondence.
I am pet-deprived – I look forward to a housecat companion and a dog too.
I look forward to rummaging around at yard sales on a sunny Saturday morning or poking around in a bookstore or library, visiting a coffee shop to nibble scones.  I imagine buying any kind of vegetable I can think of; ordering out for pizza or Chinese food; luxuriating in long hot showers and waking to central heat…
There's much I will miss too…that will spill out on these pages later I'm certain!
<![if !supportLists]>· <![endif]>Thursday, 22 March 2007
The Cat Days of Spring…
There is the term "dog days of summer" to describe those miserable, hot, humid days when canines simply remain motionless, avoiding any exertion, perhaps dreaming dog-dreams of crisp autumn days or joyful car rides, head poked out the open window, tongue lolling, and ears flying in the wind. 
I have never heard the term cat days. 
<![if !vml]>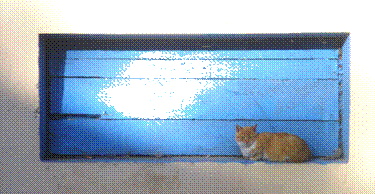 <![endif]>
I think the phrase "cat days of spring" conjures up an image immediately understood by readers (or at least by keepers-of-companion cats).  Cats seek out sunny places.
The bright spring sunshine has lured our neighborhood cats out onto the dry pavement to catch some rays.  Across the street, a litter of cats are scattered across the sidewalk.  They sleep, they bathe, they purr.  They occasionally they stand and stretch elegantly and extravagantly, like dancers limbering up before they perform.
Nearby, in the black Ukrainian earth, green leaves reach for the sun and there is promise of daffodils and iris.  Tiny purple violets peek through.  Solar-powered cats roll in the sweet-smelling earth and then find a comfortable position for napping.  Cats commandeer space on windowsills and like babushkas on the park benches, they sit quietly sunning themselves as the spring sun slips across the sky, heading for tomorrow.
Spring, in Crimea, is the season of cats.
<![if !supportLists]>· <![endif]>Wednesday, 21 March 2007 –The Vernal Equinox
Pagan Rites if I were Queen..
There must be some pagan rites or pantheistic traditions associated with this magical day when the hours of daylight and darkness balance.  If I were the queen, I would mandate picnics, fresh flowers and flowing wine…fiddles would play and dancers would dance.
Knitting for Charity…
The process of knitting is a kind of magic. The repetitive nature of it is soothing and it is pleasing to discover that the ball of yarn has transformed from a meandering river of color into a solid body of fabric.
In the process of preparing to move, I am using up left over yarn.  I am knitting 7"X9"rectangles which I will stuff into an envelope and mail to a charity group.  They collect these small knit offerings and crochet them all together to create afghans for those in need.  "Warm up America" (2500 Lowell Road Gastonia, NC 28054)
There are an amazing number of charity knitting groups around.  An Internet search yields hundreds of sites, from simple to sophisticated.  Even a poor knitter can find a group with basic projects they can contribute to.  (And you can donate old yarn if you REALLY can't knit!)
Some of these groups knit clothing items, some only scarves and mittens or baby blankets, some provide the knitter with yarn and needles, others cater to the needs of hospital patients (caps for chemo patients), orphans, homeless, or even to animal shelters (creatures need creature comforts too!).There are caring people making bereavement layettes for tiny angels; knitters knitting socks for soldiers and making afghans to send to Afghanistan.
One of my favorite groups is Warm Woolies (http://warmwoolies.org/).  They operate out of the Denver area and provide wool yarn, needles and patterns to interested knitters anywhere…visit the site for details.  Here's an excerpt from their website:
Warm Woolies is a non-profit organization whose volunteers knit
warm clothing for poverty-stricken children who would otherwise
suffer from cold. Our mission is to provide the very neediest children
with wool sweaters, vests, hats, mittens, and slippers.
In 2007, we're knitting for children living in orphanages in
Russia, Kazakhstan, China and Mongolia and on
the Rosebud and Pine Ridge tribal reservations in South Dakota.
Our goal for 2007 is to knit 6,000 pieces of warm wool clothing for these children!
(I highlighted Russia and Rosebud...of special interest to me!)
So today when I feel like relaxing I will use up some cheery, bright yellow yarn, remnants of a scarf I made last Fall.  It is fun to imagine it becoming part of someone's life, warming them, brightening their day.  The knitting brightens my own day and warms my heart too.
<![if !supportLists]>· <![endif]>Tuesday, 20 March 2007
Mark Started Another Class Yesterday…
Mark came home radiating the exhilaration that comes from fresh-starts and optimism.  I watched from the window as he approached the flat; there was a spring in his step. 
He talked about his new students as he chopped up carrots and cabbage for our evening meal.  He is happy with the dynamics already evident in this first meeting. 
It is fun to see him forget himself and simply take pleasure in things.  He likes working with students.  His enthusiasm conquers most of the language challenges.  Or perhaps his enthusiasm allows him to overcome his self-consciousness about language challenges. 
When you have something you really want to say, you find ways to communicate.
Certainly Mark's students will learn about computers, software, and journalism. They will also learn about being engaged and enthused by knowledge. 
And, they will most certainly learn about taking risks. 
<![if !supportLists]>· <![endif]>Monday, 19 March 2007
The Romantic Mosquito-Net Shroud Came Down
Over the weekend, we dismantled our cozy nest of a bed.  In all honesty, the narrow, ancient bed was not comfortable; metal rails pressed into my flesh, the wire supports groaned and creaked as we slept, and frankly, it smelled metallic and musty (probably mold and mildew).  For the next 6 weeks, we will sleep on our narrow, very-firm, soviet-era, fold-down couch, and it will be an improvement.
With the antiquated bed gone the valuable real estate it occupied is a convenient space to stack the growing number of boxes and bags of things that need to find a home or get shipped back to the USA.  The flat feels airy and seems brighter. 
There is a tendency when a move is pending, to be practical and to get all the packing done.  As things get boxed up, the room becomes more stark and less homelike.
So, I drape colorful, scarves to soften the room.  I add a few emergency candles planted in wine bottles for ambience.  I put fresh flowers on the improvised coffee table.
Living in a warehouse of packed items is not good for the soul.  It is wise to keep the space inviting and home-like.  It is important to honor the human spirit in this way. 
<![if !supportLists]>· <![endif]>Sunday, 18 March 2007
Graduation Exercises at the Children's Library
The director of the children's library stood up before a small gathering of young people and a few adults and made a speech.  Mark handed out the graduation certificates.  I stood at the back of the room, camera in hand, ready to capture the events. 
The director's speech was, of course, in Russian. As I listened to her speak, it pleased me to know that I could follow her words.  Celebrating small victories is a good life-skill to cultivate, and living in a foreign country offers many opportunities to acknowledge small victories!  (Understanding any conversations in Russian qualifies as a small victory in my book!)
I snapped a few photos and then took some more when Mark stood up to speak.  His Russian-speaking skills are ragged and hard-earned, but heartfelt.  His message comes across.  His audience smiles as he speaks.  I smile too.
Two years and the language is still a struggle, but it does not keep some magic from happening.
Or work from getting done.
I ask Mark's students to pose for a group photograph. It is a pleasure to see them, and Mark, through the lens, captured in time.
<![if !supportLists]>· <![endif]>Saturday, 17 March 2007 – St Paddy's Day
Abandoned Party Plans…
The gas men arrived today.  Outside, a sturdy grey wooden ladder leans against our building, legs planted squarely on the only iris in our yard.
On their last visit, the gas men cut my clothesline and our radio antenna and managed to kill our tomato plants.  I had placed a small protective fence around my iris, and the tomatoes, to keep dogs and cats from reclining on them, but the workmen just removed them, tossed them aside with the other litter they left behind, and went about their own business.
We had other plans for this day, but now we are forced to stay home, while the gas crew moves forward with bringing city gas to our flat.
Our original plan for the day was an excursion.  We were to rise early and take the train a few hours northwest for a Patrick's Day celebration with some other PCVs.  Since Mark works on Sunday, we planned to sleep our way home on the night train.
What a disappointment.  We rarely have the opportunity to participate in social activities with fellow PCVs because we are so geographically separated from them.  A little social life is nice.  With our imminent departure from Ukraine alternately haunting us and exciting us, we also thought to use the occasion of a social gathering to share some of the belongings we will have to leave behind.  It is amazing what you accumulate in two years…so many books and household items, and paraphernalia.
<![if !supportLists]>· <![endif]>Thursday, 15 March 2007 – The Ides of March
"Beware the ides of March!"  The term "ides of March" sticks with people. 
You never hear anyone say, ides of May.  Actually, you never hear people say ides, except on 15 March when invariably someone remembers to say, "Beware, the ides of March"  (And often some witty someone will respond with "E tu Brute.)
I wonder if this ides of March phrase was a trendy expression back when Shakespeare was writing Julius Caesar?
According to Merriam-Webster ides is, "The 15th day of March, May, July, or October or the 13th day of any other month in the ancient Roman calendar…"
So, by the ides of May, we may be back in the USA!  8-)
But we do not use the Roman calendar, do we?  How does the Roman calendar correspond with our present calendar?  Merriam-Webster refers to it, but does not really define it or include it in the table of calendars. (Ostensibly because it is no longer in use.)
Julian, Gregorian, Islamic, Jewish, perpetual; these calendars are described, but no clue on the Roman system.  Here in Ukraine, we celebrate Old New Years - based on some old calendar, but which old calendar?  And, as a side note, I could find nothing about the Chinese calendar. (While exploring I found one curious entry: Chinese Restaurant Syndrome…yep, look it up!).
And why is there a specific name for the 15th (or13th) day of the month?  I have exhausted the limits of my meager research tool (my Merriam-Webster software is all I have here in my modest flat in Ukraine!)
(Speaking of dictionaries: Peace Corps staff shared an odd fact with us: you can not send a dictionary through Ukrainian mail…)
<![if !supportLists]>· <![endif]>Wednesday, 14 March 2007
Maybe I am in a Chrysalis-State…
I hope when I emerge from this waiting period, I am a winged creature; energized and focused.  An imago.
I seem to be restless.
For several hours yesterday, I abandoned everything and simply played at weaving. I used ribbon and yarn scraps and improvised a small loom.  I lost myself in color, texture, and the creative process.
It felt good.
Today, I again approach the to-do list and find I cannot stay focused.
The tasks will keep.  Like term papers procrastinated, they will end up completed.
But not today.
Is this what people mean when they speak of spring fever?
<![if !supportLists]>· <![endif]>Tuesday, 13 March 2007
Just Seven Weeks and We Leave …
It is really not good to be in a count-down mode.
It is a little like wishing the days away.  And that really is not how I feel.
But, this vague feeling is actually typical of how I feel generally this time of year.  Spring, with alternate promises of flowers and warmth, then cold rain and bitter wind, and maybe even a few days of snow, leaves me drained, moody, unable to concentrate.  The transition periods of life, whether in life-style choices, relationships or seasons are unsettling.
Dealing with ambiguity and ambivalence
Some days this is easier than others.  In the absence of outside order, I often impose my own happy discipline, establish a regimen, but during the gray days of March in a cold, climate, I seem to lack the drive.
I would like to take a little vacation from being me!
<![if !supportLists]>· <![endif]>Monday, 12 March 2007
Grey and Rainy…
<![if !supportLists]>· <![endif]>Sunday, 11 March 2007
We had a picnic by the sea yesterday.  The sun was bright, the sky blue, but it was still nippy.
Below: an Excerpt from my Nephew's Blog (Thanks Christopher!)
 (http://www.radloffs.net/blog.html )
Five years already
<![if !vml]>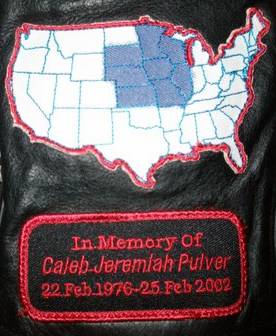 <![endif]>On the back of my vest I have a few patches. The big one that everyone notices is the American Legion patch that identifies me as a member of the Northwest Iowa Chapter of the American Legion Riders. I also have a few other patches - one with my "HippieBoy" moniker, my VROC number, one for the Patriot Guard, the American flag, and a map of the United States showing the states I've ridden in. But the very first patch I bought says:
"In Memory of Caleb Jeremiah Pulver
22 Feb 1976 to 25 Feb 2002."

I never knew cousin Caleb well enough. He grew up in Spain and I grew up in Iowa. He was in the Air Force in Turkey, I was in the Army Guard in Iowa. He moved to Phoenix, I stayed in Iowa... We always got along well, and we both figured we'd have time later in life to hang out together. We both respected the military, we both rode motorcycles, and we both played bass. I think of him often. His life was short, but well lived.
<![if !supportLists]>· <![endif]>Saturday, 10 March 2007
Chocolate Diet…
I now have multiple boxes of fine chocolate stacked in my kitchen cabinets. Doesn't everyone?  Here in Ukraine, especially in post-International-Women's-Day weeks, this is universally true!
Besides the fancy boxes of chocolate, there are also several deluxe bars of Russian dark chocolate and a few hundred grams of wrapped loose chocolates lurking in the cabinet. 
With a border-line diabetic for a spouse, it is clearly my responsibility to consume all that chocolate. 
I take the job seriously!
I try to ration myself, but like most anyone else, I find it hard to stick to the "I'll just eat two" per day policy.  I have managed to make a significant dent in one really large box that I just opened yesterday.  Just two pieces at a time…
My current strategy is to simply eat it all – yep, just get it over with!  Once the chocolate is no longer in the house, I will not be tempted by it. 
But in the meantime, the chocolates just keep sweetly calling my name.
<![if !supportLists]>· <![endif]>Friday, 9 March 2007
I Love to Have Fresh Flowers!
My mother never enjoyed cut flowers.  I, am not my mother's daughter; at least not when it comes to flowers anyway!  I really take joy in having fresh flowers around the house.
I am glad to live here in Ukraine where bouquets come frequently. The custom of taking a few fresh flowers when you visit someone or for a birthday or other celebration, is alive and well here. 
On Women's Day, the streets are filled with people bearing flowers and smiles.
What a simple pleasure fresh flowers are, especially when a loved one brings them to you.
<![if !supportLists]>· <![endif]>Thursday, 8 March 2007 – INTERNATIONAL WOMEN"S DAY
Mark executed his International Women's Day responsibilities at the library with style and grace.  And, it was pretty much all over and done with by midday yesterday!
With so many women co-workers to pay tribute to, Mark had to orchestrate his activities well.  Wednesday morning, he was off to the bazaar by 8:30 to compete with all the other forward-thinking men buying bouquets and boxes of chocolate.  Armed appropriately, Mark turned his thoughts to devising a couple flowery toasts which he practiced mentally so his Russian and his sentiments sounded smooth.
The mayor came by the library to pay homage to the women employees so when the time was right, Mark was prepared.  The library closed early, champagne corks popped, and the happy toasting began.
By mid-afternoon on Wednesday, the lovely library-ladies were all home, getting ready for the real celebration on the 8th of March.
<![if !supportLists]>· <![endif]>Wednesday 7 March 2007
There is Anticipation in the Air and Sheets on the Clothesline!
Tomorrow is International Women's Day and there is definitely an air of expectancy.  It feels like Christmas Eve.  I am aware of people getting their work done quickly and making preparations.  Men visit the store next door and emerge with bags; ingredients to prepare tomorrow's meal.
It is a real spring day –bright sunlight floods the kitchen. Outside I see the evidence of daffodils; the green leaves are inches tall.  In the courtyard, white sheets decorate the clotheslines and flap in the breeze.  Black Dog, White Dog and their current litter of three playful pups sprawl on the sidewalk, basking in the sun.
I am not Frugal; Envelopes Just Aren't Available!
I spent the past hour making envelopes out of printer paper.  Greeting cards, a rarity even two years ago, are now popping up everywhere.  But they are generally sold without envelopes.
I love greeting cards and seeing Hallmark cards in Russian with Ukrainian scenes depicted on them makes me want to share them with friends and family backing the USA.  So sometimes I splurge on them.  I wince at the checkout, aware that the clerk probably makes in an hour what one of these cards costs.
With such an extravagant purchase you might expect to get an envelope.  But nope!  At first I thought it was a marketing strategy - they simply sell the envelope separately.  But this is not the case.
Even at the paper supply store, finding mailing envelopes is almost impossible. 
Mailing things is rather pricey, so perhaps people simply avoid mailing things.  Or maybe because families and friends live nearby, mailing is unnecessary.  And, no doubt, under the Soviet system, mailing procedures were more complex so people never cultivated the habit of correspondence.  Maybe the envelopes are part of a black market scheme… Who knows!  Probably just a benign cross-cultural thing.
<![if !supportLists]>· <![endif]>Tuesday 6 March 2007
Closed for International Women's Day
Yesterday Mark got the word: the library will close for International Women's Day. This is not unexpected, however, they will close at noon on Wednesday and remain closed Thursday (International Women's Day) and Friday.  It appears the women will be staging Women's Day events Wednesday afternoon and will actually celebrate on Thursday.  Friday, they need time off to bask in the remembrance of the glorious day before (I suspect many will actually need to recuperate!) 
This is a major event!
I am in awe of how well orchestrated this holiday is!
The men here know the protocols and happily comply.
Do NOT underestimate the magnitude of this event!  We have nothing like it in the USA.
This is our Third International Women's Day.
The first was at our host family's home, March 2005.  We had only been in country a few days!  It was a bit of a cross-cultural fiasco!  We refer to this story as "the time Mark tried to poison our host family"!  (Read my Journal for March 8th 2005)  OK, I refer to it that way, lovingly of course, but Mark, maybe a bit defensive about it.
Last year, Mark showed up on the 8th of March, armed with wonderful, thoughtful gifts, only to find the library closed.  The women he works with fondly remember hearing from the neighbors how "the cowboy" stood outside the locked door, patiently waiting for the library to open, only to discover that it was closed for the day.  This story has a happy ending.  (Read my Journal posts about it: March 7th and 8th 2006)
I am not sure just what Mark has up his sleeve this year, but I know we both have a healthy respect for International Women's Day.  This is our third year – they say the third time is a charm! 
Check back later for a final installment!  8-)
<![if !supportLists]>· <![endif]>Monday, 5 March 2007
A Rainy Day at Home without Electricity.
<![if !supportLists]>· <![endif]>Sunday, 4 March 2007
The Explosion at the Library
I saw fragments of shattered glass sparkling on the sidewalk about a block from the library the other day as I made my way to the Internet Center.  These are remnants of the recent powerful gas explosion in the flats above the library.
I look up at the windows and see they have been replaced with new ones.  There is little evidence of the explosion that blew out those windows and closed the main libraryfor24-hours.
No one was hurt.
The Library is Often Unexpectedly Closed
Being typical Americans, we have expectations about schedules and planning, but after two years here, we have learned to simply roll with it.  (Actually, I remember businessmen in Upper-Michigan who faced with a rare warm day, would place a "Gone Fishin'!" sign on the door and evacuate the premises for an delightful, unexpected outdoor retreat.)
<![if !supportLists]>· <![endif]>Saturday, 3 March 2007
"The Alchemist" by Paulo Coelho - A Fable About Following Your Dream
Yesterday morning I read the book review section of the CS Monitor (10-16 Feb 2007) as I sipped my post-breakfast coffee.  I notice a list of bestsellers and had a look at the titles, wondering how likely it would be that I may have actually read one, given our current circumstances.  (Not many books in English available here.)
I was pleased (or surprised) to see #4, "The History of Love" by Nicole Krauss.  I enjoyed reading that novel very much.  It came to our postal box here in Ukraine as a delightful Christmas gift. 
Another title, #9, caught my eye; "The Alchemist (Updated)" by Paulo Coelho.  The word alchemist has been on my mind recently.  I have played with this word the past few days, trying to find a way to weave it into a name for our business.  (Combining science and magic is what applied electronics is all about so the word has poetic potential!)  Alchemy is a word one does not often hear.  The coincidence of seeing it in print gives me pause.  I sip some coffee and let my mind play with the word.
Suddenly, I remember seeing that word in print elsewhere.  I make a bee-line to the bookshelf next to Mark's desk where there  are a dozen or so used books that are remnants of a large charity book sale held last fall in sunny California.  These books were sent here, via media-mail, by generous relatives to augment our limited local supplies of reading matter. 
There, among a half-dozen yet-to-be-read books, is a copy of "The Alchemist" by Paulo Coelho. 
I quickly scan the end notes and reviews.  On the back cover there is a quote: "Paulo Coelho has gained the technical levels of a Saint-Exupery or a Richard Bach," says Folha Da Sao Paulo.  (Whoever that is!)  On the bottom of the front cover it says "A fable about following your dream."
This older version (published in 1995) of the book on the bestseller's list seems to have been destined to make the trip halfway around the world to our cozy flat here on the Black Sea.  Serendipity?  Omen?
My parakeets squawk and chatter as I stand, ignoring them and examine this slim volume.  My coffee, sitting on the bookshelf, grows cold.   I am lured into the book. 
The tale, a fable, is set in Spain, a country I spent ten years in, and feel a strong kinship with. The main character is a shepherd, a figure I find significant for many reasons, both aesthetic and spiritual.  Of course where there are shepherds there are sheep – those who know me are aware of my fondness for sheep. 
So, I abandon my plans.  I sit down by the kitchen table and begin to read.
A few hours later, I close the cover and smile.
The book has reminded me of many spiritual truths that sometimes become obscured in day-to-day life.  And these truths, consistent with my own experience and beliefs, have come at a time when I need them.
In periods of transition, it is difficult to stay the course and to focus on the things that are important.  Things like:
<![if !supportLists]>o <![endif]>Following your heart.
<![if !supportLists]>o <![endif]>Following your dream or destiny vs. submitting to fate and fear or even complacency
<![if !supportLists]>o <![endif]>Deciding.
<![if !supportLists]>o <![endif]>The abundance and harmony of the Universe
<![if !supportLists]>o <![endif]>Adventurer or Victim?
<![if !supportLists]>o <![endif]>Finding your treasure
<![if !supportLists]>o <![endif]>The nature of love
<![if !supportLists]>o <![endif]>Omens: looking past mortal testimony and observing and listening and learning from Spirit
This is certainly not a book review, but maybe a testimony.  This is a book I am glad to have read.  It is a book which will sit on the shelf next to "The Little Prince" and other seemingly-simple tales that tell us so much about who we are and how we live (or can and should live). 
I wonder what the "Updated" version has to share?
I wonder about the person who passed this book on. Has he or she found their treasure?  I am off to find mine!
<![if !supportLists]>· <![endif]>Thursday, 1 March 2007 – FIRST DAY OF SPRING! (In Ukraine)
What Would We Really Like to do When We Return to the USA?
Yes, we do have a dream.  A dream which we have nurtured and coddled and cherished. 
Maybe the time may have come to put together the business plan!  Maybe we can make this dream into a thriving small business.
But first, we need to decide where we really want to live!  8-)
What is the business?  Well, I feel a little like a pregnant woman, a bit shy to share the names I am considering for my sweet unborn baby.  It is as if saying this aloud (or writing it down) may jinx it!
We would love to start our own small computer, audio and video consulting service, catering to individuals who enjoy using technology but who need support.
Not repairing the systems so much as helping people use their equipment effectively.  Integrating all the great computer, audio, video and digital systems available can be a bit daunting. People like to have an advisor to help them and to facilitate set up and care in their homes. 
For many people, using their equipment is like driving a car – a way to get from point A to Z.  They do not wish to do all the upkeep and maintenance themselves.  And sometimes, they may not even want to drive!  But when they step into the vehicle, they appreciate performance and cleanliness…
When you have lots of money tied up in systems, it's great to have someone you trust to help you when things go awry. Or even better, to keep things running smoothly in the first place.
There is a very real niche market of professionals who would be pleased to contract this kind of personal service. 
Call centers and the people at stores like Best Buy meet the needs of many people, but there are many who would be happy to have a contract with a patient, knowledgeable individual who would come to their home, assess their needs, do system upgrades, backup systems, recommend software and processes, and tutor them on the essentials so they can keep all their stuff running!.
This seems viable and between us, we could pull it off, or at least have the satisfaction of trying.
But first we need to decide where we want to live.
And we need a catchy name! 
And the business plan, which frankly, I find rather fun to do (Resumes, on the other hand, almost make me break out in hives – and working on my resume is what I SHOULD be doing right now!)
Here, I turn my dream into more of a comfortable fantasy, but since I am sharing, let me share.  I would love to own a small store front, the kind with a cozy apartment upstairs and a large window overlooking a wide sidewalk.  Mark and I and our cat and dog, would live upstairs.  In front of the shop would be a bench and a large potted plant (geranium).  Inside, on the walls surrounding the IT clutter, we would display art by local amateur artists. 
I have a clear vision of this inviting space…I can see how the light will fill the space.  I feel as though I have been there before.
Well, enough dreaming for now…
TO READ FEBRAURY POSTS OR OTHER OLDER ENTRIES,
RETURN TO THE ARCHIVES ON THE LEFT.
FYI: If you want to read about our initial Peace Corps adventures, you can start with our in Jan 2005, when we received our invitation to Ukraine!
XXX