<![if !supportLists]>· <![endif]>Sunday, 13 July 2008
<![if !vml]>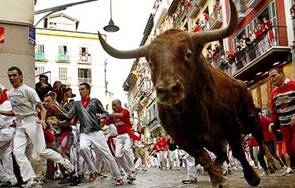 <![endif]>San Fermin continues!
<![if !supportLists]>· <![endif]>Saturday, 12 July 2008
I am grateful to report, my prayers have been answered.  I glanced out the window and there, nosing the door, was a very wet, bedraggled Zia Maria, happily home.
<![if !supportLists]>· <![endif]>Friday, 11 July 2008
Thunder and lightening crashed and boomed in the late afternoon.  I paused at work and thought about my dog and how she hates storms. 
When I arrived home in the midst of a heavy downpour, my heart sunk.  The backdoor had been pushed open and there was no dog in sight.  My three-legged pup had managed to leap over the 6-foot high fence and was long gone.
Where could my frightened dog be?
How to distract myself and wait for morning, when surely she would find her way home?  A long night ahead; how to fill the hours?
My heart is heavy.
<![if !supportLists]>· <![endif]>Monday, 7 July 2008
<![if !vml]>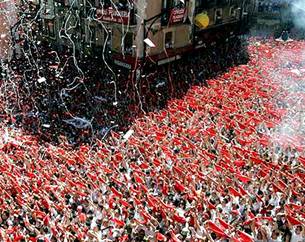 <![endif]>The Running of the Bulls – Pamplona!
Ahhhh yes.  The crazy chaos of the running of the bulls is underway. 
Could it have been some psychic waves that found me doing research on walking the Camino de Santiago de Compostela just as the annual running of the bulls was kicking off? 
As I downloaded information on weather and equipment, I stumbled on a webcam for Pamplona.  At nearly midnight on the plaza in Spain, the fiesta was just getting into full swing.
Pamplona was never on my "list" of places to go, but once, I found myself there more-or-less by accident.  And, I became a convert.  We returned several times for the nine days of crazy living in the moment.
I can almost hear the roar of the thousands of participants, all dressed in white with red belts and red scarves, all chanting:  "A San Fermín pedimos, por ser nuestro patrón, nos guíe en el encierro dándonos su bendición"  (Roughly translated: "Oh San Fermín, our Patron saint, guide us through the run and give us your benediction.")
They each carry a rolled up newspaper used to draw the bull's attention as they run just ahead of the beautiful, strong bulls.
There is controversy around the event but there is much, much more than the traditions associated with the run and the fight. 
I do not plan to engage in a verbal battle over this, but I would rule out conversations with anyone wearing leather shoes or who dines on meat!
<![if !supportLists]>· <![endif]>Sunday, 6 July 2008
Hearts Singing…Organ Donors and Joy…
The back door is thrown open.  Birdsong fills the kitchen and I observe a variety of birds winging through the branches that shade our kitchen yard.  I catch glimpses of the koi darting around the pond.  The six-foot potted morning glory wafts in the breeze outside the door, waiting for me to decide where to let it put down its hungry roots.  I can smell coffee in the French press.  I plan to fill my happy yellow Bosco-mug with coffee and head outside once I finish the breakfast dishes.
The "This I Believe" segment of NPR's Sunday Morning Edition pours out of the radio on the kitchen counter as I delight in the hot, sudsy water-play that is part of the dishwashing task.  I pause as I hear an introduction that mentions Iowa.  I am an Iowa native and it pleases me to think of my Norman-Rockwell-esque hometown. 
I continue to wash dishes, half listening to the radio voices, distracted by more bird-play outside my window. 
But, the story begins to unfold.  I stop, sit down and listen as I discover that the woman speaking and I share far more than Iowa roots, a love of animals, reading and writing.  We are members of the organ donor family.
Christine Little speaks directly to me.  I hear her grief and pain.  I hear her pondering what it is like to be the donor family whose gift means the death of a loved one.  I hear her joy in the reprieve her son receives from the gift of a human heart.  Then I hear again the sorrow and pain of losing that son and the comfort that comes with the decision to share his organs and tissue with others. 
She speaks of her son's sky-blue eyes and I think of my own son's blue eyes.  I recall my own remarks at a donor family gathering a few years ago.  I remember the comfort I found in knowing that our son Caleb's gift of his corneas would allow someone else to see the beautiful world that his spirit embraced with such joy.
I find myself at my keyboard, thinking with my fingers. 
The coffee in my yellow mug grows cold as I tap out a note of gratitude to NPR for sharing this program and then another note to the "This I Believe" contact thanking them for their good work.  Lastly, I Google Christine and send her a heartfelt note. 
How the world conspires to bring us together…as it should.  We are one in Spirit and so it should be in life.
As I tap out these words, the public radio station is airing Native American music – my thoughts drift away.  Though I do not know what the words are about, I feel the power of that Sprit that guards, guides and governs us all.
Following is a copy of Christine Little's essay (Extracted from the NPR site)…and below it, is a copy of my note to NPR and the remarks I shared at the donor family gathering.
A Kind And Generous Heart
As heard on NPR's Weekend Edition Sunday, July 6, 2008.

I learned my belief from my son. I believe in selfless giving.

Eight years ago, my 13 year-old son, Dustin, became very ill with a heart enlarged to double its size. The medical term, as unimportant as that is to a grieving mother, was cardiomyopathy. For several months Dustin lived on life support as we were forced to stand by and watch him wither away. While his friends were out playing baseball, flirting with girls and sleeping in their own beds, my son was in a hospital bed, attached to a machine that kept his heart beating. As a mother my first reaction after crying was anger, and then I played the bargaining game: "Take my life for his, Lord. I've lived my life but he still has so much to do."

People all around me were praying for a heart to become available, but it made me so angry and confused because I knew for that to happen, someone else's child would have to die. How could anyone pray for that?

I still remember so clearly the morning we got the call that there was a heart. As we stood in Dustin's hospital room watching them prep him for surgery we experienced the true definition of bittersweet. His dad and I, seemingly in unison, realized that at the precise moment that we were standing there with so much hope and so much love, another family somewhere was saying goodbye. We knelt down together and cried and we prayed for them and we thanked them for giving such a selfless gift.

To our amazement, just 10 days later, Dustin got to come home for the first time in many months. He had turned 14 in the hospital and at such a young age he had received a second chance at life. Over the next two years he got to go to high school, learn to drive and have his first girlfriend. He got to spend time with his family and be in the great outdoors, which was where he truly loved to be. He put his brand new heart to good use volunteering at the homeless shelter and helping the elderly. He also became a very devoted Christian young man.

Dustin's new heart failed him when he was 16. A tragedy, yes, but we have to see it as the miracle it was. We received two precious years with him that we would never have had without organ donation. We have more pictures, more memories and a great satisfaction in knowing that he was able to experience some of the most exciting times and milestones in a teenager's life.

When he died, as difficult as it was for us, we knew that it would be Dustin's wish to give back. His eyes went to someone who wanted to see. Someone who, perhaps, had never seen the faces of the family they loved so dearly. I believe that one day I will look into the face of someone else's son or daughter and I will see those sky blue eyes looking back at me—the evidence of selfless giving.


Christine Little is a circulation clerk at the public library in Bettendorf, Iowa, where she lives with her three remaining children, a dog, cat and guinea pig. In her spare time, Little enjoys reading, writing and relaxing on the beach with her family.

Independently produced for NPR by Jay Allison and Dan Gediman with John Gregory and Viki Merrick.
MY NOTE TO NPR/THIS I BELIEVE
Greetings from Sunny Santa Fe,

Christine Little and I have much in common; some quite superficial (like being from Iowa and a joy in writing and reading) and others more edifying (losing a son and being part of the organ donor family). I listened to Christine tell her story as I washed breakfast dishes here in sunny Santa Fe where I currently live and serve as an AmeriCorps*VISTA.

I am grateful to her for sharing her thoughts. I do not have words to express just how comforting it is for me to know my own son Caleb lives on, in many ways, through the lives of those who are recipients of his organs. When Christine spoke of the paradox of accepting the heart and knowing what it meant to another family who must be saying a sad farewell, I found myself saying a prayer of gratitude. Knowing that our son's gift of life really does bring joy to others is comforting.

I am inserting a copy of my remarks at an organ donor family gathering a few years ago. My words about my own son's blue eyes seem similar to Christine's.

Since Caleb died, our own lives have taken on new energy and we have navigated new courses - we started a small library in rural Malawi in honor of our son (CALEB Library Project - Contributing to Africa's Literacy and Education through Books) and we have served in Peace Corps (Ukraine Feb 2005-May 2007 - see my journals at www.pulverpages.com) and now my husband and I are serving in AmeriCorps*VISTA.
This December, we intend to volunteer with the organ donor family and support an organ donor family float in the Tournament of Roses Parade - people can dedicate flowers to loved ones as part of the float. A healing and joyful experience for all. In May of 2008, I plan to walk a 500 mile pilgrimage of gratitude (the medieval Camino across northern Spain to Santiago de Compostela). It is a tribute to our son and part of keeping his spirit present.

It has been six years since we last saw our son, but he lives on in so many remarkable ways - I see him looking back at me. When a heart breaks, it is then that love is released - it is like breaking out of a seed or like a small bird cracking out of an egg...

I feel strongly that it is because of our loss that we have had the courage and the drive to embrace the world and be the change we wish to see.

Thank you for your series and thank Christine Little for her voice. Thank you letting me share my thoughts.

Life is good...

Virginia J. Pulver
www.pulverpages.com
_________________________________________________________________________
DONOR FAMILY GATHERING
Service of Remembrance
18 Oct 2003, Phoenix AZ
Transcript of Remarks by Virginia J. Pulver
It is a pleasure to be here – so much love in this room and even more important, so much joy…at least I hope the tears I am seeing are tears of joy and celebration.
When someone dies, we expect to feel pain and sorrow. It is easy to be bogged down in self-pity, thinking about all the things that will never be…sorrow, will always be there, but we can learn to handle it gracefully. The difficult feelings and emotions do not come as a surprise to us, except, perhaps in how profoundly debilitating our pain and agony can be. We do not want to let our loved ones go – we are left behind and we are in pain. We weep for ourselves. We are helpless, like animals in pain.
And we should weep, but celebration is the message I want to share with you … even in the time of devastating sorrow, we can be surprised by joy, we can seek out joy, we can celebrate. We smile and laugh through our tears…we walk without pain, for a while. Our ability to cultivate joy, to choose joy, in the face of pain and fear, may surprise us, but I believe we should acknowledge your pain, but share our joy.
I love to hear my son Caleb's name spoken aloud. It brings me pleasure when I hear his name. It saddens me that I seldom hear his name anymore. Have you noticed, people are hesitant to say the names of our loved ones aloud? It is as if they are afraid we will react with tears. Maybe we will, but they may be tears of joy.
I find ways to sneak my son Caleb's name into conversations because I want him to be remembered…I want to celebrate his life. I want to keep his name and his spirit alive somehow!
By now, most of us in this room, know lots of techniques for remembering our loved ones…many of us have special rituals… I want to share one of my "coping" techniques…Caleb drove a black Jeep Wrangler (which he nicknamed "the Hair Dryer" because it had no air conditioning and yes, he lived here in Phoenix!). Since his death, I seem to see similar Jeeps everywhere. When I see them, I am reminded of my son and I find comfort. Sometimes I even laugh. I even allow myself to pretend he has sent out a special "Jeep Brigade" to watch over me!
(The delightful, beautiful woman Caleb was dating brought me here today. When Michelle and I got out of her vehicle, we were surprised to see a black Jeep Wrangler parked in the row behind us. It made me laugh and Michelle shared in that laughter too. It made me feel a bit better, because, as you can imagine, I was feeling some stress about attending this function and also about sharing these remarks. Just when I needed support, there was Caleb's Jeep Brigade is working its magic!)
So, we learn to find ways to keep the memory of our loved ones alive.
The one most important way to keep our loved one's memories alive is the one that has brought us together – our loved ones really do live on through the organ, tissue and eye recipients – our donor family.
I was not prepared for the joy I found when I began corresponding with some of Caleb's organ recipients. I did not know how healing it would be to write to them. I did not know how comforting it would be to hear about how the quality of their lives is enhanced by the gift of my son's organs. They share a message of gratitude, but I am the one who is really blessed…I know through these recipients that my son Caleb, really does live on.
I want to share with you some excerpts from some of my correspondence with members of Caleb's organ donor family. Jeff is the young diabetic who received Caleb's kidney…
"…I want to thank your son, Caleb, for giving me the chance to go on with my life in a more normal manner … I will think of Caleb often and thank him again and again and again…"
Here is an excerpt from one of my letters to him:
"Jeff, I want to thank you for something you said in your letter; you wrote: 'I will think of Caleb often and thank him…' Jeff, that means so much to me. You can not imagine how sad it makes me to think Caleb may be forgotten. He was such a joy to us and we miss him very much. It is very important to me to keep his memory alive somehow. I am grateful to you, as an organ recipient, because it is through you that Caleb will live on. It pleases me to think of that. I hope his kind and generous spirit will continue to find expression through your life and I am glad you will be thinking of my son too."
I would like to share one more excerpt from a letter to a cornea recipient:
"…It is also a comfort to share some memories of my son's adventures with you. Because you are a cornea recipient, I want you to know our son's eyes witnessed so much beauty in the world; many things you may have never seen, but now, in a small way these things are part of you. These things are part of Caleb's legacy. His eyes watched the running of the bulls at Pamplona, scanned the pages of Hemingway novels, and looked out like a pirate's on the rolling azure Mediterranean Sea. Those crystal-blue eyes of his guided him on cross-country runs and helped him scale up the rocky walls of mountains and felt the sting of the wind when he rode his motorcycle across the deserts of Arizona. His eyes helped him adjust lights at theater productions, helped him play the role of squire at the renaissance faire. Those eyes were the eyes of a dedicated airman who selflessly served his country in wartime and these are the eyes of an enthusiastic college student and an aspiring musician. These are the eyes of young man in love. Those eyes traveled to Paris, Amsterdam, Madrid, Frankfurt, Tangiers, and saw a thousand other places we'll never know about. Those eyes helped him when he picnicked by waterfalls and camped in the mountains, explored castles, watched kittens being born and read stories to his grandmother. And now, in a sense, you get to take those eyes and show them a whole new world! His eyes will continue to look out on this big beautiful world. What a blessing for us all. There is still time to see so much and do so much, so when it is finally your time to go, those eyes will have more tales to tell!"
It is through the organ recipients our loved ones really do live on…
I am so grateful for the individual who approached my husband and me concerning the opportunity to donate. In our shock and grief, we were certainly not thinking clearly, so the opportunity to donate might have passed before we were lucid enough to share with those in need.
I would also like to thank the dedicated people from the Donor Network of Arizona. People like Lani Hickman, the family services coordinator, who have helped us reach out and touch (and be touched) by the organ donor family…a family that allows our loved ones, my son Caleb, to live on. Through our donor family, his name will live on. ... there will be people to whom his name means life and possibilities…
I want to close with a gesture that has become very important to the Pulver family…whenever we gather someone usually finds an opportunity to share a flurry of magical, mystical soap bubbles … a moment of celebration and now, a moment of remembrance…please indulge me… [SOAP BUBBLES]
Thank you and I wish you blessings of joy…
* * * * *
<![if !supportLists]>· <![endif]>Saturday, 5 July 2008
Thunder-Boomers
My dog trembles as the afternoon thunderstorm rolls in.  Her ears pull flat against her head.  She makes herself small.  I can see the trembling from across the room.
Monsoons are a regular part of life here.  They pass quickly, but during the daily twenty minutes or so we are pummeled with rain, the wind commands our attention and the threats seem ominous.  Thunder rumbles.  They sky is dark.  The temperature drops.  In a short time, it is all over.  The sky returns to turquoise and the birds resume their singing.
Zia slinks off to her corner, still wary of quick changes.  She assumes a more relaxed pose, but her eyes roll up as a last rumble of thunder resonates across the mountains.
In minutes the sun beats down and the powerful flurry becomes a memory. 
<![if !supportLists]>· <![endif]>Friday, 4 July 2008 – Independence Day
VISIT THIS LINK WITH SOUND ON:
http://www.wherethehellismatt.com/
I love this.  Dancing his way around the world…  I am going to watch it again!
<![if !supportLists]>· <![endif]>Thursday, 3 July 2008
Houdini, My Dog's Middle Name
Miss Zia is a magician.  Twice now, she has met us as we drove up the lane to our present home.  We left her inside the high fence of the large dog yard, yet here she is wagging her happy tail behind her, clearly outside the fence.
As we did last time, my spouse and I walk the fence, looking for evidence of digging.  We find nothing.
Jumping the fence?  Not likely since Miss Zia is missing her left rear leg.  While having three legs does not slow her down, it does make some challenges less likely.
So how is she getting out?
It is a mystery.
I am grateful to find her on the property when we arrive home.  Some dogs would be rambling down the road to explore or chasing after sheep and horses across the road.  It appears Miss Zia simply enjoys hanging out in the other yard.
<![if !supportLists]>· <![endif]> Tuesday, 1 July 2008
Smooth-sailing ahead – at least for the next few days.  Company is gone and a three day weekend is unfolding with no outside demands.  Sprints and marathons have been the rule of life for quite a while. 
The luxury of unscheduled time lures me…I can almost smell it.  Anticipation is wonderful.
July marks the end of Mark's AmeriCorps adventures.  His contract expires mid-month.  What will he do next? 
ab
TO READ
JUNE POSTS OR OTHER, OLDER ENTRIES,
RETURN TO THE ARCHIVES ON THE LEFT.
FYI: If you want to read about our
Peace Corps Ukraine adventures,
start with January 2005 - May 2007.
Happy Reading!
Now we are having AmeriCorps*VISTA adventures
here in beautiful Santa Fe, NM.
Life is good!
ab