<![if !supportLists]>· <![endif]>Monday, 5 January 2009
Mark and I spent part of our New Year's week holiday in Pasadena, CA working as volunteers on the Donate Life ( www.DonateLife.net ) Rosebowl Parade float.
The idea of working on a Rosebowl float was enticing - I love to be part of the group that makes stuff happen - whether it is planning a fund-raising event or putting on a theater production, working at a Renaissance Faire, etc, I just love to be part of the team behind the scenes, making the magic happen.
But the idea of working with members of the organ donor family was really compelling.
We became members of the organ donor family ourselves, back in February 2002.  That is when our son Caleb died.  There is strength and healing in being among members of the organ donor family.  Last January when I heard about the Donate Life float, I knew I wanted to be part of their team.
On the late December  day we were scheduled to work, we got up early and piled on warm clothes.  Even sunny California is cold at 5AM!  And warehouses are always cold and damp, but when millions of dollars worth of flowers are at stake, you can bet the temperatures need to be cool or the flowers will wilt and die.
We fueled up on coffee and got acquainted with the staff and team-members while we waited to start our day on the job.  As I stamped my feet to keep circulation going, I was grateful for the hot coffee warming my hands.  Soon though, I was totally engrossed in the stories people shared.
These were not ordinary float volunteers. 
They were organ donor families with stories to tell and hearts to heal.
There were about 75 volunteers on our 8-hour shift - they were either recipients of the gracious gift of an organ (or perhaps a cornea, skin, etc) or they were part of a family who had given such a gift. The Donate Life staff circulated and shared even more stories.
The hours flew by as we worked and listened to people spell out how organ donations changed lives in very personal and profound ways. There was lots of laughter but there were tears too. The stories unfolded, hugs were shared, and the float was built.
<![if !vml]>

<![endif]>One of the people I encountered was "Breathin' Steven" (Steve Ferkau).
"I'm from Iowa," I yelled, waving my hand and smiling at a volunteer sporting an Iowa Hawkeye sweatshirt and an Iowa jacket .
"Well, I'm half-Iowan" the stranger replied as he made a beeline toward me.
Before I knew it, I was wrapped in the warm embrace of a very grateful organ recipient.  "My lungs are from Iowa," he said with a laugh.  "I'm from Chicago"
In moments Steve drew me into the story of how he re-gained his life all because of a sweet young woman from Iowa who became an organ donor.
We stood talking for a long time.  Steve's story was engaging.  Being an organ recipient changed his life in more ways than most people imagine.  There is a sense of guilt among recipients, a sense of not being worthy somehow.  Fortunately Steve grew beyond that feeling and has found ways to put his new life to good use.  He is making a huge difference in this world.  (Read about Steve Ferkau's story at http://www.climbingforkari.org  and read his blog at http://revivehope.typepad.com  )
Here is an excerpt from Steve's story - he begins by explaining how Kari, a 17-year old girl from Algona, Iowa became an organ donor:
...One night, almost eight years ago she [Kari] was having dinner with her family in Iowa. Kari was seventeen years old. She was intelligent, athletic, stubborn, and outspoken… And she had a smile that lit up the world. She was more beautiful than these pictures can ever show.
At dinner, Kari brought up the topic of organ donation saying without hesitation that she didn't understand why someone wouldn't want to help someone else when they were through with life here. A few weeks later, she and her sister Lys were swapping driver's licenses and checking out one another's pictures. Her Mom says Kari "jumped all over" Lys because she didn't have organ donor indicated on her license. A few weeks after that, her family had to make a tragic decision, but Kari had already helped them with that decision. At the most devastating moment in their lives, they reached out and saved mine. Kari brought her big smile into my life on April 8, 2000, when she and her family gave me both of her lungs.
My name is Steve Ferkau and I've lived for 47 years with cystic fibrosis. CF patients usually develop very thick mucus in our lungs and elsewhere… In the lungs it harbors infections which create scar tissue, and gradually builds up to a point that our lungs cease to function properly.
...When I was listed for transplant in September '97, my lung capacity was about 10% of a normal person's. I was on oxygen around the clock. I was on countless medications and required chest physical therapy. For four treatments totaling eight hours every single day for three years, someone was pounding on my chest -- and pounding hard enough that we broke ribs 6 times in those three years.
...There are almost 100,000 people in the United States waiting for an organ. 6,000 people die every year because they did not receive an organ they desperately needed…
(Visit Steve's website and read about the amazing things he has done since he was given the gift of life...he has a wonderful story to tell.)
Our day working on the Donate Life float was one of healing. We watched as other donor families placed special yellow roses on the float. Each rose had a personal message attached and all the donor family roses comprised large stars (the stars of life) on the front and sides of the float. Watching families silently move forward to take their turn placing their rose was moving. A <![if !vml]>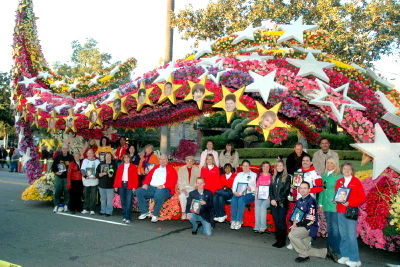 <![endif]>photographer stood by to take pictures of each of the individuals. Over 1,000 roses were dedicated to donors.
At days end, we were exhilarated and exhausted.  It was an experience in really living.
On New Year's Day we again made an early morning pilgrimage to Pasadena.  This time we went to witness the 120th Rosebowl Tournament of Roses Parade.  We had bleacher seats and an excellent view of the parade.  Down at street-level, thousands of eager fans camped out on the curb in order to be there for this annual event.
The morning was cold and the crowd friendly.  By the time the parade began, the sun was bright and it was a perfect story-book California day.
As we watched the exuberant marching bands and admired the beautiful floats, I thought about my mother.  She would have enjoyed being there.  This was an event my mother always longed to attend.  I was glad to be there.  I was there, in part, because of her.  She planted that seed many years ago.
As the Donate Life float went by, I looked down and among the roses I saw my half-Iowan friend "Breathin' Steven" waving at the crowd.  I smiled and thought about my mother and Caleb.  My smile grew bigger when I heard Faith Hill's voice waft up to my ears.  She was singing "There You'll Be." (See lyrics below).  And there they were…
Faith Hill: "There You'll Be"  (chorus)
In my dreams
I'll always see you soar
Above the sky
In my heart
There will always be a place
For you for all my life
I'll keep a part
Of you with me
And everywhere I am
There you'll be
And everywhere I am
There you'll be
<![if !supportLists]>· <![endif]>Sunday, 4 January 2009
Snowy Winter Day in Santa Fe
<![if !supportLists]>· <![endif]>Saturday, 3 January 2009
It is Good to be Home
<![if !supportLists]>· <![endif]>Friday, 2 January 2009
<![if !supportLists]>· <![endif]>Thursday, 1 January 2009 – New Year's Day
The Tournament of Roses Parade, Pasadena
The Autry Museum
ab
TO READ DECEMBER POSTS OR OLDER ENTRIES,
RETURN TO THE ARCHIVES ON THE LEFT
Our Peace Corps Ukraine adventures:
January 2005 - May 2007
Our AmeriCorps*VISTA adventures
in beautiful Santa Fe, NM:
August 2007 – November 2008
My Santiago de Compostela Camino Blog:
http://pilgrimageofgratitude-mycamino.blogspot.com
Life is good!
ab