<![if !supportLists]>· <![endif]>Tuesday,30 January 2007
Three News Clips a Friend Shared with Me…
1.  New Home - No Down Payment.  Kyle McDonald of Montreal (age 26) wanted a house.  Here's his approach: he started trading on online and made 14 trades during the course of 12months.  Yes, negotiated a 3-bedroom house!  OK, here's the funny part: he started by trading a paperclip!  Yep, a humble paperclip!
He traded up 14 times, eventually scoring a snowmobile, and then a recording contract, an afternoon with rocker Alice Cooper, and finally he traded a movie role for that 3-bedroom house!
2.  For the Birds.  A yellow parakeet named Spike was named Young Cross-Stitcher of the Year by a British sewing magazine.  Yep, a parakeet!  Sandra Battye, Spike's human companion, says the bird would sit on her shoulder for hours watching her stitch.  One day, she picked up the needle in her beak and began to stitch herself.  "She is very good, but still gets a bit confused at how the patterns work," says Sandra.
3.  Oldest Known Returned Peace Corps Volunteer Turns 100.  Evangeline Shuler, born in 1906, and her spouse served Peace Corps in India during the 1960's.  She was not young then – she was 62 years old!  The article lists some of her accomplishments, but the thing that stands out to me is this: when her spouse died about 1 year into their service, she returned to the USA briefly and then returned to complete the assignment they had started together.
<![if !supportLists]>· <![endif]>Monday, 29 January 2007
You know those tearful, cross, young children you often see as you wander through American grocery stores.  I wonder if some of their frustration, anger and bad-behavior is simply linked to an inability to communicate.
I imagine a toddler's internal dialogue along these lines. "Geez - What is WRONG with me??? I am almost 2-and-a-half and I STILLl can't seem to find the right words to tell Mommy exactly what I want to say.  My vocabulary stinks and I have problems pronouncing stuff too!  I just feel so stupid! Some of my playmates manage to speak in complete sentences already and here I am, just able to utter a few words.  I have to resort to pointing and gestures!  I am hopeless," wails the toddler as tears roll down chubby cheeks.
I imagine small children feel pretty smart some days, but on other occasions, they just are reduced to tears by the unrelenting frustration of not being able to communicate effectively.
I hope small children do not really berate themselves mentally.  I hope they do not compare themselves to others, rating and ranking their play-pals by some kid-standard.
Sometimes, the language challenges of living in a foreign country can undermine ones ability to move forward…but only if you let it.  Sometimes PCVs beat themselves up mentally, thinking they should have a better command of the language after two years of living here.
There is a huge gift wrapped in this situation.  A person can really learn a lot about humility, meekness and working with other people.
You CAN achieve a lot, even if you never learn to speak well.  In fact, this can make you a more careful listener and it can help you to really cultivate relationships that you may not have resorted to if you lived by the credo of independence that many Americans grow up with.
<![if !supportLists]>· <![endif]>Sunday, 28 January 2007
Uncle Gene Passed on this Morning
The plan is to scatter his ashes in the Grand Canyon.  That will happen this summer.
Gene, the youngest male of the Jeys clan, was a published novelist, short-story writer and a teller of tales around the campfire.  He was also a little unconventional and a little opinionated and a bit of a wild-child (I think.  I heard the term "black sheep" applied a few times).  He was a wrestler and was the first (maybe only) among the brothers and sisters to graduate from a university.  He worked with the Boy Scouts and enjoyed working with wood too.  He spent many years of his life in the area around Albuquerque.
In his later years, he attended the Iowa Writer's Workshop.  He penned two novels (fiction) which became controversial among the brothers and sisters who believed the stories were based on family incidents.  The brothers and sisters always said that Gene never could get the facts straight!
Aunt Mary, the oldest of the brood, is still thriving. At 100 years-plus, she still cooks and cleans and has a memory like a tack!  Aunt Eda Lou, the baby, is still vital and active too.  There were about ten kids in the family…each with a strong, distinct personality.  It was great fun to see them all together at the annual Jeys family campouts.
Some of my best memories are of sitting around the campfire and listening to them talk of old times or tell tales or sing as we toasted marshmallows and enjoyed the Iowa summer nights and the feeling of being part of a family.
<![if !supportLists]>· <![endif]>Saturday, 27 January 2007
Happy Birthday Lyudmila! 8-)
<![if !vml]>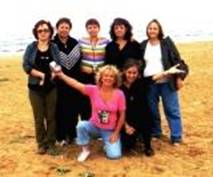 <![endif]>
(She's in pink & that's me next to her!)
<![if !supportLists]>· <![endif]>Friday, 26 January 2007
*My friend Amanda recommends the following books:
What to Eat by Marion Nestle
Banker to the Poor - Muhammad Yunus' autobiography
Jeffry Sachs'  - The End of Poverty
The Color of Love: A Mother's Choice in the Jim Crow South by Gene Cheek
The Rabbi's Cat - an awesome graphic novel by Joann Sfar
**and these movies:
Little Miss Sunshine
An Inconvenient Truth
Waiting for Guffman
Center Stage
A Very Long Engagement
Hilary & Jackie
Here's some films I want to add to my list of "must see movies":
"The Good German"
 "Children of Men"
"Pan's Labyrinth"  (Franco era Spain!),
 and the latest Almadovar film (I forgot the name –"Volver" maybe?!!)
<![if !supportLineBreakNewLine]>
<![endif]>
I think I have not updated (online) my list of books I have read here in Crimea…the list is somewhere on our Ukraine Adventure page…
<![if !supportLists]>· <![endif]>Thursday, 25 January 2007
<![if !supportLists]>· <![endif]>Wednesday, 24 January 2007
I looked back at my January 2005 journals…we were just receiving our surprise, short-notice invitation to stage for Ukraine the last week in February.
We were originally nominated for Central Asia for one of the "Stanlands" for around June but our placement officer asked if we would be interested in a short notice opportunity in Eastern Europe and we said yes!
Now, two years later, here we are in Ukraine, thinking about the impending Close of Service (COS) conference in just over a week.
Another benchmark met.
What next?
<![if !supportLists]>· <![endif]>Monday, 22 January 2007
I Am Soooooooo NOT a Linear Person!....
Stuff gets done, but if anyone watched me, they would certainly be confused as I switch between totally unrelated projects in mid-stride.  I have a good track record for getting stuff done, but certainly would NOT inspire confidence in an efficiency expert observing my modus operandi!
My methods and procedures are intuitive I guess.  I have always preferred to work unobserved and find any kind of performance evaluation extremely stressful; perhaps because people may critique my logic or methods.  So when people are around, I generally drop what I am doing and observe them or assist. 
When no one is around, I morph into my hard-charger-mode and seldom take a break.
That is my "modus vivendi" – my way of integrating my way of life with the rest of the world.
So, I am supposed to be taking down the holiday tree right now, but stopped to do an important e-mail, then jotted a couple postcards, back to the tree, then I rinsed some laundry, back to the tree, cleaned the sink, re-read holiday cards, back to the tree, making notes in my journal, and now, time to get back to the tiny tree again, but first I need to file some papers…….
Somewhere a heavenly efficiency expert, looking down on my life, is letting out a big sigh and rolling his eyes.
"She's got a ticket to ride…"
We purchased train tickets for the trip to the Close of Service (COS) conference in early February.  Usually these train-ticket-purchasing transactions are challenging and character building events, but this time, all went well.
Train travel is quite inexpensive in Ukraine, but we still managed to spend about ten-days pay on tickets.  Of course Mark will be reimbursed for most of his share.  We are taking a little side trip to Odessa (kind of a Valentine's and Mark's birthday treat) enroute home from the conference in the Carpathians and we are traveling through Kiev enroute to the conference, because Mark has an IT meeting there. 
So we will sleep on the night train 4-5 nights.  This means, no hotel costs, but there are tradeoffs too.  I like train travel generally, but as with anything there are good points and there are things you simply put up with.
On this trip we are likely to share a kupe with two other strangers so there is no privacy.  There is also the dance of sharing food and conversing…close quarters mean either making friends or ignoring one another…(See my train-travel experience with a fellow passenger on the electrishka on Old New Year's Eve last week…you will understand my attitude toward potential "room mates"…I also know stories of other PCVs on the train that involve vomiting, peeing and other behaviors I would rather avoid.)
And of course the bathroom situation can be challenging-the toilets are locked prior to arrival and immediately following departures for quite a long time, so negotiating time in the water closet is an art (well, maybe not an art exactly!)  The train toilets are pretty dicey, 
It is hard to look refreshed under the circumstances - we call the resulting look "train face". Ukrainian women have magical powers and manage to arrive looking regal and composed even after a stressful train trip.
In the heat of summer trains are like rolling ovens and usually very crowded (we will leave Ukraine in the summer months.  Hmmm…).
<![if !supportLists]>· <![endif]>Sunday, 21 January 2007
The Payback…
A tap on my kitchen window startled me. I was engrossed in a "Newsweek" article about Google's innovative translation program that analyzes language based on websites rather than using the traditional parameters of grammar rules, etc. (Intuitive intelligence…hmmm…like learning a language from watching television – I know of a Ukrainian woman who emigrated to the USA and credits old "Star Trek" shows with her excellent command of the English language! But I digress)
I looked up from my magazine and straight into the eyes of the old woman who visited us on New Year's Day asking for 10 UAH (actually she says "rubles", the Russian term for money, a term we often hear in Kerch with its predominantly ethnic Russian population…again, I digress…)  She told us that her pension had not arrived.  We figured we would never see that $2 again.  In fact, we did wonder if as an easy touch we might be hit-on again. (Another PCV has written amusing articles for the PC Ukraine newsletter about the various locals who "rely" on him for handouts, which, in my opinion, just allows for amusing stories, But is not a good precedent - there are other ways to help ….again, I am rambling!)
So, there is the neighbor tapping on the window glass, staring in through the pane at me.  "Let me in," she yelled.
A dozen thoughts ran through my mind.  But, before I could respond, Mark kindly answered the door.
I remained stone-still in my chair and considered what she might want.  Then, before I could be overwhelmed by a skeptical, mortal view of this picture, I found myself thinking about the spiritual nature of supply and said a heartfelt prayer of gratitude. 
In a few moments, Mark came through the hall door and plunked a 10 UAH note on the table.  I smiled up at him. 
"There's more," he said, pulling out a bag of colorfully wrapped chocolates.
My smile got bigger!  I laughed out loud while in the quiet sanctuary of my private thoughts, I said another happy prayer of gratitude.
<![if !supportLists]>· <![endif]>Saturday, 20 January 2007
This is Flat Ms Ginn:
<![if !vml]>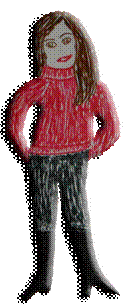 <![endif]>I have been happily involved with another version of the Flat Stanley Project, this time an unofficial one.  The class of 5th graders from Florida sent me a small flat person.  Their teacher, a Peace Corps applicant himself, initiated the project. He wants the kids think more globally. The enclosed letter indicated that I should send a "flat me" back with the journals and photos, souvenirs and other paraphernalia involved in this flat-person transaction.
So, here I am - Flat Ms Ginn. She was a freehand creation, a labor of enthusiasm and joy, not a tribute to accuracy or beauty.  I tucked the original into an envelope and now a virtual me is on her way to sunny Florida for a little vacation and site seeing!
These projects are such fun.  I shared the idea with a group of Ukrainian educators at a professional conference recently.  Though the idea seems more applicable to younger people, I believe teens and young university students developing language and culture skills can have a grand time using this creative approach to learning.
There are so many directions one can go with this simple idea- and it is a wonderful way to introduce a variety of technology applications too.  In the right hands it can become a sophisticated, dynamic project of genius…or, it can just be simple fun and educational too!
I also think this project is a great one for PCVs, because it really brings the Third Goal initiatives to life.  By interacting with students and exposing them to PCV life as well as life in another country, a PCV can plant precious seeds…(FYI: Third Goal, is a reference to the three Peace Corps goals - the 3rd involves sharing what you learn from your PCV experience with the people back in the USA.)
Mark, seeing me surrounded by all the accouterments and clutter of the project, shakes his head and affectionately mutters, "You really should be a kindergarten teacher."
And maybe I should be!  It's not too late is it?
_____________________________________________________
<![if !vml]>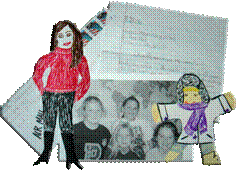 <![endif]>
Here's Flat Ms Ginn and Flat P. (wearing a snow hat and winter wear cuz it is cold here in Ukraine).  Visit the official Flat Stanley site:  www.flatstanleyproject.com  and spend a little time exploring some of the cool projects other people have done! 
______________________________________________________
<![if !supportLists]>· <![endif]>Friday, 19 January 2007
A Letter from my Brother!
My brother, like me, writes.  I am more of a child of technology and rely on e-mail to conduct my daily conversations and contacts, while my brother, living high on a remote mountaintop in Malawi (Africa), uses a pen and paper to reach out to a long list of friends and family.  I generally receive a letter from him about once a month and frequently, more often.
So it has been since late September since a pale blue envelope, edged in a distinctive red and white border with an African postmark has arrived to my tiny Ukrainian post office box.  I had begun to wonder if I had penned something to offend him in one of my rambling discourses. 
Is "no news, good news?
One look at the envelope revealed that the letter, penned in mid-November, had made an extended journey.  On the reverse side was a Lennox, Iowa postmark.  Apparently the letter took a very circuitous route from the Rift Valley in Africa, through the heartland of the USA before reaching me here in the bread basket of Europe. 
But, it was a very welcome sight to see.
<![if !supportLists]>· <![endif]>Thursday, 18 January 2007
Late Night Reading…
What is it that wakes us in the night?
I lay in the dark for a very long time, going through my usual list of I'm-awake-in-the-night routines.  Finally, I got up, slipped into my slippers and padded out to the kitchen.  I fumbled around and finally found Grandaddy Mark's old watch which lives on the corner of our kitchen table here in Kerch.  4 AM.
I closed the door to the other room, snapped on the light and began reading ("The Power of One" by Bryce Courtenay).  After while, it occurred to me to make a bit of hot tea.
I rarely drink tea, except to be polite, but when I was a young girl, tea was what I sipped as I happily read in Mother's kitchen in the big yellow house in Iowa.  I would perch on a stool next to the stove, back to the room and feet cozily propped on the hot air vent on the wall. My sweet, hot tea with a dollop of milk, steeped on the range top near my elbow. 
So, many decades later, I find myself sipping tea in a cozy kitchen in Ukraine and reading a good book.
"The Power of One" is a good read.  The cover says it is "the classic tale of South Africa" which frankly does not induce me to pick it up.  Also on the front cover, boxing gloves dangle from the toe of the N in the word ONE. Boxing does not draw me in either (though Father represented the Army as a boxer during his WWII experience.). 
No, I was not drawn to this book.  It collected dust on our small PCV bookshelf for several months, but finally the dearth of available novels caught up with me and I picked it up.  I flipped through the book again and this time noticed a quote on the back cover. The Christian Science Monitor, whose book reviews I value and trust, says this is "A compelling tale".  So I decided I was compelled to read it, if only because nothing else was available.
This book, is an unexpected pleasure.  Despite my dubious initial attitude, I love the small boy Peejay who narrates his adventures skillfully and with great detail.  He wins the reader over, draws one into diverse events.  Ultimately, it is an uplifting novel and well worth reading.  I will hate to see this delightful novel end.
<![if !supportLists]>· <![endif]>Wednesday, 17 January 2007
Music, Mark, and Magic
8AM and the speakers reverberate with the bluesy-sound of George Thurgood spitting out a riff more suited to a smoky barroom than a living room.  The recording is from a live concert, so when this cut ends there is wild cheering, whistling and applause.  I am sure our Ukrainian neighbors and the people in the small store next door are curious about what the crazy, old American couple is up to today.
The days, thank goodness, have begun to get longer so even though it is early on this winter day, it is bright and clear. The weather has been uncharacteristically mild.  The bright day and loud music motivate me to dance a bit as I tackle morning chores. 
Usually at this hour I linger quietly, hunkered in my chair, sipping breakfast coffee and reading the CS Monitor or "Newsweek" while the BBC cuts in and out on the shortwave radio.  But who can concentrate on news with this music playing?  Who can sit still with this music playing?
The sounds of the Steve Miller Band fill the air now.  The parakeets chirp and cheep with pleasure.  In the privacy of the kitchen, I sing and play air guitar.
I am euphoric.  I am on a music induced high.
Mark waves goodbye as he slides out the door, leaving behind the uncharacteristic sounds of loud rock and roll and blues. 
All these great sounds are coming from the belly of my very own computer.  The music sits trapped inside, waiting for release. 
Do I ever remember to set them free?  No, not often. 
It seems it is Mark who brings music to my life.
Once again I am reminded of the magic Mark brings into my life.
<![if !supportLists]>· <![endif]>Tuesday, 16 January 2007
Shoes for Orphans – Tap-dancing Techniques…
I am eager to move forward on getting shoes to some local orphans. (See my 28 December notes)  I know this project will come to fruition, but right now it seems character-building!
This started last summer at camp when the need for shoes came up in conversation (not money – shoes).  The need has been confirmed, a donor has materialized, friends and family have volunteered to make purchases and post things, and the methods (customs issues) are penciled in…but we cannot really move forward until we have the sizes and some bureaucratic paperwork.
"Next week," I hear from the foundation's director.  Then next week comes and once again I hear, "Next week...next week"…sigh.
I have recently contacted two American families who are going through adoptions here (one in western Crimea and one here).  I may change my tactics and work through their contacts.  Or perhaps I will simply have shoes sent to me in a variety of sizes.
The long Ukrainian holiday season is almost over so perhaps we can finally move forward…
Following is a blog link…an American couple chronicle their adoption experience here in Crimea (specifically in Yalta and Kerch):
<![if !supportLineBreakNewLine]>
<![endif]>
Another gray day in Yalta
By mattandlisasicilian(mattandlisasicilian)
Kerch, where our six year old, Vika now lives is about a four hour car ride on a two lane road from here. It is about two miles from the Russian border- makes my nationalistic Ukrainian Mama, verrrrrrrrrrrry nerrrrrvous- and more than a ...
Our Ukrainian Adoption - http://mattandleeukraina.blogspot.com/index.html
Life in Orphanages
Following is an article from the CS Monitor World edition. Though this story is about Russia, it paints a picture that reflects life in Ukrainian orphanages too.  Such charitable organizations are only now developing. The Russian economy is currently booming (oil rich!) yet there is still a huge gap between the haves and the have-nots.  Here in Ukraine, the economy and government are still struggling and conditions are very challenging.  Well, read on…
from the December 26, 2006 edition - http://www.csmonitor.com/2006/1226/p01s03-woeu.html
In remote Russia, 'Murziki' bring cheer to orphans
By Fred Weir | Correspondent of The Christian Science Monitor
RYBINSK, RUSSIA
Children pour out of Rybinsk's orphanage No. 72, laughing and waving, when the Murziki pull up in their mud-spattered convoy of cars. The kids know many of these adults from distant Moscow by name, and they hurry to help unload the cars, stacked with boxes of toys, sports equipment, and coats - as well as cutlery and a new VCR with a selection of cartoons, needs the Murziki carefully noted on their last visit.
The Murziki tell the kids that they come from the mythical country of Murlandia, a kind of cross between Neverland and Santa's Village. In reality, they're something almost as rare in Russia, where the volunteer spirit has been dead for the past century: a self-organized band of middle-class people devoting their resources and spare time to a sustained effort to change hard facts for a few hundred children.
"We decided not to sit around waiting for the state to do something about the human crisis we saw unfolding," says German Pyatov, a Moscow surgeon who founded the group after the 1998 financial crash in Russia.
It's now grown to about 700 supporters, connected by the Internet, and a hard core of several dozen Muscovites who regularly make the 300-mile drive out to the chain of poor Volga towns, with their teeming orphanages, that they've targeted.
"I've found that interacting with these children charges me with the energy to keep going," says Mr. Pyatov. "It's enough to look in their eyes to realize that not enough is being done."
They have their work cut out for them. Russia's orphan population has ballooned in the past 15 years, particularly in the economically blighted hinterland beyond booming Moscow.
Rybinsk, a formerly closed defense-industry town of 250,000 on the Volga River, had one orphanage in 1991; now it has six. This reflects a widespread post-Soviet tendency of impoverished families to abandon children.
Forty out of the 52 inhabitants of orphanage No. 72 have living parents who won't, or can't, care for them. "Most of the factories around here went bankrupt, and people lost everything," says Nina Kornyushkina, the orphanage's director. "Many people sank into despair and alcoholism, and the children were just lost."
About 760,000 children are classified as orphans in Russia, according to the Ministry of Education, while a further 1.5 million are thought to be "homeless." Statistics cited by Pyatov suggest that existing institutions do little to help them.
"Roughly 45 percent of children land in prison within five years of leaving the orphanage, 35 percent become drug or alcohol addicts, 10 per cent die - of accidents and suicide - and just 10 percent are considered relatively successful," he says.
"Being sent to an orphanage is a catastrophic route for any child," says Sergei Korobenko, the Russian head of Hope International, which runs programs in large cities to persuade parents not to give up their children to orphanages. "There are very many families at risk, and we try to work directly with them, to find ways to ease their problems and keep the children in the home setting."
Pyatov says the Murziki are beginning to follow children who "graduate" from the orphanages they sponsor to find them jobs and help them deal with problems of real-world adjustment.
"Most of our supporters are professionals or business people, and that makes a practical network," he says. "We have a few successes already."
State funding better, but not enough
Most experts agree that state funding for orphanages and children's services has improved since Russia's oil-fueled economic growth began seven years ago. But an official report by Deputy General Prosecutor Sergei Fridinsky earlier this year found that 40 percent of orphanages are in dire need of repairs, six percent have no indoor plumbing, and five percent lack central heating. In some provincial institutions, the report said, funding amounts to just $0.01 per child per day.
Corruption and theft in the system are little-discussed problems. The Murziki combat this with vigilance, and by printing their logo on all donations. On return visits, they check to make sure the things they gave last time are still in place.
At one children's home, in the tiny Volga town of Miushkin, for example, Pyatov sent a car to locate the institution's director, who wasn't at her desk, and bring her back to sign for the load of clothes, blankets, and snowboards that he was delivering.
"If you don't ensure that someone takes direct and personal responsibility, it's likely that everything you bring will turn up on the local market the next day," he says. "People don't see it as stealing from children - they just think about how miserable their salaries are, and how hard their own lives are. It'll be a long time before that changes."
Some child-care specialists decry what they call the tendency of state officials to play politics with Russian orphans. An ongoing crackdown on foreign-based adoption agencies has squeezed, but not halted, the adoption process.
According to the Education Ministry, about 130,000 new orphans were registered last year, while fewer than 30,000 were adopted - about half by foreigners. Last week, Health Minister Mikhail Zurabov pledged to shut down all orphanages and place children in foster homes within five years.
"Our goal is that every child should have a family," he was quoted as saying in the daily Noviye Izvestia.
But experts say that's unrealistic. While some 100,000 children are placed with foster parents yearly, the majority of those families are the children's grandparents or other relatives.
"The vast majority of Russian families are not psychologically ready for this, much less financially," says Ella Pamfilova, chair of the Kremlin's human rights commission. "A lot of social reforms will have to be accomplished before this idea can be placed on the agenda."
The best idea, say some, is for the state to get behind grass-roots initiatives like the Murziki. Though charitable giving is on the upswing in Russia, the total was still under $1.5 billion last year, mostly from big corporations. By contrast, charitable giving in the United States totaled about $260 billion in 2005, according to Giving USA.
"What the Murziki are doing is great, but there are just too few groups like them compared to the scale of the need," says Mr. Korobenko. "Things will get better when more people get involved."
Nikolai and Sergei enjoy the visits
At orphanage No. 72, the children welcome the cheer that Murziki visits bring.
"They often come here, help us, and bring us things," says Nikolai Sergeev, who is 14. "I have been here for six years, and our group looks better now that we have computers and TVs - it is more fun."
Sergei Sokolov, who is 16, has been at the orphanage for five years. He remembers an excursion that the Murziki organized for them to Moscow.
"They do positive things for us," he says. "Our rooms are cozier and there is equipment for us to use, so I think that will be useful for our future and self-education."
Sergei says that the Murziki even cook with them at times.
"I think if there were more good people like Murziki," he muses, "the future of Russia would be better."
Reporters on the Job
• A Helping Hand: Director Nina Kornyushkina told correspondent Fred Weir that before German Pyatov, who founded the Russian charitable group Murziki, showed up at the door of orphanage No. 72 in late 1998, times were hard. "We didn't have even a sack of sugar," she says. The 1990s were a desperate time, as the local government went bankrupt and financing from Moscow nearly dried up. "We saw every kind of deprivation," she told Fred. "Sometimes I just despaired."
She says that she feels fortunate that Mr. Pyatov decided to help her orphanage. "On his second visit, Pyatov bought 80 pairs of new shoes, just in time for the New Year. After that, he started bringing friends, and the Murziki were born. Pyatov and his friends took pictures of our awful conditions and noted all our needs," she says. "I wasn't sure we'd hear from them again, but they returned with a truck full of things. Now we're the best of friends. The kids are inviting the Murziki to celebrate the New Year with us."
Fred, who went with the Murziki for a trip through the Volga region, says that he was astounded at how the Putin-era development on vivid display in Moscow has bypassed the area. "Moscow is filled with foreign cars, well-dressed people, neon-lit commercial areas, and lots of new construction," he says.
But he saw a different picture on his trip. "The roads are rutted, and what traffic there is is mostly Soviet-made cars and trucks. Buildings are dilapidated, there are few shops selling anything other than necessities, and many people look as if they haven't bought new clothes in a decade. Experts say that alcoholism and unemployment rates in towns like Rybinsk top 70 percent. The Murziki, mostly Moscow professionals, like to tell the kids that they come from a different country where everything is wonderful. In a way, they really do."
Amelia Newcomb
Deputy world editor
Let us hear from you. Mail to: One Norway Street, Boston, MA 02115 via e-mail: World editor
<![if !supportLists]>· <![endif]>Monday, 15 January 2007 – Martin Luther King Day
My hours, between several other projects last week, were consumed with preparing two professional papers for presentations at a workshop.  Oddly the presentations ended up being scuttled due to typical changes to the plan.  I did give one presentation and elected to speak extemporaneously rather than use either of the prepared remarks.  I extrapolated on a previous speaker's remarks and discussed methods of integrating technology in the classroom.  My remarks were well received and appropriate.
In our experiences here, it seems like we often spend time preparing and then do not get to present our efforts or vice versa: we show up at an event and suddenly find ourselves in front of an audience and we are expected to lecture or perform or teach.
Learning to be flexible is good.  Dealing with ambiguity is a way of life here.  Almost daily, our plans change.  Everything is tentative here.  In our experiences in the USA, we are lead to believe that we can control things.  And though we may give lip-service to flexibility and spontaneity, it is, like control, kind of a myth. 
Learning to look past pride in personal authorship (or control) and respond to the immediate situation is something to cultivate.  It may be about humility.
In any case, you do not have to respond with irritation, bitterness or a sense of frustration. You can simply move forward with enthusiasm and joy.
<![if !supportLists]>· <![endif]>Sunday, 14 January 2007 - Old New Year's Day (Orthodox)
Electrishka Encounters – Caroling and Groping
My old office partner when I was a recruiter back in inner-city Boston used to find me trapped behind my desk while some street person or old war veteran was ranting away on the opposite side. 
My partner would smile and say to me, "Remind me to speak to you later about your choice of friends." It was kind of a joke, but honestly I do seem to be a bit of a freak-magnet.  Now as then, this power lingers.  Read on.
Saturday night, the event coordinator and her son-in-law escorted us to our seats on the electrishka. 
We said our goodbyes and no sooner than they were gone than a rather odd, very drunk woman latched onto my unsuspecting self.  She grabbed my arm and planted slobbery kisses on my arm, my hands and my hair.  She offered me swigs from her almost empty cognac bottle, pouring it out into the cap, and pleading me to drink.   She shoved slices of bread topped with thick slices of strong onions at me.
Uncomfortable and not wishing to make a scene, I declined her drinks and food and tried to break away diplomatically.  Mark, still a bit stunned by this sudden intense encounter was also a bit dumbfounded.
The woman, harmless, but so very drunk, then tried to shove a couple hundred hryvnia into my hands or pockets.  She insisted I drink.  Bread and onions spit from her lips as she spoke.  She groped me and, as Mark put it,"copped a feel" from him as she made her incoherent overtures.   At one point she became angry and flung a capful of cognac at Mark and slobbered into my hair.
Eventually, she left the train, but as the car moved slowly down the track she pasted her face against the windows and licked the glass.  She held up the money and hollered at us.
Did I mention she groped us both rather intimately (no wallet or money missing ,but she came close to a full body cavity search and moved at the speed of light!) 
It was all over before we knew it really.
I hope she is OK.
Later during the two hour ride some teenage boys sang an Old New Year's carol to us and the few other people in our car.
McDs
We got off the electrishka in Simferopol and before we boarded the train we decided to celebrate Old New Year's Eve with a real American treat – we splurge on a McDonalds meal!  On our end of the peninsula, we have nooooo fast food, so a burger and fries is a real treat. 
Mark parked me (and our bags) on the Kerch-bound train and went off to McD's. He came back with our feast which we ate in the privacy of our train car compartment.  We made up our bunks and slept soundly as the train raced down the track to meet the dawn.
<![if !supportLists]>· <![endif]>Saturday, 13 January 2007 – Old New Year's Eve (Orthodox)
Dolphin Dancing…
The plan is to visit the Dolphinarium then tour the Greek ruins and then attend a party to celebrate Old New Year's Eve.  We pile onto a small bus and crowd into the seats.  We wind through the city, making several stops to collect the tour guide, the director's grandchildren, and finally two Peace Corps Volunteers who have recently been assigned to site. Now the aisle is jammed with standing passengers and bags of food. 
The Dolphinarium is closed during the winter months and the inhabitants are maintained on a Russian military compound.  Guidebooks say it is a world-class dolphin research center.  Some of the dolphins are used to do research on SONAR, and others travel with the circus (one group is currently touring Turkey – they travel aboard ship!).  After showing our documents, the bus is waved onto the installation by an officious gate guard wearing a fur hat.
It was delightful to see these social creatures.  They seemed to welcome our visit – they leaped out of the water and chattered to us as we approached.  We were allowed to approach them. I held out my hand and snapped my fingers. Several large dolphins leaped up and danced backward across the water on their tails, just like Flipper used to do on TV!
Later we heard a short lecture on dolphins (dolphins have three stomachs;  never sleep because they can switch back and forth from one side of their brain to the other; and some dolphins can detect illnesses and help realign molecular structure to return people to health!) Later we watched a short show by a very large, loud sea lion.
Cherson Ruins
We returned to the bus and made the trip to Cherson.  We wandered through the remarkable ruins of this ancient Greek settlement and listened as a guide told us many detailed stories.  It amused me to hear that this area was used in the Russian film version of Pinocchio as the Land of Stupid People (where Pinocchio buries his money). 
In the same compound as the Greek ruins and the monastery is a newly renovated Byzantine cathedral (thanks to former President Kuchma and Russian President Putin).  As we entered, a woman was "renting" scarves for women to don during their tour of the cathedral. 
Dining and Dancing
After tramping about outdoors, we headed to the military housing area to the bar where our Old New Year's Party would take place.
The hostess herded all the women into one room and provided us with one big pink towel, a new bar of soap and pointed to the cold-water tap.  I was first in line to clean up.  The cold water trickled out and felt refreshing as I washed away the dirt of the day.  Other women re-invented themselves by applying fresh make-up, changing into skirts and adding earrings.  Others revealed party clothes under the winter coats they wore all day.  I looked less festive than they did in my black jeans and sweater.  At least I was clean!
In the dining room, a Christmas tree stood on the tiny corner stage next a stripper's pole.  The tables were all laid out with lots of inviting small plates filled with Ukrainian salads, slices of oranges and lemons and bread, sausage and cheese.  Each table had a bottle of wine, a bottle of champagne, a pitcher of juice, and a decanter of cognac.  There were candles and music to welcome us. 
The evening unfolded, beginning with the presentation of official certificates of participation (gotta have the official stamp!).  Next there was some toasting and then impromptu singing. The contingent from central Ukraine sang some great Ukrainian harmony. We (the Americans) lead the group in our traditional New Year's song (stolen from the Scots!).  Meanwhile we nibbled and drank.
Eventually the dancing began.  Ukrainians are exuberant dancers and not too mindful about following or leading or having a partner.  It is fun to dance with them…lots of circle dancing and foot moves.  Sometimes people just seem to hop up and down.
Later in the evening a raffle was held and then some awards were presented.  I received a prize as the best dancer!
On that note, we headed off to the train station to make our way back to Simferopol to catch the night train back to Kerch.  We could see fireworks in the sky outside the window as the electrishka left the train station.
<![if !supportLists]>· <![endif]>Friday, 12 January 2007
Shortly before 4AM the conductor banged-open the door to our compartment and spit out a few incomprehensible sentences in rapid-fire Russian.
Propping myself on my elbow, I muttered, "Da, da, da!  Spaciva!"  ("Yes, yes, yes! Thank you!")  I rubbed my eyes and then reached across the narrow aisle to lovingly poke Mark in the ribs.  The snoring immediately stopped as he sat up and looked at me.
"Goooood morning!" I chirped. "The bathroom doors will be locked soon, so rise and shine."
We dressed quickly, wolfed down some muesli mixed with yogurt (our standard train-travel breakfast) and stripped our bunks in anticipation of our arrival in Simferopol.
This is a lousy time to arrive anywhere, but this is not our destination.  Our destination is Sevastopol where later in the day, we will each do presentations at the Institute of Economics and Law.  There is no direct train, so we have an electrishka to catch.
We approach the ticket window.  A large cat rests on the ledge and is oblivious to passengers making transactions inches away from his nose.  I scratch him behind the ears while Mark buys the tickets.
The electrishka, is well lit and has a dozen or so golden oak, hard benches flanking the center aisle.  This is a commuter train.  The car is empty now, but at later stops fills with workmen who chug beer and play cards enroute to work.  At some stops they step outside to smoke.  I lean against Mark's coat and snooze for two hours.
The Hotel Romantique
We arrive in Sevastopol as the sun comes up.  Our coordinator takes us to our accommodations to freshen up before we go to work. The invitation indicated that the hotel is named "The Romantique" but upon arrival at our suite, we understand this may be a small joke.  The rooms are fine – clean, modest and rather typical of modest accommodations available everywhere in Ukraine.  We actually have a two bedroom flat.  The bedrooms each have two narrow, Soviet-era couches which convert to beds.
Presentations
We were originally scheduled for two 90-minute presentations each, but typical of many functions we have attended here, there are numerous changes between plans and implementation.  So tomorrow we will deviate from the schedule because we have the unusual opportunity to get a behind the scenes visit at the local "Dophinarium". So, we will present today and play tomorrow! 
The sessions go well, the audience is responsive.  After a long day, Mark and I are sound asleep at "The Romantique." Before the clock strikes 9PM.
<![if !vml]>
<![endif]>
Mark dragging the bags (3 computers, cables, etc) on a Sevastopol street…that is Flat Paxton on the stairs.  He's a paper visitor from a 5th grade class in Florida!
All over Ukraine there are stairways to manage…in winter they are icy and snow covered.  It is often hard to navigate. 
<![if !supportLists]>· <![endif]>Saturday, 6 January 2007 - Epiphany
When we realize that Life is Spirit, never in nor of matter,
this understanding will expand into self-completeness,
finding all in God, good,
and needing no other consciousness.
- Mary Baker Eddy, S & H, p.264
I hear the dulcet tones of a woman singing "Silent Night."  She sings a cappella and in English, her honeyed voice, so pure and sweet, I expect to see bees swarming around her lips.
I walk to the window, push back the curtain and peer outside, hoping to catch a glimpse of this angel (and the imagined bees) but the music fades away and there is no evidence on the street of anyone, singer or not.
This is not usual.
Sitting on my Soviet-era couch in my pre-Soviet era flat in my formerly Communist, Russian-speaking community here by the Black Sea, it is pretty unlikely I would hear anyone singing that song.
The small store adjacent to our flat has a group of regulars who sit on the terrace, swapping fishing tales and drinking vodka.  They have been known to sing on occasion, but those vodka-induced serenades disappear in colder months when they are forced by Mother Nature to move to warmer climes.
But frankly, their voices cannot be considered sweet.
I am inclined to think my homesick heart simply conjured up this classic Christmas carol.  Maybe I just imagined it all.   As I turn from the window, I realize the parakeets are warbling happily, in their delightful attempts to harmonize.  True to their lineage as Ukrainian birds, they respond to music, eagerly joining in at the slightest opportunity.
It occurs to me that today is January 6th – Epiphany.  I look up Epiphany in the dictionary:
1 capitalized   : January 6 observed as a church festival in commemoration of the coming of the Magi as the first manifestation of Christ to the Gentiles or in the Eastern Church in commemoration of the baptism of Christ
2 : an appearance or manifestation especially of a divine being
3 a (1) : a usually sudden manifestation or perception of the essential nature or meaning of something  (2) : an intuitive grasp of reality through something (as an event) usually simple and striking  (3) : an illuminating discovery, realization, or disclosure  b : a revealing scene or moment
On that note, I simply smile, say a silent prayer of gratitude for this little musical mystery and resume my daily studies with new enthusiasm and joy.
<![if !supportLists]>· <![endif]>Friday, 5 January 2007
As mortals gain more correct views of God and man,
multitudinous objects of creation, which before were invisible,
will become visible.
- Mary Baker Eddy, S & H, p.264
So many opportunities dance inside my head.  I play out whole life-times as I contemplate what lies ahead.
My tangent today involves universities. As a returned Peace Corps Volunteer, Mark could be a candidate for a Fellows program and work toward a Masters Degree.  He could put together a very competitive package with his varied education and life experiences stateside and abroad: proven technology skills and experience, work in under-served communities and with young people, experience with a variety of successful non-profits, his business acumen and entrepreneurial spirit (and success), and his newly acquired Russian language skills…not to mention his really great attitude and work ethic.
Will this be the next adventure?
As our lives move forward and this chapter draws to a close, I am becoming eager to see what happens to the hero and the heroine.  What does the Author have in mind?
The future (and the present too) is big with blessings!
<![if !supportLists]>· <![endif]>Thursday, 4 January 2007 – My Mom & Dad's Anniversary
Today, I Feel Great…Except When the To-Do List Rears its Ugly Head!
Across the courtyard on this very grey day, the laundry snaps in the blustery wind.  The sheets and trousers are horizontal.  A babushka leans on her walking stick, her skirt flutters around her heavy calves as she makes her way to the bench outside her flat. 
Several neighborhood cats appear, as if blown in on the wind.  They rub against the thick grey felt boots the woman wears.  They trail behind her in a parade, as if she is the Pied Piper and they are not cats, but rats.  She ignores them for a moment as she adjusts her scarf and settles onto the bench.  Then finally she digs into her pocket and pulls out a scrap of greasy newspaper.  I watch her pop a bite into her mouth before she bends down to share the kielbasa with her entourage of orange cats. 
Today I have no agenda outside the flat.  But I have a very long list of commitments to tackle, for people outside my flat.  It is hard to separate the important from the urgent.  I feel a bit resentful maybe…  When this kind of feeling attempts to dominate my thinking, my usual recourse is almost as simple as reframing my attitude (though really it is more spiritually/scientifically-based than that - "Prayer cannot change the Science of being, but it tends to bring us into harmony with it).  I look at the situation and consider what a blessing it is to be of use, to have an abundance of tasks which matter, an opportunity to use my creative skills, the autonomy to direct my activities.  I consider these blessings as opportunities to express joy and thankfulness.  I will not let anything steal my joy!  "
I consider the babushka and her cats. They look to her for sustenance. They are more than hopeful, they are certain she will provide for them.  The lesson I am studying this week (about God) talks about the loaves and fishes and about the prodigal son.  I reflect on elements of those stories as I look out the window.  Outside, the bench is empty, the cats have dispersed.  I consider how like a shepherd the babushka woman is with her cats whom she lovingly, faithfully cares for, expecting nothing in return, delighting in their pleasure and joy and innocence.
My thoughts begin to weave all these things together – this tapestry-in-the-making is not ready to share I guess.  I cannot articulate it just now, but there is suddenly a great sense of peace within my heart.
I feel as light and buoyant as that laundry flying parallel to the earth.
<![if !supportLists]>· <![endif]>Wednesday, 3 January 2007 – Full Moon!
Weak as a Kitten…
I spent the first two days of 2007 buried under a comforter on the couch.  I felt as weak and sleepy as a kitten.  I dozed and woke periodically.  Mark made sure I considered eating and by presenting me with food offerings, but I declined food since the thought of it made me queasy.
I could not even read a book or concentrate on knitting or writing.  I just stayed horizontal.
Today I am dressed and considering what to do about English Club.  The phrase "What does not kill you, makes you stronger" runs through my head. I am not sure that is applicable.
We Let 'em Fly…
On Monday, the first day of the brand new year, we opened the door on the bird cage and invited our parakeets to fly. 
Our Ukrainian associates seem put-off by the fact that 1.) We have two birds in one cage (they will never learn to speak – hmm, maybe that is why our own Russian speaking skills are so limited!) and 2.) We never let them fly around the flat. 
So on 1 January, we began the New Year with a green parakeet and a blue parakeet honing their navigational skills in our small living/bedroom.  They were slow to leave the safety of their cage.  When they finally took wing, they created quite a stir.  They resembled miniature helicopters.  They seemed to hover as they negotiated and experimented with appropriate places to perch.  Several times they seemed to throw their fragile bodies against the wall-perhaps they overshot their landing site. Two amateur "pilots" trapped in a small flat made for some excitement.
Of course I was prone on the couch, not fully capable of enjoying the whole experience.  I did laugh when both birds decided to land on Mark's bald pate!
We assumed the birds, like chickens, would naturally return to their digs when night fell and it was time to cozy up and roost for the night.  Greenie, went in and out of the cage, but Blue-gie, either did not understand the concept or did not care to go inside. They perched atop their cage rather than inside.  When we headed off to bed for the night, the two birds were still free.
At about 3AM, I awoke to the sound of urgent fluttering and small bird-bodies bumping into the walls.  I struggled out of my stupor, fighting my nausea, to perform a rescue mission for my panicked birdbrain friends.  I turned on a bright lamp, which stunned the birds and was able to simply grab them with barely a struggle.  I popped them into their habitat and placed a cover over them before I stumbled back into bed.
<![if !supportLists]>· <![endif]>Tuesday, 2 January 2007
Lenin looking at the Kerch holiday tree. (Yeah, I added the festive hat!)
<![if !vml]>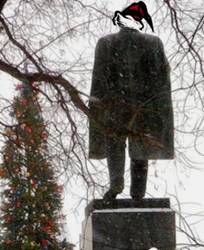 <![endif]>Monday, 1 January 2007- NEW YEARS DAY!
2007 – THE YEAR OF THE PIG!  GOODBYE YEAR OF THE DOG!
F & L Called! 8-) 
It is always great to hear from family and friends!  Those two are starting the New Year in the hot tub after a gig (with the band) at the Officer's Club.
Brother, Can You Spare a Dime?
While we were on the phone with L & F, an elderly neighbor lady (whom we seldom see and rarely speak to) saw me by the window. She gestured to me to unlock the outside door.  I anticipated holiday greetings, so I was a bit surprised when she asked for money.  She did not get her pension check (about $50 a month). Her electricity is turned off. Can we give her 10 Hryvnia (that's around $2…many people we know make about $10 a day)?  Happy New Year!
Brief Re-Cap of New Years Eve in Kerch
New Year's Eve in Ukraine belongs to family and close friends. With New Year's trees to decorate and the arrival of Grandfather Frost and Snow Maiden (gifts!), people want to stay close to home, so they typically, as all Ukrainians do for any sort of celebration, gather around the dining table.  The table, laden with food and drink, and the family, are the center of life here.
Since we have no family here, we decided to take our champagne to the town square where a huge festive tree was erected right in front of Lenin's statue.  We hoped there might be some organized events there around midnight. 
It was pretty low key. Maybe a hundred people were there to toast in the New Year under the enormous tree.  The President made a speech on the radio.  All around the square people sipped their champagne and listened quietly. 
There was no count-down, no singing of Auld Lang Syne – it was kind of a non-event.  There were fireworks around the city and after the President's speech, music played on the radio and some people danced. 
About 1230, our Ukrainian friend suggested we go to his flat for a few traditional Ukrainian dishes his mother had prepared, so we did.  We sampled some excellent Shuba (means fur coat in Russian –a beet salad) and Salad Olivia (another wonderful salad) and also a helping of holidets (aspic- very rich and strong – sort of like a stew). 
We lingered a while, ad headed home around 0230.  We decided to walk since the weather was pleasant.  It was odd to see all the lights on in the apartment buildings so late at night.  Usually by 2 the street lights are even turned off and the apartment buildings are dark.  Clearly people were celebrating! 
When we reached the town square, enroute home, we found it quite lively at 3AM!  There were performers on the stage and dancers packed the area round the tree dancing and laughing.
We were finally home and snug in our bed around 5AM – the neighbor's lights were still shining! 
TO READ DECEMBER POSTS OR OTHER OLDER ENTRIES,
RETURN TO THE ARCHIVES ON THE LEFT.
XXX