The start of Peace Corps Week…
There is no way to peace. Peace is the way.
A.J. Muste
 I guess I was in first grade (or maybe second) in 1960.  I may not remember how old I was or what grade I was in, but I do remember seeing then-Senator John F. Kennedy's image on the old black and white television at the big yellow house we called home.  He mesmerized me with his now-famous words:
"And so, my fellow Americans: ask not what your country can do for you—ask what you can do for your country," Kennedy said.
Those remarks articulated one man's vision.  On 1 March 1961, Peace Corps was formally established.  Little did I know back then that more than forty years later I would become part of the Kennedy vision. 
The goals of Peace Corps have not changed: to aid those who need it, to help people in other nations understand Americans and to help Americans understand citizens of other countries.
It humbles me to be part of this team and it pleases me to know I begin my assignment at the beginning of Peace Corps Week.  What could be more auspicious? 
Snow is flying today.  The departing trainees lingered over breakfast and finally left about .  There are reports of flight delays at O'Hare but they board the bus and leave.  Those of us left behind have a free day to explore and relax.
Mark and I walked across the Loop, enjoying the Monday morning activities in this dynamic city.  Once inside the Art Institute, we checked our hats and coats and spent a few hours viewing the collections there.  
Tomorrow we will be in Kiev.
8:29 AM and we are hard at work….
The little things? The little moments? They aren't little.
Jon Kabat-Zinn
Before my eyes open this morning I hear the distinctive voice of Stud Terkel emanating from the radio in our hotel room.  I listen as he reflects on how people deal with death and dying.  His interviews with survivors of grief provide provocative ideas that hold my interest and keep me nestled in bed listening intently.  Death is not something we deal with well here in America…
Friday marked the anniversary of Caleb's death; so many things are on my mind.  With our PC adventure underway, the mix of emotions is heady and hard to describe.  I know we could not, would not likely be here now, if not for the experience of Caleb's death.  His spirit really does live on as we make our choices.
Our 2nd day of Peace Corps training begins at .  People wander in with cups of coffee and mingle a bit before taking their seats.  The people in Group 28 are a congenial bunch and it is easy to see they are bonding and becoming part of a team.  Since many of us have corresponded via the Internet we already have a sense of camaraderie that takes the edge off any anxiety about meeting new people.  Even yesterday, during our first face-to-face meetings, people asked about Miss Zoë and Mr. Bubba. 
Training resumed promptly and quickly became intense with discussions on cultural sensitivity and how to deal with unwanted attention.  The 40 + members of the group became comfortable as we explored concepts and learned more about PC policies.  My military training proves to be a good preparation to the lessons on today's agenda.  I try to be more of an observer and less a participant since many of the items up for discussion are lessons I have already learned.  Occasionally I speak up and share my thoughts on a topic.  I am sure others may think I monopolize the conversation, but it is my natural enthusiasm that prompts me to speak up.  I reign myself in…  Being on the mature end of the spectrum has its challenges and demands.  Watching the younger volunteers is interesting – they will face difficulties and must have their own experiences...  My coping techniques and my ideas will have little impact on them so I must just let go and let them find their path.  
The training day ends about and we are all tired.  Outside, drizzle makes the idea of walking a bit unpleasant.  Our tentative plans to visit "Howl at the Moon" fade as we come to terms with our fatigue and the weather.  Mark and I elect to just walk a bit and finally stop at "Whole Earth Foods" to select some good Spanish cheese, some excellent country bread and a bottle of Spanish wine.  We augment the meal with tasty tomatoes, a spinach salad and some asparagus.  I think about how many choices we have in this store.  I wonder what shopping in Ukraine will be like…certainly no tomatoes in February!
Wandering back to the hotel we walk past "The House of Blues" where a free concert takes place this evening.  There are many people milling about and too many cars.  Traffic is snarled and the police are on hand to dissipate the crowds that form on each corner.  The sirens blow and huge German Shepard's bark and snarl at passers by.  The police stop us and tell us to cross the street…we seem to be the only white people here.  There is some kind of controversy about the performers, but we do not linger to find out the details.  An oversize Hummer limousine cruises past us and the local crowd shouts confusing remarks to the people behind the smoked glass windows.  We keep on walking and head back to our hotel. 
We picnic in our 5th floor room and watch the 77th annual Academy Awards.  We discuss plans for our free day tomorrow.  It looks like we will visit the art museum on our last day in the USA.  (Most of our group will head to Ukraine, but 11 of us will travel on Tuesday – the free day is a real blessing after the last few hectic weeks juggling houseguests and preparations for the move…)
 

Saturday, 26 February 2005
Let the staging begin: Group 28 convenes… 
Friday night ended on Saturday morning actually!
K&B picked us up at the airport and whisked us to our hotel where we checked in (no reservation so some confusion, but it was resolved with a minimum of problems) and then off to dinner at a great Spanish tapa restaurant a short walk form our temporary home.  We relished a few tapas as we waited for a table and then, after two hours anticipating dinner, we dug into a decent paella and sipped some Crianza wine.  The restaurant was noisy and crowded yet somehow enjoyable.  The people at the next table interacted with us and even shared some tapas too.   The highlight of the evening was when the man at the next table kneeled down on one knee and proposed to his lovely date. 
We crawled into bed way too late for old folks like us.  I have stamina, but this past week has been demanding physically and mentally and we also have overindulged in food and spirits quite often.  Without Miss Zoë around, encouraging us to walk twice each day, we have neglected our exercise routine.  Time to take charge again.  
So, here it is, Saturday night is the Windy City. With day one of staging behind us, my spouse and I dined on a tasty Chicago original - pizza! We also sipped some smooth red wine and just relaxed over our meal. Now, outside the window of our hotel, I hear sirens and city traffic to remind me we are in the heartland of America, in a great city, for at least for a few more days. Knowing we are leaving colors the vision and makes us both a bit sentimental. It is good to live in the moment and enjoy the feelings. With so much to anticipate, it is good to take time to enjoy those simple daily pleasures.
Today staging began for our group and it proved to be an invigorating experience. This is a diverse group of warm, intelligent, clever individuals who will be serving together for the next 27 months. The days events focused on getting acquainted and becoming comfortable with the rest of the team. Everyone (about 40 folks) seems to have had an interesting life so far, but I suspect the upcoming PC experience will be life changing.
It was a stimulating day, but I am fatigued and ready to sleep. After weeks of getting ready to depart and enjoying all the last minute social activities associated with saying goodbye to friends and family, I am tired and need time alone to recharge. I imagine most of the Group 28 folks are out enjoying the city and getting acquainted. Many of them will be out late having a "last fling" before they head off to their first post overseas. I, on the other hand, elected to call it a night... The difference between having the PCT experience right out of college rather than after a full career I guess...
It has been great to put faces to the names I have seen over the past six weeks. I am eager to resume the staging exercise at tomorrow...so far so good!
FYI: I did bring a pair of jeans, but decided against the much-discussed sleeping bag. Mark packed about ten packages of coffee and the French Press...and yes, I am already missing my beloved dog, the lovely Miss Zoë...sigh...
<![if !vml]>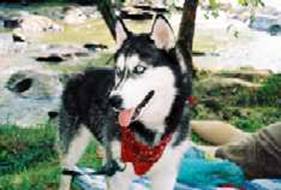 <![endif]>
Miss Zoë Mae
Off to the airport & a night in the Windy City…
Whew – finally a few moments of quiet.  Mark is plugged into his Ukrainian lessons.  I here him repeating the convoluted words and phrases under his breath.  It is good to have some time.  Sitting here in the terminal waiting to begin the first leg of our flying adventure and I am already feeling tired. 
Last night ended up ending far later than I anticipated, or maybe this morning just started sooner than usual, but I was not eager to get up when the NPR station came on with the news.  A hot shower works wonders, but it isn't magic.
We had a tight agenda, and managed to get everything done without any stress.  In fact we did the breakfast dishes together in our bright kitchen, I washed and Mark dried.  He remarked that it had been a long time since we did dishes together.  Usually we rely on the dishwasher.  There is something pleasant about the hot soapy water and the clean linen towel and the quiet conversation.   (I have happy memories of my youth washing and drying dishes and sweeping the kitchen floor after every meal.  Usually my brother or sisters were there too and often Mother lingered and enjoyed being with her children as we talked about the mundane activities of our day.)
It is good to stay in the moment.  This is not always easy, nor are we really schooled to simply let life unfold.  Our culture seems to expect us to always be goal oriented, always thinking of the future and planning, planning, planning.  Is it any wonder we have stress even among small children? 
Alternately, we spend time immersed in our memories.  This is more pleasant, usually, but, nonetheless, takes us away from the joyous here and now. 
So amid all the preparations for this big adventure we are embarking on, somehow we have managed (so far) to enjoy the processes.  I may be tired, but I am happy.
Hmmm, my battery is low (on the computer)…sigh…technology is a mystery at times.  A good reminder that humans are not omnipotent.  There are greater powers and for that I am grateful.
Thursday, 24 February 2005
What to take to Ukraine & more packing madness…
People meet you by the way you dress, and see you off by how smart you are.
Ukrainian Proverb
I find even routine packing rather stressful.  If I have any schizophrenic tendencies they come out when I try to organize my wardrobe to deploy!  I do like to travel light, but I also like to appear professionally dressed, poised and calm.  I despise having to waste time trying to decide what to wear and that challenge is compounded when additional variables are added – seasonal changes, dealing with another culture, following someone else's agenda all effect my choices.
Everything I have read says Ukrainians pay a lot of attention to their dress and appearance especially in a professional environment. My experience living in Spain has prepared me for what I believe I will find in Ukraine.   Women there were confident, attractive and proud to be women.  I always enjoyed their flair for dress and managed to master it to some degree.  I knew how to wear my short black skirt, dark stockings and black pumps so I could move from mundane daily activities to a night on the town by simply adding accessories and jackets or scarves.  I could "pass" and that pleased me.
After years of life in Europe and urban areas, it was quite a culture shock to me when I arrived here in rural SC.  I closet was filled with black and sophisticated and here I was in the heartland of floral church dresses and khaki Capri pants and flip flops.  With my dramatic waist-length hair and city clothes, I definitely did not fit in.  In fact I think some of the locals may have thought I was a witch! 
During my tenure as an ROTC instructor I wore uniforms for work and for supervising the many extra curricular activities our students participated in.  In uniform, my wardrobe was not an issue. 
When I finally took my sabbatical and ultimately hung up my Air Force blues for good, I jus lived in my dog-walking clothes and my combat boots.  The twice daily (2 miles each) walks got me toned and fit, but did nothing for my wardrobe sense.  Miss Zoë and I had fun rambling across the local countryside.  I chopped off my long brown locks and quit wearing makeup too.  Miss Zoë didn't care what I look like as long as I could keep up!
So now, as I am about to make a big change in lifestyle, my wardrobe is sadly in need of tender loving care (and cash) to bring it up to speed.  My growing-out, wild-woman hair is certainly not very professional. 
Frankly, I am glad to be going back to a place where woman appreciate being a woman and where I can enjoy the pleasures of caring for myself.  Choosing clothing, appealing shoes and wearing makeup and perfume are among the pleasure of life and I am glad to have the chance to once again enter the realm of the working woman. 
I think I will be doing lots of shopping once I arrive in Ukraine.  In the meantime, there is still some packing to finish…tomorrow we are off to staging!  
Wednesday, 23 February 2005
Sending Jim back to snow country…
Time for good-friend-Jim to return to the great state of Maine where snow has been flying.  Here in sunny SC, temperatures were in the high seventies.  The beautiful promise will seal the deal and lure Jim back to his house sitting job very soon.  After so many harsh northern winters that southern boy is ready to start a new life where snow plows and parkas are just props in a movie! 
We hugged farewell at the airport around and then did some last minute errands before returning home.  With only about 36 hours remaining here, we have many projects to wind up. 
Once home, I immediately ran a load of laundry and hung it on the old clothesline out back expecting the spring weather to penetrate everything and leave behind the scent of all outdoors.  Within thirty minutes the sky began to turn grey and threatening clouds are rolling in. I hear the thunder boomers now as I sit here tapping out these words.  Sigh….
 I guess we have to hang our damp clothes and bedding in the kitchen or else make a trip to the local laundromat.  (Our dryer crashed and burned a few weeks ago and I certainly am not investing in new appliance just when we are leaving the country!)
Tonight I plan to sort through my huge red trunk full of family photos.  The object is to select a variety of photos to take with us to Ukraine.  We will share them with our host family and the people e meet there.  This is one way to show Ukrainians what life is like in the USA.  Photos also help stem the tides of homesickness when we feel far from friends and family. 
There is nothing like a photo to stimulate memories of times together having fun and enjoying life.  I plan to enjoy this project, but I suspect editing my stack down to a reasonable amount will be a big challenge given my love of snapshots.  Every picture tells a story so this may take quite a while!
Tomorrow – the final packing, dinner with friends and the last night in our cozy mill house.
Tuesday, 22 February 2005
Caleb's birthday…
Life is given to us, we earn it by giving it.
Rabindranath Tagore
After several days of rain, the South Carolina sunshine is bright.  A springtime sky filled with huge white clouds provides a backdrop for the greenery unfolding below.  Daffodils dance in the gentle breeze. 
The party's over: packing up our stuff…
Today's agenda involves moving personal possessions into the storage area. 
The Open House and introducing the housesitter…
Mark carved up the turkey and Jim prepared a pork tenderloin while I scrambled around cleaning and arranging flowers.  I lit a fire in the hearth and sat down to wait for our guests to arrive. 
The open house marks our farewell to friends from the local community.  This past week we have attended several farewell functions, but today we are the hosts.  The afternoon went well.  A diverse group of people stopped by to say good bye and to meet our housesitter. 
I had forgotten how much fun it is to entertain
Saturday, 19 February 2005
Mark's birthday & Miss Zoë and Bubba go to the farm…
Mark is another year older and deeper in debt.  We celebrate with friends – dinner at a steakhouse. 
The day ends on a sad note since Miss Zoë and Mr. Bubba go home with Marty.  
With so many moves under my belt, it may seem that I would be a bit blasé about the whole matter of saying goodbye.  On the contrary, it seems to become more difficult with each experience. 
My two four-legged companions departed for their new home tonight. 
My heart aches.
Despite the pain, I am glad I opened my home and my heart to them.  They taught me so much about love and caring.  I am grateful to them for the gift of joy they brought to me.  I am also grateful to my good friend who is making a home for these precious creatures and who risks opening her own heart to them.
Love is a dangerous game and only the brave should play.
Mark is officially unemployed now!  That makes two of us!  So much to do before we leave for staging, but we are playing hooky today.  Jim is here for a week and we spend the time relaxing a bit.  As our housesitter, he has much to do to prepare for his move so we spend time getting details on cable TV, Internet requirements and other mundane tasks. 
Thursday, 17 February 2005
Nothing in the world is more valuable than every moment of your life.
Hazrat Inayat Khan
Gayan
Ben Franklin remarked that we should be aware of enterprises that require new clothing…one would think, going to a developing country that fashion would be low on the list of priorities.  As I pack for my Peace Corps assignment, I find myself frustrated by the wardrobe I have.  I am tempted to just shop when I arrive…
Wednesday, 16 February 2005
Roller coasters, mountains & the impending changing of the leash ceremony…
With little more than a week until time to depart for Peace Corps staging and then on to our post in Ukraine.  I feel like I am in one of those long lines at a large amusement park: the huge shiny roller coaster at the head of the line calls to me, and I am eager to be strapped in so my much anticipated ride-of- a-lifetime can begin. 
I am sure there will be anxiety and some second-thoughts as the pragmatic side of my brain kicks in and tries to conquer my essential self…not a good activity when you are confined to a seat on a roller coaster.  I do know that the fun part really begins when you crest the hill so I will silence those negative voices and focus on what s ahead.  (Better than listening to the creaking and moaning of the equipment or the fears and complaints voiced by others who are experiencing some shell shock!) 
This scary stage (which has yet to begin) is something I have been through in various forms.  Almost all big decisions demand some kind of commitment and that means turning over my own sense of control and power (an illusion at best anyway!) to someone else.  It means testing my faith.  I have felt those doubts when I was standing in the wings before a theater production (yes, imagine that: me afraid I will be speechless!).  I have also felt serious qualms at the start of my Air Force basic training "adventure" (more commonly known as "boot camp"!)  Did I feel this way as I stood at the back of the Methodist church back in my small hometown when I was about to pledge my troth to my beloved high school sweetheart?  Hmmmm, probably. 
Well just now, I am still just in line for the big ride, but as my palms sweat a little bit, I am reminded that the fight-or-flight adrenalin one of my grade school teachers taught me about will kick in. 
Some people jump out of airplanes.  8-)
I feel good about this decision.  I feel excited about it.  I am calm.  These are not just affirmations, they are the facts.
Martha Beck writes (in "Finding Your Own North Star") that at some point when making this kind of transition one will feel like they are "…standing at sea level staring up at Everest."  This is a good word picture.  There is much work ahead (like learning to read the challenging Cyrillic alphabet and getting my mouth and mind around the multi-syllabic words - just two small examples that quickly come to mind!)  It will take considerable work and energy to forge ahead on this journey!  Later Ms Beck writes "…fear of failure is likely to be overwhelming."  I am sure the attrition rate for Peace Corps Volunteers is very high at every stage of the process.  I try to imagine what it would be like to back out.  To me the repercussions to my self image would be so bad that I would not do it!
The "Changing of the Leash" ceremony will be one of the low points in this life change.  Miss Zoë Mae will leave our cozy home where she has nurtured me through many days and where I have nursed her through her heartworm challenges.  We are good friends.  My god friend will find herself enjoying a new life on a lovely farm with wonderful, warm companions and caretakers.  Mr. Bubba will also start a new life on the farm as a privileged housecat.  It would be easy to wax morose on this, but I have re-framed my attitude: Zoë and the Big Orange Guy (BOG) will bless their caretakers at the farm.  That may be their purpose as their lives evolve and grow.
I imagine someone reading some of my recent posts may think I am getting nervous or having regrets.  No, I am simply pondering how people live their lives and how they make their choices. 
Life has a way of pushing us and prodding us to move forward.  Sometimes people dig in their heels and rebel or become mournful and sad as they leave behind an earlier lifestyle to adopt a new one.  There are adventures and opportunities that come with moving forward.  The energy people use to fight these prompting for change could be better used as momentum for the inevitable changes they must deal with in life. 
I am reminded of the protagonist in "It's a Wonderful Life" – he so wants to travel, but Life keeps finding other uses for him.  In the end, he has blessed his community and family in so many ways.  In the end, he is happy.   We cannot know why we are impelled (compelled) to do the things we do.
I feel a quiet joy about the future.  I feel deep gratitude too. 
Sometimes the hard-headed, rule-bound, cautious, practical side can make quite a ruckus – it is hard to hear the still, small voice within that guides me to who I really am and to make the choices that are right for me. 
More later no doubt… 
Tuesday, 15 February 2005
2 ½ years without driving or wearing jeans…
If I do not pack my jeans, it will be 2 ½ years before I see them again…  Whatever I do not pack in my 100 pounds of baggage will be left behind and will not be part of my life for at least 2 ½ years. 
I will not drive for 2 ½ years.  That seems strange in this day and age when cars are such an integral part of life in America.  But of course, I will not be in America.  I will be in Ukraine.  In two weeks I will be jet-lagging my way into Ukraine with all the Peace Corps volunteers in Group 28. 
I wonder how many folks will fail to show up at staging.  What is the attrition rate?  I wonder what percentage of our group will fail to complete the initial training. 
I shared the rambling above with members of the PC newsgroup and someone asked me: "Why no jeans in Ukraine?"
While jeans are comfy and warm, 1.) they take forever to dry on a clothesline and 2.) are a challenge to hand wash. 3.) They also weigh a lot and 4.) are bulky for packing. 5.) Probably will soon be too small after I start eating all the rich, high cholesterol foods over there. 6.) Jeans actually are not warm especially when they get wet, ie: snow melts on them...been there, done that...bad memories of a tobogganing weekend! And then there is 7.) the issue of what is "age appropriate" for a babushka (grandma) in Ukraine (I am culturally sensitive, but I am a fit, slender size 6 gramma)
My spouse says bring 'em as my "comfort" item...we shall see what gets to go to Ukraine and what ends up in storage.
It is good to travel light...
I wonder what some of the RPCV took along as "comfort" items.
We will be dragging our bags to staging just one week from Friday.
<![if !vml]>

<![endif]>
Monday, 14 February 2005

–

VALENTINE'S DAY!

 

  
I am getting "short" as old military types say! A week from Friday...whoooo hoooo!
I came home from morning dogwalk yesterday making up silly lyrics for a "Got the Going in the Peace Corps Blues"…lots of fun material pinging around in my head.  Miss Zoë (my Siberian Snow Princess) seemed to enjoy my attempts at wailing the blues, though I did get some strange looks from people who were out and about on this rainy morning.     
In just a few more days,
Na na na na,
We'll be boardin' the plane,
Na na na na,
The big silver bird that will take us to Ukraine.
I got the Peace Corps Blues and all this packing is about to drive me insane.
Tryin' to learn the language,
Na na na na,
But I ain't got no clue,
Nan nan na na,
Can't even pronounce my own name,
Oh what am I gonna do?
I got the Peace Corps Blues and now I'm headed for Ukraine.
Got Ukraine on my brain,
Na na na na,…
…Ad nauseum…
I shoulda penned 'em down then, cuz they were pretty good, now they are a bit forced..I had foolish verses for finding snow boots in the South when daffodils are in bloom and, of course, there is a coffee verse about instant coffee driving me to drink vodka…OK, the whole thing is much better when you hear it performed!  8-)  (Especially if a real singer with instruments performed it!)
Just sharing some foolishness on a grey day...
I guess I should be thinking about Valentine's Day.  I did hide a few notes to my husband to brighten his day.  Tonight Mark and I will have the traditional Valentine's martini – a chocolate one with a Hershey's kiss in the bottom.  No big plans…
This afternoon the staff and faculty at the school are having a "drop in" (or is it a "drop by"?) to say goodbye to Mark (and me). 
Pulvers Make Local Headlines!
Today when we went to the grocery store, the newspaper rack had our faces smiling out at the world.  The local paper did a lengthy article about our impending Peace Corps adventure.  It must be a really slow day because we got the headline spot and the photo is huge to. 
Just last week the headline was about a cat stuck on top of a pole for three days.  We had been making fun of that headline, but now we are as newsworthy as that feline!
It's a small, southern town.
More Ukrainia & Houseguests arriving…
The Internet provides so many wonderful windows to the world.  I am reading more and more about Ukraine.  Among the places I want to visit in Ukraine is on the Sea of Azov where in 1698, Peter the Great founded Taganrog, a modest seaport and industrial town. I have read that the center of the city is free of large scale Soviet style buildings so there are some wonderful old buildings to see. But what draws my interest is that Taganrog is the birthplace of Chekov.
There is a museum there where even those not knowing any Russian can get insight into the turbulent history of Taganrog and the surrounding area. A statue of Peter the Great overlooks the port and there is a sobering monument to two resistance fighters executed during the Nazi occupation. Of course it is Chekhov's birthplace I am interested in and it is said to e charming.  I also read about the Old Market, which is a decaying but beautiful building. 
I have this city on my places to visit list!
OK, I am not a lady of leisure.  I must stop journaling and make a break to do tasks that are undone.  There is cleaning to do…
We have houseguests arriving today.  I wish they had been here when our house was more of a home.  It is stripped down as we prepare for our move to Ukraine.  Without our favorite things around, defects are more obvious.  The need for paint in the dingy hallway, the ceiling in the bathroom needs attention, the unfinished details on a couple construction projects, etc. 
One of the most difficult things for me is to see my home through other people's eyes.  I become very critical of my surroundings when I know people outside my own little circle will be visiting.  Things I find charming and sweet become tacky or makeshift.  My own eyes are kind and I always see the promise in a room.  Of course others may not be as observant or critical as I anticipate, but I always feel as if they will be and that heavy feeling puts a tinge on otherwise happy occasions. 
I do like to entertain, be the hostess, set the table, sit by the fire and listen as the stories unwind.  At times during our lives, our home has been a hub for people to relax and feel at home.  We were the family for many people during our years in Spain. 
In any case, today I have guests arriving and my mind is on packing and preparations, wishing I had more time to study the language CD before we arrive in Ukraine, etc.  I will, however relax and enjoy the weekend, once our guests arrive and sit down. 
On Monday I will do double-time packing, sorting, cleaning.  On Thursday "Jim Houseitter" arrives and we will help him set up his affairs here in our little SC community.  We have an open-house to organize too – a last farewell the Sunday before we leave.  We head north to staging and then to Ukraine the weekend after Jim leaves…only 14 days to go (Two weeks from today, we will be at staging!).
Thursday, 10 February 2005
21 Uses for Vodka & Remembering Winters in my Iowa Youth…
One of my thoughtful family members shared these helpful hints (see below) with me since we are going to Ukraine and most certainly will have access to vodka!  8-)
1. To remove a bandage painlessly, saturate the bandage
with vodka. The solvent dissolves the adhesive.
2. To clean the caulking around bathtubs and showers,
fill a trigger-spray bottle with vodka, spray the caulking,
let sit 5 minutes and wash clean. The alcohol in the vodka
kills mold and mildew.
3. To clean your eyeglasses, simply wipe the lenses with a
soft, clean cloth dampened with vodka. The alcohol in the
vodka cleans the glass and kills germs.
4. Prolong the life of razors by filling a cup with vodka and
letting your safety razor blade soak in the alcohol after
shaving. The vodka disinfects the blade and prevents rusting.
5. Spray vodka on vomit stains, scrub with a brush,
then blot dry.
6. Using a cotton ball, apply vodka to your face as an
astringent to cleanse the skin and tighten pores.
7. Add a splash of vodka to a 12-ounce bottle of shampoo.
The alcohol cleanses the scalp, removes toxins from hair
and stimulates the growth of healthy hair.
8. Fill a 16-ounce trigger-spray bottle and spray
bees or wasps to kill them.
9. Pour 1/2 cup vodka and 1/2 cup water in a freezer bag
and freeze for a slushy, reusable ice pack for aches,
pain or black eyes...
10. Fill a clean, empty jar with freshly packed lavender
flowers. Fill the jar with vodka, seal the lid tightly, and
set it in the sun for 3 days. Strain liquid, then apply the
tincture to aches and pains.
11. Make your own mouthwash by mixing 9 tablespoons
powered cinnamon with 1 cup vodka. Seal in an airtight
container for 2 weeks. Strain through a coffee filter. Mix
with warm water and rinse your mouth. (DON'T SWALLOW!)
12. Using a cotton swab, apply vodka to a cold sore to
help it dry out.
13. If blister opens, pour vodka over the raw skin as a
local anesthetic that also disinfects the exposed dermis.
14. To treat dandruff, mix 1 cup vodka with 2 teaspoons
crushed rosemary. Let sit 2 days, strain through a coffee
filter, massage into your scalp and dry.
15. To treat an earache, put a few drops of vodka in your
ear. Let sit for a few minutes, then drain. Vodka will kill
the bacteria causing pain in your ear.
16. To relieve a fever, use a washcloth to rub vodka
on your chest and back as a liniment.
17. To cure foot odor, wash your feet with vodka.
18. Vodka will disinfect and alleviate a jellyfish sting.
19. Pour vodka over an area affected with poison ivy to
remove the urushiol oil from your skin.
20. Swish a shot of vodka over an aching tooth. Allow your
gums to absorb some of the alcohol to numb the pain.
And, my personal favorite...
21. If all else fails, just turn the bottle upside-down
and drink it. Then nothing else will matter anyway!
In just two weeks we will be spending our last night here in our cozy home and then we head north for staging...I STILL have to order snow/cold weather boots...I think I waited to late to start looking since the closeout sales seem to have be over now.  I have been all over the Internet looking for size 9 1/2 boots for professional wear....I may end up with a pair of mukluks - warn, dry and very ugly! 
Today the weather here is bright, breezy and brisk.  I met several people out walking.  That is a bit unusual in this neighborhood where people are very sedentary and only venture out behind the wheel of a car.  The temperature read 41 when I walked out the door so I strode along at a fast clip wearing only my field jacket over my tee shirt and jeans.  I turned up the collar and donned gloves, but the other walkers I met were wrapped in scarves and wore stocking caps or hoods.  The cool air makes my blood pump and gives me energy.  During summer months here, I am lethargic and find myself complaining about humidity and heat (and bugs that come along with that climate).  No, I prefer the cooler climes…
As I walked I found myself remembering the daily walk to and from school back when I was a girl on the Iowa plains.  When I was my grand daughter's age (7), we used to pull on a pair of slacks (not jeans) under our dresses before we headed off for school each morning.  Once there, despite the sub-zero temperatures outside, we had to remove the slacks.  Girls did NOT wear trousers to school in those days.
Of course when we walked out the door to go to school or make the trip home, we were bundled up in coats, scarves, caps, mittens and tall boots too.  In that era, we still wore wool so I recall the distinct smells of wet wool.  Wool scarves wrapped around our faces each morning, we would arrive at school with ice forming on the scarf where our warm breath made the wool damp. 
Removing and storing our gear was quite an effort.  Teachers usually were drafted into the project since those rubber boots were hard to remove without someone tugging and pulling at the heels.  Of course there were always stuck zippers to deal with too.
This scenario played out several times each day: arrival, recess, lunch walk home, afternoon recess and finally after the final bell.
A conversation with my eldest sister indeed me that in those days students were expected to walk home to eat lunch with family.  The school lunch program was for farm students (the only students who arrived in a vehicle of any kind).  That changed over the years.  By the time I was in high school, the concept of a closed campus was becoming popular and most students remained at school during the lunch period.
High school…I walked several blocks and during that Vietnam War, Woodstock era, I made my daily treks wearing short, short skirts that left my long legs exposed to the wintry winds.  My coat, designed as a car coat, barely skimmed my hips and many of my skirts were only an inch or two longer than that coat, much to my father's chagrin.  (He tried to discourage me from wearing such short skirts by remarking quite often that cheerleaders have fat legs because they wore their short skirts in frigid weather and built up fat deposits there.) 
Now as I prepare for our adventures in Ukraine I find myself trying to remember what kind of footwear I wore during those years when I slogged through ice and snow on a daily basis.  In my adult life, my experiences in cold weather are related to working on the flight line in northern Michigan where snow and cold really are facts of life.  There, however, my winter garb was issued to me by the Air Force and I kept warm and cozy in my parka and mukluks.
Now as a professional in a business environment I face a challenge to be warm and appropriately dressed as I walk from my home to work.  I also must keep in mind the weight allowance we are allowed. 
These things are on my mind as I begin another day in my countdown till we leave…
We are interviewed by the local paper…
Perhaps travel cannot prevent bigotry,
but by demonstrating that all peoples cry, laugh, eat, worry and die, it
can introduce the idea that if we try and understand each other, we may even become friends.
<![if !supportLineBreakNewLine]>
<![endif]>
- Maya Angelou
Today we meet with the reporter from the local paper.  He will spend an hour or so asking us questions and take the inevitable staged photograph and then head back to his desk to write a story that may or may not reflect what either of us finds important to share about our impending Peace Corps adventure.
In this community, many people serve church missions.  Usually they go in large groups and venture off to some location for two weeks.  They return home and heave a sigh of relief because they are so blessed to live in this community where family and friends have lived for years and years.  In that context, joining the Peace Corps is no big deal, despite the fact we will be gone for 27 months. 
Why did we apply to the Peace Corps?  Why do we want to serve?
Part of me wants to answer, "simply because we can!"
This idea of joining the Peace Corps has been a small seed buried deep in the soil that is my soul, just waiting for conditions to be right. 
I had almost forgotten the seed was there.
Caleb's death three years ago in February was the culmination of a series of catalytic events that involved transitions, shock and loss.  (our trip to Malawi, 911, my impending sabbatical, etc)  The grief work that followed lead to a rebirth of spirit.  It is as though a window opened and I could see the bright sky and breathe fresh air and I wanted to open the door and walk outside into the sunshine to be part of life.  I had forgotten what that feels like – much like the first warm day in spring after a long, hard winter.  I remember what it is like to awaken to the sounds of icicle stalactites melting and crows cawing to one another and the smells of damp earth.  It all promises spring and joy and life. 
So the seed that was buried inside began to grow and push toward the surface.  I shared my thoughts about Peace Corps with friends, though never really committing to the idea, simply remarking about the opportunities.  I tested the water a bit and then realized one day, it does not matter if the waters are icy cold, I need to just plunge in and swim.  It does not matter what others think or say, I must take care of myself and that brave seed growing inside. 
So the application process began.  That was last year and now my husband and I are about to embark on this new adventure together.
The timing could not be better (though my husband would like to have waited till June) because we are at a transitional stage in our lives.  We are ready to move forward, to move on.  We are free of many encumbrances.  We are not willing to be complacent or simply satisfied with the status quo.  We want to see more, be more, and have new challenges.
Someday, when we are very, very old, we will remember our adventures together and argue about what happened when and where, but we will not be wondering what might have been! 
I am sure this is not the message that will appear in the local paper….
Baskin-Robbins in Kyiv!
Kyiv has gone on a building binge, constructing several underground shopping centers in the city's center. The biggest - and newest - is on Khreshchatyk Street just across from Bessarabsky Market, and contains more than 100 shops, including Kyiv's first Baskin-Robbins ice cream shop and a disco.Another yet-to-be-completed underground mall is located at Independance Square (Maidan Nezalezhnosti). The newly-built square is the centerpiece of downtown Kyiv, and features "Glory to Ukraine," a controversial 40-meter-high statue completed for the nation's 10th anniversary of independance Aug. 24.   Scott Lewis, Ukraine (Mar 02)  (Lonely Planet Postcard site)
Well isn't that nice to know! 
It is funny what you miss when you are far from things familiar!  I craved root beer floats when I was in Spain and found out they were available at a local establishment in Madrid.  When I got homesick for the USA, that quenched my thirst. 
 Yesterday, I stood for a few minutes in front of the peanut butter section at the local Wynn-Dixie (grocery store) and wondered if I would miss it.  I realized I probably have not eaten any peanut butter in several years so it is unlikely I will miss it in the next two years.  Of course when something is unavailable, the desirability quotient raises! 
Oh yeah – I heard there is a Target store somewhere in Ukraine…nice to know and it may be a destination someday as we travel around our new homeland.  (Flashbacks to the Woolworth's Store that used to be in Madrid!)
Thursday, 3 February 2005
Ukrainian customs, gifts & so forth…
We are thinking about the gifts we want to bring with us.  It is appropriate to bring a hostess gift when we arrive at our host family's home.  I wish we knew ahead of time a little about the family, it would make this project easier.  The constraints of wieght allownances, money and different cultures add to the challenge. 
Everthing I have read about th Ukrainian people indicates thay are generous, hospitable people. One blogger suggests taking a bottle of wine or vodka, a cake, a box of chocolates or a bouquet of flowers as gifts when we visit a home.  He also says that if there is a child in the house, it is appropriate to bring a gift for them as well.
As in many cultures, there are rules about flowers too.  The general rule in Ukraine is to make sure that the number of flowers in a bouquet is uneven (an even number of flowers is considered bad luck and for funerals).
A bottle of scotch is a suitable gift for a man.  It is difficult to get in Ukraine and it is expensive. For females, things such as tea towels with images of your location on them, local calendars, local produce like cookies, fudge, jam/preserves.  Many PCV recommend bringing a good potato peeler for the woman of the house.  Tee shirts and soccer balls are popular gifts for children and of course chocolates!  We are reminded not to spend too much money on gifts, because our Ukrainian hosts will often feel that they must also give you a gift in return (the average wage is about $50 per month).
Once we arrive at the dorway, gifts in hand, it is important to know that one should never shake hands across the threshold.  It is bad luck.  And never shake hands with gloves on – remove the glove first. 
Upon entering the home, remove shoes.  Many hosts will provide slippers for guests, but it is wise to carry a pair with you. 
We are advised to be prepared to give a toast at dinner, as guests are often asked to do so.  Toasting is done with vodka and toasting requires a full glass and participation is mandatory. Dining affers another challenge: we should accept all food and drink offered because refusing food may be considered rude.  (This will be "fun" since Mark has diabetes and I have high chloresterol…sigh….)
When making conversation, be careful with compliments because hosts may offer you items you admire.
I have learned that it is considered a very rude gesture to place one's thumb between the first and second fingers.   (How rude is it?  I do not know.  Ask me in a couple years!)  I have also read that whistling indoors is bad luck.  It sends money out of the house and I certainly would not want to do that!  (I am a whistler and sometimes do not realze that I am whistling.)
That is the culture lesson for the day.  I am now going to work for a while on the language lessons.
Wednesday, 2 February 2005
Learning Ukrainian, School Presentations & Impending Alzheimer's…
It occurred to me yesterday as I reviewed my Peace Corps pre-service training language lessons, that learning Ukrainian and the associated Cyrillic alphabet is a wonderfully proactive activity for those of us who are fighting off the approach of impending senility and/or the threat of Alzheimer's disease.  Just imagine if they taught classes in old folks homes and then changed all the signs and written materials so the residents would have to put the newfound knowledge to use.  Far mire challenging than the crossword puzzles recommended by some therapists and counselors.  8-)
The groundhog will not see his/her shadow here in Greenwood on this Groundhog's Day.  The sky is grey and promises snow.  Since we moved to SC, my oldest sister manages to visit us each year enroute or on her return home trip from her annual Windjammer's Circus Band Convention in the panhandle of Fl.  It seems to be a tradition that she brings snow and cold weather with her.  She has managed to be snowed in here in SC where snow really is uncommon.  It appears the tradition will continue with her arrival this year.  I expect her to be here around .
We will have lots to talk about.  She will have her circus band adventures to share and of course I have all my exciting talk about our Peace Corps assignment…only 23 days till we depart for staging in Chicago!
Yesterday I was able to vent some of my enthusiasm and excitement since I was the guest speaker for Miss Love's 3 history classes.  The students were very responsive and asked good questions.  They also seemed a bit more sophisticated than some of the student groups I have spoken too (I have made many high school  presentations the past two years on behalf of CALEB Library Project).  I used several excerpts from the CD our country director and the training staff provided us. It was fun to play the Ukrainian Hip Hop selections and watch the students smile and puzzle over the complex language they heard.  We wondered if the lyrics might be as racy as those found in American versions of Hip Hop. 
Another fun activity involved trying to decipher words written in the Cyrillic alphabet. 
After 4 ½ hours of standing in front of students spilling out my rapid-fire, humor filled presentations and sipping coffee, I was even more stimulated about the subject.  I have a genuine enthusiasm for learning bout other cultures and histories…I had a delightful day sharing with the students and I am certain I challenged many of them to consider how they want to lead their lives.  I look forward to being able to actually share the experience of living in Ukraine with people.  For this presentation, I was able to extrapolate from my experiences traveling in Malawi and living in Spain (like Ukraine, these countries were experiencing a dramatic change in government while we were there…)
The students I spoke to will be involved in collecting and mailing books to CALEB Library Project in Malawi later this year.  It will be part of a service project.
A letter from Mawingo arrived yesterday.  He spoke of planting 4-500 tree seedlings each day.  His orchard is tall and he has planted more coffee trees.  He has also planted grass under the trees.  When we visited in 2001, much of the area was still barren.   He spoke of perhaps selling the mill and he truck too.  Without the mill, the truck would jus be a luxury (and an expense – repairs are frequent).  He can no longer see out of his left eye and can no longer drive.