<![if !supportLists]>· <![endif]>Wednesday, 31 December 2008 – New Years Eve
We played "Facts in Five" and snacked on delightful cheeses and sausages as we waited for midnight to arrive.
The real celebration will be the parade on New Years Day – we have to be up by 5AM to arrive at the parade site.
We stay up till midnight and watch reruns of Dick Clark (at 80, his unlined face is almost scary…) bringing in the New Year on the east coast.  We watch the TV and the webcam broadcast online.
The old year departs quietly…
The New Year holds promise of new beginnings…where will we be next New Year's Eve?  Ne jobs, new digs…we shall see…
<![if !supportLists]>· <![endif]>Monday, 29 December 2008
We were up at o-dark thirty to head off for the 30 minute drive to the Donate Life float building site in Pasadena.  At 7AM, we were the first to arrive. 
Southern California mornings are cold.  We were well prepared – we wore multiple layers of clothes and sipped hot coffee.  We stood around stamping our feet and waiting for our designated shift to begin.
The warehouse, adjacent to the Rosebowl stadium, housed about a dozen Rosebowl floats – works in progress.  The agency responsible for coordinating float building activities did a fine job of organizing and managing all the processes involved. 
By 8AM, Mark was in place high above the floor, horizontal on a beam, doing the tedious work of placing flowers on the upper areas of the float.  I was on the floor, seated at a table with a dozen other people who worked on preparing the flowers. 
We worked steadily throughout the day and made friends with a wide variety of people who were connected in one way or another with the organ donor family.  Two women I worked with hade received two kidneys another was a heart recipient.  We both heard some amazing, motivational tales from recipients of various organs.  There were about 75 volunteers working on the organ donor float during our shift.
While we worked, crowds of tourists were guided through the area to observe the processes.  Many watched from catwalks near the ceiling.  The media and many dignitaries, including the parade royalty and many government officials, toured on the main floor.  The atmosphere in the warehouse was one of controlled chaos!
On breaks we went out into the warm California sun and simply observed.  The organ donor float had hundreds of families dedicating roses to family members who had died.  Watching them place the flower and turn to be photographed was quite moving…
At 4PM, we called it a day and headed back to Claremont.
<![if !supportLists]>· <![endif]>Saturday, 27 December 2008
We depart from our home at 3AM.
We spend the whole day en-route to sunny southern California.    Storms have left black ice and single-lane traffic as we cross New Mexico and Arizona.  (Funny how people do not think of snow and cold in these two states – but snow and cold are typical in the northern areas).  Winding up and down mountains is not my idea of fun.  I distract myself with my knitting and I read aloud.  Outside, snow flies.  I keep my attention inside the car.
In the back seat, Zia Maria stretches out.  She is a quiet passenger.  At each gas or food stop, I brave the biting winds and cold temperatures to hike around the area with the dog.
The worst part of the trip is the final approach.  The long descent into Los Angeles makes me very uncomfortable.  The yellow signs that inform us of the grade always depict a truck at a dangerous angle.  There are dire warnings that refer to runaway trucks – brake failure is not a topic I take lightly. 
Traffic is heavy, yet they move quickly, dogging, weaving confidently through the other vehicles.  I focus on my breathing.  I pray – affirmations of Truth.  I am grateful when we finally arrive.
We arrive in time for dinner. 
<![if !supportLists]>· <![endif]>Friday, 26 December 2008
Snowstorms have hovered around the area for weeks.  We leave on our trip very early tomorrow, so the weather is a matter of concern.  But, when it came time to collect the rental car, our concerns quickly shifted from weather to simply getting a vehicle.  It seems that the local Hertz dealer (and the ones in Albuquerque) has NO cars available.  Despite our reservation, there is NO car for us to pick-up.
Bad weather across the nation has left the local Hertz dealer short about 300 vehicles. 
The stress level escalates quickly.  Mark gets on the phone.
Success!  He finds that Budget will honor our Hertz reservation.  And interestingly enough, the final cost on the rental is far, far less than what Hertz would have charged us. 
We happily collect our cute, little, red, economy car and go merrily on our way. 
<![if !supportLists]>· <![endif]>Thursday, 25 December 2008
<![if !vml]>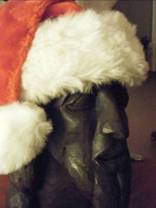 <![endif]>Christmas Day we relax at home enjoying a lazy day. 
We sit under the Christmas tree and breakfast on hot croissants.  We linger as we open modest gifts.
We stop and examine everything.  We read aloud the directions, play with the "toys", discuss the gifts and then reluctantly move on to the next gift-wrapped surprise. 
Later, we cook and talk as we put together a jigsaw puzzle.  A friend arrives and joins us for this quiet, happy day.  We snack on rich, sugary Christmas goodies – wreath cookies that turn the tongue green, chocolate fudge that adds pound just from looking at it, home-made, rich, frothy eggnog.  Three big, happy dogs circle the kitchen, begging and just being dogs.  We talk on the phone to many friends and family.  It is a long, lazy, happy day, punctuated with too much sugar.
Saturday, we leave for California – the long drive will consume the day.  But today we simply enjoy a simple holiday at home.
<![if !supportLists]>· <![endif]>Wednesday, 24 December 2008 – Christmas Eve
What is Christmas Without Children? 
Wonderful memories of holidays past – this photo (below) of Mark and his sister Pam sum it all up for me. 
"…Yes, Virginia, there is a Santa Claus..."
<![if !vml]>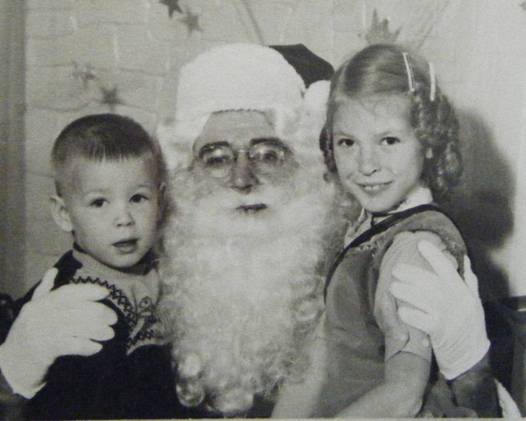 <![endif]>
May all your Christmases be bright!
<![if !supportLists]>· <![endif]>Tuesday, 23 December 2008
The guest-dog (Plutarch is his name) is outside lying in a deep bank of snow.  My own canine (Miss Zia) prefers to stay cozy indoors.
There is about a foot of snow on the ground and more falling at a fast clip.  The world is like a snow-globe being shaken violently by a small child. 
The boughs on the trees are aching and bent, almost touching the ground.
In the tallest tree, a collective of robins has gathered and despite the cold and snow, there are birds arriving to take advantage of the running water that flows into the koi pond.
In winter it is water that birds most need.  This yard is a haven for them.
I place a few pans of warm water outside the door and the robins arrive to splash and bathe.  They wait their turn.  They are courtly and fastidious.
It is a joy for me.
<![if !supportLists]>· <![endif]>Monday, 22 December 2008
We walk the dogs under the moonlight and in the midst of a snowstorm.
We revel in the beauty of the night and the antics of the dogs.
The dogs tunnel through the snow with their snoots.  They take big bites of snow. 
Then, without warning, they leap like stags – suddenly and with abandon.
We laugh.
Life is a pleasure.  And hot cocoa awaits!
<![if !supportLists]>· <![endif]>Sunday, 21 December 2008
I make a Russian Vegetable Pie – it smells wonderful.  The cabbage and onions and the spices meld into an irresistible invitation to feast.  The surprise of cream cheese and egg medallions that are the hidden treasure in this dish are a delight to the palette.
<![if !vml]>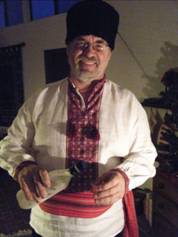 <![endif]>But no, we cannot even have a taste of this pie.  It is for a party – a holiday open house for returned Peace Corps Volunteers.
<![if !vml]>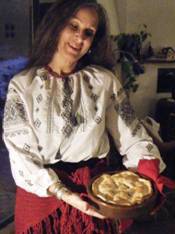 <![endif]>
As the pie bakes, I distract myself with finding my Ukrainian shirt. 
Mark joins in and soon we have on our peasanty costumes.  Though it is not a costume party, we decide to wear our Ukrainian attire anyway.
We take along some salo and vodka – typical Ukrainian party fare.
<![if !supportLists]>· <![endif]>Friday, 19 December 2008
I Cannot Seem to Write
I seem unable to free myself from the keyboard.  I seldom write anymore.  I just surf.
I still have yet to put pen to paper to prepare holiday cards and letters.
I have nothing to say. 
I am simply a sponge, a vessel.
Where did that joy go?  Will it return?
<![if !supportLists]>· <![endif]>Thursday, 18 December 2008
Booked 'em!
Outdoors, the weather is wicked.  It is as inconsistent and changeable as a moody 6-year old.
Indoors, the fireplace burns, the radio spills out comforting sounds and the dog rests on my feet under the desk.  I while away the day comparison shopping online.
My goal: to purchase airline tickets for my impending pilgrimage trip to Spain.
My criteria: spend less than $1,100.
Day is done and mission accomplished! 
In the end I saved $250 – not bad for a day of surfing the Internet.
So the journey takes on a shape.  With seats reserved and the calendar marked, my excitement mounts.
Soon I will be counting down the days.
<![if !supportLists]>· <![endif]>Wednesday, 17 December 2008
"Oh my", she exclaims, her breath smoking the windowpane,
"it's fruitcake weather!"
<![if !supportLists]>- <![endif]>A Christmas Memory, 1956, Truman Capote
I love fruitcake.  Any kind of fruitcake. 
In my opinion, there is no bad fruitcake.
I won't make my own simply because I respect Mark.  He resists so many holiday temptations so I try to spare him, by not having it in the house.
Truman Capote's book is a good holiday read. 
I will settle into a comfortable chair and vicariously enjoy the fruitcakes so lovingly prepared by the people in this book.
Fruitcake weather is also reading weather.
<![if !supportLists]>· <![endif]>Sunday, 14 December 2008
Scene from the Posada
The crowd gathered around Joseph, Mary and Baby Jesus and joined in the caroling.  The candles, luminarias and farolitos flicker and add warmth on the bitterly cold night.  People sip hat cocoa and cider and seem happy.
It is a lovely tradition.
As the crowds begin to disperse, a small child breaks away from her keeper.  In moments the little girl is reaching out to take the swaddling off the Baby Jesus.  Her dark eyes sparkle.  People stop and watch. 
It is a lovely moment.
<![if !supportLists]>· <![endif]>Friday, 12 December 2008 (Full Moon)
<![if !vml]>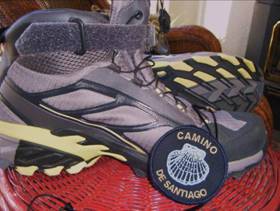 <![endif]>My High-Tech Hiking Boots Arrived – Camino, Here I Come!
<![if !supportLists]>· <![endif]>Thursday, 11 December 2008
Climbing the steep stairs to the dark, dusty, humid attic in the big yellow house on Eighth Street was always an adventure of discovery for me.  On this occasion long ago, my mother, who seemed to rarely leave the kitchen and dining room, was with me on the expedition.. 
I don't remember the purpose visit of that visit, but I do remember the gift I came away with.  Two gifts really; one tangible, one a gift of wisdom.
Among the dusty treasure among the steamer trunks, old luggage, retired items and ephemera (including a huge paper napkin collection), was an old framed print.  As a child, I would gaze at the waterfall and the placid lake, framed by a majestic, snow-covered mountain and a forest of conifers.  A few deer added grace notes to the scene.  No where in my Iowa childhood had I seen a place like this.
I went straight to the neglected picture, dusted it off and stared at the scene, as engaged now as I ever had been. 
"Virginia," Mother said, wiping a bit of cobweb and sweat from her forehead, "You may take that picture home with you, on one condition."   She paused as I turned my gaze toward her.
"You must promise to hang it on the wall."
I quickly made that promise and in the decade since that day, I have kept that promise with joy.
Today, I unpacked that picture.  It was buried in the myriad boxes Mark brought with him from his recent trip to SC.  During our Peace Corps tenure, the picture was lovingly stored away.
What a pleasure to see the picture and to think of my wonderful mother.  Though I live among the snow topped mountains and have travelled to so many beautiful places since my girlhood days in Iowa, the picture still conjures up a special magic for me.
The gift of the picture is one of the treasures my mother shared that day.  What was the second gift, the bit of wisdom I cherish from that encounter?
<![if !vml]>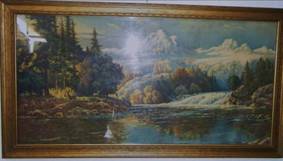 <![endif]>
It is very simple, but often overlooked: if you are blessed with something you love, hang it up, use it, take joy in it…or pass it along to someone who will.
My word (and attitude) for the upcoming year is this: EDIT.  I want to edit my life and possessions so they reflect beauty, joy, order and grace. 
(NOTE: We are house-sitting here in this cozy, hippie-dome-home, but we are do not look like "transients" – in fact we almost look as if we had lived here for decades!)
<![if !supportLists]>· <![endif]>Wednesday, 10 December 2008
Inconclusive Grappling with the Illusion (Delusion) of Control…
The chilly morning dogwalk found me pondering about fear and bitterness.  I imagine the seed for these thoughts was planted by one of the blogs I follow, but my thoughts continue to circle around the topic.  I mentally poke at it with a stick and see what it does.
The choices people make and the way they live their lives seems dominated by fear.
Even their simple choices.
Living with fear as a constant companion is like living in a prison (or perhaps a gated-community or even in a modest house in the suburbs).  Everything inside the walls is ordered, predictable, controlled. 
It seems as though this approach to life gives fear the upper hand.  In fact, this kind of controlling mentality exacerbates the issue and promptly leads to more anxiety and new fears.
The illusion of control is comforting, briefly, but in the end, it may be in letting go that we can find the most long term comfort.
If we list pros and cons, contrive to determine every contingency, think and re-think…we lose the moment.  We rationalize.  We only half-live.  We act out of fear…and we are not honestly facing our dreams and desires.
I am still puzzling over this paradigm as I observe the limiting behaviors of many of those I see around me.
Fear is interesting and so is complacency…but that is a topic for another day.
<![if !supportLists]>· <![endif]>Tuesday, 9 December 2008
Let it Snow, Let it Snow, Let it Snow…
Paraphrasing classic lyrics: …let it snow, let it snow, let it snow… the weather outside isn't frightful – I find it quite delightful.  The large flakes falling down on the rocks and trees around the koi pond give me a view that resembles a movie set.  I half expect Fred and Ginger to waltz out and do a fancy dance number on the steps that lead to the upper patio.
Inside, the stage is set too.  Zia-Maria is curled, nose-under-tail, in front of the fire.  Since the day is grey, I have the Christmas tree lit and the light glances off the glittery decorations.  The scent of fresh pinion pine greenery wafts through the house and delights my eye as I admire my own holiday decorating handiwork.
It is time for some Christmas music and hot cocoa.  It is time to wrap gifts and hand-scribe cards.  What a lovely way to spend a day.
Unfortunately, I have a list of priorities which have bubbled to the top.  I will enjoy a pleasant hour of gratitude and grace before I consult that list and re-prioritize as needed. 
Enjoying life, living life…these are important things.  These things must take precedence over the mundane demands of the day.
The urgent things clamor at us…while the important things (often) use a more subtle approach.
Walking in a Winter Wonderland…
My coach and trainer (Miss Zia) roused me out this morning and made me go walking.  I've neglected this daily activity for several days.  And heading out into a snowstorm and 27 degree weather just isn't exactly tempting. 
But Zia was insistent, poking her cold wet nose into my hand and making urgent dog talk. 
I bundled up and reluctantly headed out the door, holding my end of the leash and smiling at the dancing dog on the other end of the leash. 
The walk was exactly what I needed (as is frequently the case).  I am back home, warm and happy, with a greater appreciation for the abundance in my life and ready to move forward.
Isn't it great how we sometimes don't get what we want, but somehow end up with something better than we ever imagined?
<![if !supportLists]>· <![endif]>Monday, 7 December 2008
A Surprising Opportunity to Grow Spiritually…
The radio announcers spew out the doom and gloom about the economy.  During those outbursts, I turn my thoughts to prayerfully affirming the Truth about Life. 
Many people become mesmerized by the dire predictions they here.
I am using them as opportunities to grow spiritually.
These fearful tales are kind of like the apple and the serpent…or like failing to see the beautiful sunny day around us because we are so focused on the dark shadows in front of us…
My own plans to augment my income by doing some contract work and possibly doing some substitute teaching have been looking less promising lately.  Funds from the state dried up my contracting illusions and in nearby community they've eliminated substitutes altogether and are asking teachers to take significant pay cuts…so the human picture is not a pretty one.  The picture is, however, just that: a mortal illusion.  It is not the Truth.  I turn to my Christian Science training and cling to the thought that we must "…look beyond fading, finite forms…" and remember that "…right motives give pinions to thought…"  (Mary Baker Eddy in S&H).  I think of those people wandering n the desert for forty years and how they were provided for.
The phone rings and breaks my reverie.
More Spiritual Growth - A Surprising Phone Call…
Yes, a surprising phone call.  Out of the blue a totally unexpected, unsolicited opportunity has surfaced. 
I am offered a very flexible position that may allow me to serve an organization whose work I respect and still retain the autonomy I want during the next few months as I prepare mentally, physically and spiritually for the Camino. 
I can almost hear my mother's voices, quoting Mary Baker Eddy, as she says: "Divine Love always has met, and always will meet, every human need."
Life is good…or should I say Life is God? 
<![if !supportLists]>· <![endif]>Sunday, 6 December 2008
Ordered My Camino Hiking Boots
I went online and found the hiking boots I have been eyeing and admiring all fall.  They were marked down, AND then reduced and in my size.  (Finding a 9 ½ is almost always a challenge!)
These boots were recommended to me by the Pilgrim I had tea with Friday.  Like me she requires a larger toe box and a narrow heel.  I was delighted when she brought out her boots and gave a personal testimony.  Just another happy coincidence?  Perhaps.
The markdown is huge.  A $100 savings over retail.  And I got another $5 off because I used the new Google pay system. 
The final price of the boots came out exactly to the amount of the check I recently received for dog-sitting a wonderful canine friend. 
Another nice coincidence.
So now I am happily awaiting the arrival of the boots that will be my constant companion on my forty day pilgrimage in May.
<![if !supportLists]>· <![endif]>Saturday, 6 December, 2008
Sobering Accident at the Habitat Site
Mark was the bearer of bad news when he came home from his day at the Habitat for Humanity site. 
One of the regular volunteers was using a table saw.  She somehow sliced off all her fingers and the thumb on her left hand.  
They air-evaced her to the University hospital and she will be in surgery for many hours as they attempt to reconnect the digits.
<![if !supportLists]>· <![endif]>Friday, 5 December 2008
Tea with a Pilgrim
I spent a wonderful afternoon with an amazing couple of veterans of the Camino.  (One of our mutual friends dubbed her "the pioneer" of the Camino, but that is a bit of a stretch since the Camino predates Christianity and I am fairly certain the Pilgrim in question is not THAT old!)
What a pleasure to meet such engaging people with similar interests and such a joy in living. 
I find I cannot write about the experience without gushing like a young teenager.  I feel like a child under the Christmas tree!
I will close with a simple thanks to the Universe for the amazing opportunities that appear when we are willing to commit with love and humility. 
<![if !supportLists]>· <![endif]>Thursday, 4 December 2008
The Economy: Surprising Blessings
The radio bombards us with fear.  I hear the word recession hundreds of times each day.  The economic downturn dominates people's thoughts, especially as the holiday season approaches.
This fever over the economy is a wonderful opportunity for us all to learn about the choices we make and how we live.  If we can look away from the mortal picture, we can see the blessings that we have become complacent about.
What a joy it is to simply and to refocus on what is really important in our lives.
What a pleasure to edit our lives down to what is essential, meaningful and who we really are…
We can take this opportunity to be free from the compulsion to shop and accumulate more, more, more. 
We can just be.
So many of us are owned by our possessions.
It is a chance to commune with God, the Universe, the Great Spirit or whatever people choose to name their deity. 
We can spiritualize our thinking and demonstrate our beliefs about abundance and joy. 
Instead of striving for more, we can acknowledge and enjoy what we have….and we have so much.
We can be fit to receive more, by honoring what we already have.
We can relax with friends over a leisurely cup of tea, we can snuggle in a cozy blanket and read our books, we can write a letter or play with the kids/cats/dogs.  We can occupy ourselves with so many good activities…
And we can give back…we can reach out to others and share our sense of joy and abundance. 
Yes, for some people, the fear dominates their thoughts.  These people will be challenged to reframe their thinking.  It will be hard for them to turn away from their fearful thoughts and the compulsion to list their "rational" reasons for being afraid.  If we turn from the shadow of fear and look to the bright light of abundance, we can really live.  (As I typed the word shadow, the 23rd Psalm ran through my head)
I am saying a prayer of thanksgiving for the abundance and peace that are ours – I am saying my prayer every time I hear that mortal voice that seems to induce fear in so many. 
<![if !supportLists]>· <![endif]>Wednesday, 3 December 2008
Am I Drooling on the Keyboard?
I came home from the dentist with a fat lip.  The swelling has gone down, but my jaw is still talking to me.
I linger at the keyboard.  My initiative is sapped. 
But my teeth are basically repaired now. 
I still need four crowns.
<![if !supportLists]>· <![endif]>Tuesday, 2 December 2008
Still on the Work Treadmill – Just Not Paid!
One might assume my pace slowed down since VISTA position ended in mid-November. 
I had hoped it would. 
But no, the joys and challenges of life have filled any void I thought I might have.  Here it is December and I have yet to establish a routine.  I look forward to days that I own, days I can simply be and unfold, to write, to prepare for the adventures ahead.
In the guest house stacks of boxes await me, boxes that have been sealed and stored for 4 years.  I am eager to discover the treasures inside, but equally aware that the contents of each box means more choices and decisions.  Dishes and photos call to me…
These are not the only boxes haunting me.  The workshop materials and my accumulated office stuff are stacked next to boxes that contain our Ukraine memorabilia.  And there are a couple boxes with resource materials for the annual meeting workshop…
And then there are the Christmas boxes – time to deck the halls.
Less is definitely more.
Of course there are other items on my personal agenda (see my 10 November post – sigh!).  But I ignore them and the boxes and move forward on a work-related project.
Did I say work?  Yes, a work-related project.  Yes, I gave up the position to buy some time for myself, but volunteered to be on the fundraising team for the organization.
Call me crazy…cuz I am.
As a VISTA I received a minimal stipend – now I am just working for free. 
But, there are perks; at least I can work from home, at odd hours, I can wear my jammies.
ab
TO READ NOVEMBER POSTS OR OLDER ENTRIES,
RETURN TO THE ARCHIVES ON THE LEFT.
Our Peace Corps Ukraine adventures:
January 2005 - May 2007
Our AmeriCorps*VISTA adventures
in beautiful Santa Fe, NM:
August 2007 – November 2008
My Santiago de Compostela Camino  Blog:
http://pilgrimageofgratitude-mycamino.blogspot.com
Life is good!
ab