<![if !supportLists]>· <![endif]>Sunday 31 August 2008
<![if !vml]>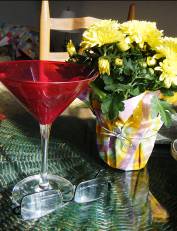 <![endif]>Cocktail Hour
Sipping a late afternoon cocktail as I sit absorbing the beautiful view just outside our door is a ritual I could grow to love.
The red picnic benches sport two large pots of bold yellow mums.  Hummingbirds dance around my spouse's birdfeeder, darting in and out as they share their own sweet cocktails.  Beyond the shaded flowerbed, the koi-boys are splashing in the setting sun.  The wind whispers through the trees and a rabbit grazes on tall grass only a few feet away from the door.  I linger, taking it all in.
<![if !supportLists]>· <![endif]>Sunday, 24 August 2008
Molly and Michelle Head South
<![if !vml]>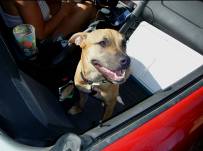 <![endif]><![if !vml]>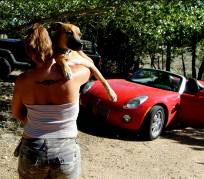 <![endif]>Molly gets a "ride" out to the car.  She's not like Miss Zia, who does a delightful doggie-dance when the prospect of a car ride is in the offing.  Molly rides in the passenger seat on road trips in the bright red sports car Michelle drives.
Seeing Double Dogs!
<![if !vml]>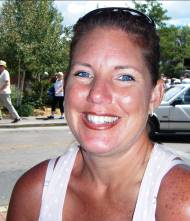 <![endif]>Michelle and her little pup arrived late Friday evening.  Mark put together some burritos and served the ladies a pitcher of strong margaritas out on the patio by the pool.  The firepit glowed under the starry summer sky and we caught up on all our stories, secrets and dreams.  The two dogs raced around the yard and splashed in the pond.  It was relaxing to just sit and talk.
It is wonderful to have friends visit.
<![if !vml]>
<![endif]>Molly and Miss Zia look a lot alike! 
It was fun to have Michelle and her sweet pup here for a visit.  We tried hard to get a good photo of the two girlie dogs but they moved too fast.  (See photo)
Saturday morning we headed downtown and wandered through the huge crowds here for Indian Market, an annual event that draws people from all over the world.  A friend of ours who works at a private airport in Albuquerque shared stories about a rich Arab flying in from Dubai to load up his plane with Native American art work.
After a coffee stop, we poked around in a few great secondhand shops and Michelle picked out some cute clothes at great prices.
Evening plans were supposed to include music and dancing, but our late-night Friday and the busy week caught up with me.  I was so tired - worn out and feeling under the weather too, so we had an early night. 
It was a short visit, but very pleasant.  Old friends are the best.
<![if !supportLists]>· <![endif]>Tuesday, 19 August 2008
Ladies Who Lunch…
<![if !vml]>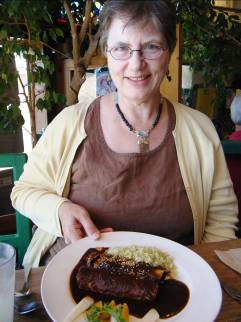 <![endif]>My dear cousin from Chicago was here in town for a few days.  We had a splendid time wandering around just enjoying the charms of Santa Fe. 
<![if !vml]>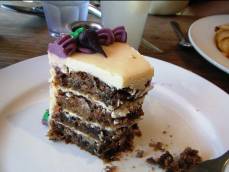 <![endif]>She treated me to a delightful lunch at Pasqual's, a legendary place that ALWAYS has a long line of hungry folks waiting to get a table.  The karma was right and we just walked in and were seated at a lovely table with a bird's eye view of the rest of the dining room.  (Here's the link…check out their site! -  http://www.pasquals.com/)
We started out with some excellent gazpacho and then we shared the mole (see the photo).  It was wonderful.  I indulged in a huuuuge piece of beet cake (yes, beet cake!) in part because we had been sharing Ukraine stories with Debbie the night before and told her all about "The Beet-Off" Mark participated in.  Everything in the competition was made from beets, including the martinis and the ice cream! 
The meal was quite a departure from our rather humble regular fare – on our AmeriCorps*VISTA "paychecks" we watch our pennies so dining out is quite a splurge!
<![if !vml]>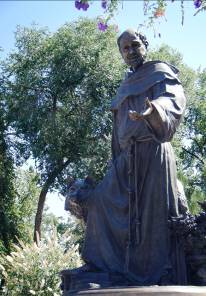 <![endif]><![if !vml]>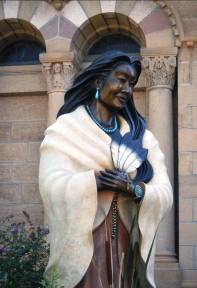 <![endif]>We spent a little time at the Basilica of St Francis de Assisi.  It is the centerpiece of downtown.  The yellow limestone edifice was built in 1869 and the original design included steeples which were never completed.
The beautiful Native American statue outside the door of the church is Kateri Tekakwitha (Lily of the Mohawks).  She was born in 1656, daughter of a Mohawk Chief and a Catholic Algonquin woman.  By age four, her family died of the small pox epidemic. 
She is revered as a saint because in the hour of her death, a priest observed a sudden dramatic change in her.  She went from being disfigured to being beautiful.  She is the symbol of fertility and motherhood.
<![if !vml]>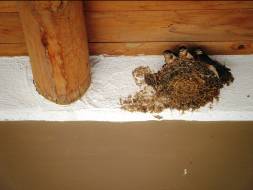 <![endif]>In 1943 Pope Pius XII declared her venerable and Pope John Paul II beatified her in 1980.
These little birds guarded the door at the Monastery where Debbie's conference was being held. 
Seeing family is always fun – it was hard to go back to work.
<![if !supportLists]>· <![endif]>Sunday, 10 August 2008
Dog-Sitting
<![if !vml]>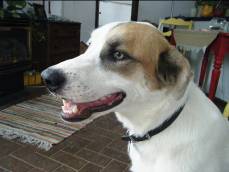 <![endif]>Miss Zia's canine pal Sonny arrived in the pre-dawn hours Thursday and will be here will Monday evening.  He romps and rolls, all energy and excitement and alternately sleeps like a rock.  It is a pleasure to watch the two animals together.  They teach each other new tricks.
<![if !vml]>
<![endif]>Sonny loves Zia's pork chops.  Zia has several squeaky, plastic pork chops which generally do not engage her, but Sonny enjoys them almost as much as you might expect him to enjoy a real pork chop.  He trots around the house with the chop delicately balanced in his muzzle.  He deposits it in a basket, under a cushion, beneath the couch and a moment later retrieves it.   One of the pork chops made it out the backdoor into the dog run for some loving and energetic doggie games.  Back inside the house later, the grimy chop turned up inside my dog walking boots.  A sweet doggie gift? Perhaps.
<![if !supportLists]>· <![endif]>Saturday, 9 August 2008
Rearranging Furniture is a Sign of Happiness
I awoke with furniture on my mind.  In my enthusiasm for the chore ahead I decided to forgo the usual pre-breakfast dog walk and once I finished savoring the wonderful breakfast burritos my sweet spouse conjured up to fortify me, I was ready to begin.
There is something very satisfying (to me) about how space is used.  Periodically I enjoy shaking things up a bit – I get the urge to see my furniture in a new light.  Some women try new hairstyles, or buy outrageous shoes; I re-arrange furniture.
<![if !vml]>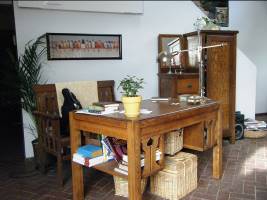 <![endif]>Today's effort resulted in a very satisfying adjustment.  My desk now faces the expanse of windows that open on the back yard.  The view is a delight and there is another advantage – I no longer have to endure the powerful late afternoon sun that made life so miserable. 
The dining table also affords a better view of the great outdoors, while my Salvation Army wicker chaise seems even cozier in a new location. 
<![if !vml]>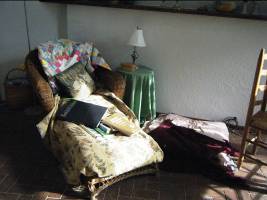 <![endif]>Moving furniture results in a wonderful opportunity to sweep and dust more thoroughly than usual.  By late morning we relaxed over tea and enjoyed the lovely new look. 
I decided to "ops-check" the chaise's new location and so I pulled out my old copy of James Michener's  Iberia, crawled onto the inviting chair to spend an hour engrossed in the description of the way of St James ( Camino Santiago de Compostela)
<![if !supportLists]>· <![endif]>Tuesday, 5 August 2008
Waiting out the Storm
I sit on the couch, glazed eyes pointed toward the television, pretending to watch.  Outside the storm rages.
Part of the drama of summer storms echoing through the nearby mountains is the erratic nature of the crashing and booming.  The storm is intense.  The performance demands attention.  It cannot be ignored. 
In a few hours, the storm subsides, but inside, tension continues to build.  Miss Zia is out in the storm, trying to find release.  I sit here at home doing the only thing I can do: I wait.  I fill my thoughts with prayer, affirming her safety, knowing that all God's creatures are spiritual and not subject to the illusions that comprise this mortal dream.  All of us are, in reality, safe.  It is fear that suggests anything else.
Oh where, oh where has my little dog gone
Oh where, oh where can [s]he be
With his [her] ears cut short and his [her] tail cut long
Oh where, oh where can [s]he be?
A suddenly movement startles me out of my reverie.
I turn my head and catch a glimpse of a familiar orange shape pushing through the screened door as if it were merely a curtain.  In seconds a cold, wet nose nuzzles my hand and the perfume of wet dog fills the air.
Miss Zia!  Home at last.
Where had she been?  I will never know.  Why did she leave?  Her panic over thunder and lightening drives her to flee.  Somehow she finds the strength to leap over a 6 foot fence to escape the sounds of thunder and lightening.
Many fearful dogs simply crawl underneath a piece of furniture to ride out storm anxiety in private.  Some dogs quiver and pee on the floor.  Others sing to comfort themselves when the crashes and booms begin.  Many canines find comfort from remaining close to their human, head pressed tightly against a thigh until the worst has passed.  My three—legged dog becomes an Amazon in the face of fear and heads directly into the storm.  Zia flees into the fray.
She faces her fears head on – at the sound of thunder crashing and booming, she charges out the door and over the fence to places unknown.
I am grateful she is home at last.  She is wet, cold and tired, but she is safe and by my side.  Her amber eyes flash at me and she looks as if she is laughing.  I scratch behind her damp ear, smile at her and say a prayer of gratitude.
I have given my heart to this animal.  And she has given me hers.
<![if !supportLists]>· <![endif]>Monday, 4 August 2008
Mouse in the House
In the deepest hour of darkness, I sit in the flickering light of the computer screen.  A hungry mouse wakened me from my sound sleep, so here I am reading e-mail and listening to the rodent who seems to be happily dining somewhere in the kitchen. 
Zia sleeps on the floor beside me.  She seems oblivious to the chewing sounds across the room.  Her legs twitch as she chases creatures in her dreams.
<![if !supportLists]>· <![endif]>Sunday, 3 August 2008
I continue to monitor the Peace Corps 2 Yahoo Group.  For several years I have been a member.  Once I was the aspiring, inquiring volunteer, now I am the mentor. 
It is gratifying to watch people learn and grow.  It is also gratifying to share my own growth experiences. 
At its best, this forum allows people to examine their fears and to find out how others have handled the challenges of Peace Corps and life.  (The extended application process screens out the more impatient souls.  That may be bureaucracy's most significant contribution to the world: it weeds out the less dedicated contenders!)
Here is an example of a recent exchange – this note appeared in the digest:
Convincing My Family Posted by: XXXXX@ yahoo.com Date: Sat Aug 2, 2008 12:36 pm ((PDT))
I was wondering if any of you had suggestions for helping my family understand that the Peace Corps is what I want to do. And by "my family" I mean in particular this one aunt of mine. Since both of my parents are deceased, my next of kin is my father's sister, who has always been a controlling person, but even more so since now she feels she has the final word in what I do, in lieu of my parents. I suppose she does somewhat when it comes to academics, since she pays my tuition bills, but really, she shouldn't be so controlling. She's always been unsupportive of what I do, and I think the Peace Corps will be no different.
When I wanted to major in religious studies, everybody knew it was the right thing for me because I loved the topic, but she was incredibly displeased (she wanted me to be an English major and go on to graduate school for journalism). When I got accepted to go to Rome for study abroad, everybody was thrilled because it was one of the most competitive programs to get into, except her (she won't let me go because they don't let you take English classes over there, even though that's not my major!).
I am incredibly nervous to approach the subject of the Peace Corps with her, because I know she will not approve of me living in an undeveloped country for over two years, especially for no pay--making money was always the biggest issue for her. I'm going to be 21 when I am ready to join, and yet I feel she has no respect for my ability to make my own choices in life.
Any ideas for how I can approach the subject with her, help her understand that this is something I really want to do, all the benefits of joining? This is going to be the hardest part of the process for me, haha. Your help is appreciated!
Here is my (impromptu) reply:
All one can do is be kind to others as you move forward with the challenges, opportunities and decisions that are part of your life. Not everyone, even those who love you most, will agree with you on the path you choose.
It sounds quite unlikely that your Aunt will bend (or even allow you to have the final word). However, if you resist the temptation to try to convert her to your point of view and simply pursue your dreams with dignity, she may ultimately gain respect for you.
When was in my 20's I wanted to pursue an Air Force adventure, but was uncomfortable with how my family would respond. In fact, I put off my dreams, because I gave other people too much power in my life. Once I figured out how wonderful it is to fly on my own wings, it allowed me to simply follow my heart, yet be gentle and kind to those who do not agree with me. (And yes, I joined the USAF at 26 and had a wonderful career...a prelude to my own Peace Corps experience and my Camino de Santiago pilgrimage next May) FYI: once I completed my initial training my family was soooooooo supportive of my decision to be in the Air Force...they were proud of me and even admitted they were wrong.
So, my advise is be true to yourself and be kind to others and do not expect them to agree (or to even be gracious)... but you can simply move forward with dignity and joy.
Life is good...
Embracing the Ordinary: So Many Blogs, So Little Time
I have so little time these days.  Writing in my journal has become extremely random.  I miss the routine of sorting out my thoughts each morning.  My posts over the past year seem scattered and unfocused.  Hmmmm…reflects my life perhaps. 
This is a chrysalis year I think.  I am cocooned in a narrow world; making the transition from caterpillar to butterfly.  I am in the gooey, unformed state; a state that demands faith.  Yes, a butterfly will emerge.
There are so many wonderful blogs out there in cyber-space.  I take great interest and find joy in perusing the thoughts of those who post. 
My focus of late has been mostly on blogs and websites about the Camino de Santiago.  But with the recent death of Randy Pausch ("The Last Lecture"), I am inspired to read about dealing with death and dying and things spiritual.  Paulo Cohelo's (sp?) book "The Pilgrimage" is about both.  I want to get a copy of Judith Rupp's Camino book. 
ab
TO READ JULY POSTS OR OLDER ENTRIES,
RETURN TO THE ARCHIVES ON THE LEFT.
FYI: If you want to read about our
Peace Corps Ukraine adventures,
start with January 2005 - May 2007.
Happy Reading!
Now we are having AmeriCorps*VISTA adventures
here in beautiful Santa Fe, NM.
COMING SOON: My Camino de Santiago Blog!
More on that later.
Life is good!
ab