Welcome, Welcome, Welcome!
We hope what you read in this site will motivate YOU to make a difference.
<![if !vml]>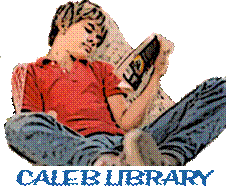 <![endif]>
This is a grassroots project so we want our site to reflect that attitude.
If you are inspired to participate in this worthy project, we hope you will write to us about your experiences so we can share them on this site.
From time to time, we will update these pages and provide new articles and information about the success of the CALEB Library Project. 
Consider making this a community service project!
WHO is in the Hammock?
The young man in the hammock is the real Caleb. That snapshot was taken years ago when he was about 10. We were on a family camping trip in the north of Spain. You could often find Caleb sprawled out in the hammock with his nose in a novel. Even then, he was fond of Steven King. Now we send books to villages in northern Malawi; this is how we hope to keep Caleb's name and generous spirit alive.
A good book is the purest essence of a human soul.
 -Thomas Carlyle
Holiday Idea
When you're holiday shopping it's easy to just pick up an extra book and mail it to Caleb Library as a gift!
I like to purchase gift books in the name of loved ones who have died. It is a special way to remember friends and family and to honor the spirit of Christmas in a very personal and meaningful way.