<![if !supportLists]>&<![endif]>  Photos from Malawi (Page Two)

Here are some more photographs from various locations in northern Malawi, Africa.

<![if !vml]><![endif]>

The young mother on the left waits outside the village mill. 

It is about a 4 hour walk down the mountain to Rumphi, the market town where the woman on the right is selling her banana. 

Below left, a group of students listens to a speaker as the Caleb Library is dedicated. 

Below, a student from Rumphi tries his hand at maneuvering a dugout on Lake Malawi.

<![if !vml]><![endif]>

Virginia sings along with mothers and babies at the Uzumara  Well Baby Clinic.

<![if !vml]><![endif]>

<![if !vml]><![endif]>

<![if !vml]><![endif]>

Contributing to Africa's Literacy & Education with Books:

The CALEB Library Project

Feedback, submissions, ideas? Email

<![if !supportMisalignedColumns]>
<![endif]>
                        A student (above) from Rumphi shows off his skills with a dugout on a visit to Lake Malawi.
Below, Virginia sits with a group of women & children that sing while they wait to see the medical staff at the Uzumara Well Baby Clinic.
                                                                          <![if !vml]>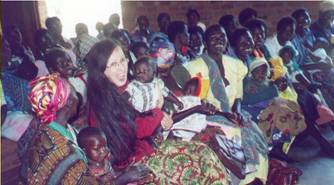 <![endif]>