The very first Caleb library was founded at  
Nyika Progressive Secondary School
2002
It was established to honor the memory of our son Caleb J. Pulver
Feb 1976 – Feb 2002
<![if !supportLists]>& <![endif]>
The First Caleb Library
<![if !vml]>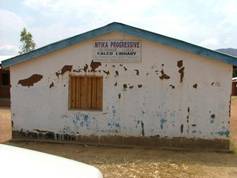 <![endif]>
Emerald High School Students Pay Tribute
When our son died, the students at Emerald High School, Greenwood, SC, where my husband taught TV production and I taught Air Force JROTC, were eager to find a suitable way to honor Caleb's memory.  It was their idea to send books.
These fine students, with the help of inspired teachers and staff, organized a book drive and shipped several hundred pounds of books to the remote, small village in the mountains of northern Malawi where my brother lives. 
The Recipients
Nyika Progressive Secondary School
There was no library in existence at Nyika Progressive Secondary School.  The books sent by our South Carolina students allowed them to open the doors of a fledgling library, which they named Caleb Library.
This school in Rumphi, Malawi has over 450 students and according to the headmaster, there is actually a waiting list to check out books from the library!  Imagine that: a waiting list to check out books!   
Above, Mark loads up boxes for a post office run.  The students collected books and bundled them. At the post office they are shipped by M-Mail (space available at about $1 a pound).
The South Carolina student above models  a colorful chitenza (wrap around skirt) from Malawi during a classroom presentation of the CALEB Library Project.
The CALEB Library Project
The first Caleb Library is named for our son, but the "CALEB" in The CALEB Library Project is an acronym standing for:
Contributing to Africa's Literacy & Education with Books.
It is our hope to keep the flow of books streaming to Africa (northern Malawi in particular). 
We plan to do this with a grassroots effort: one book at a time with the help of people like you!
Keep reading and see how YOU tackle this project!